The Sofa Sessions, Kilkenny's long-running jazz and creative music series, is moving from its home at Billy Byrne's bar to the Yulefest Bandstand on Parade at Kilkenny Castle for Christmas week.
Programmed by Irish Times jazz critic and Sofa Sessions curator Cormac Larkin, the evening concerts at 7pm on Monday 20th, Tuesday 21st and Wednesday 22nd will present some of the biggest stars in Irish jazz in suitably festive form: internationally renowned bassist Ronan Guilfoyle's Brazilian project, Tudo Bem! (20th); Dublin blues eminence Nigel Mooney's special Christmas show (21st); and legendary rock guitarist Jimmy Smyth with his Xmas Organised band (22nd).
Monday 20th December, 7pm
Ronan Guilfoyle's TUDO BEM! - The Music of Brazil Tudo Bem! (Portuguese for 'all is good') is an all-star international group exploring the music of Brazil, led by one of Ireland's leading musicians and composers, bassist Ronan Guilfoyle, with virtuoso Venezuelan pianist Leopoldo Osio and star Brazilian drummer André Antunes (Republic of Loose, Amy Winehouse) and special guest, renowned Cork trombonist Paul Dunlea. Dance into Christmas to the intoxicating rhythms of Brazil!

 Tuesday 21st December, 7pm
Nigel Mooney's Organ Failure - 21st Century Christmas Blues Show
Legendary Dublin blues guitarist and singer Nigel Mooney has been drawing the crowds since the 1980s when he founded the legendary Gripewater Blues Band. His fun-filled, critically acclaimed Christmas show includes such gems as 'Twenty-First Century Santa Claus Blues', 'Let's Cancel Christmas For Jesus's Sake' and 'It Ain't Nobody's Christmas But Our Own'.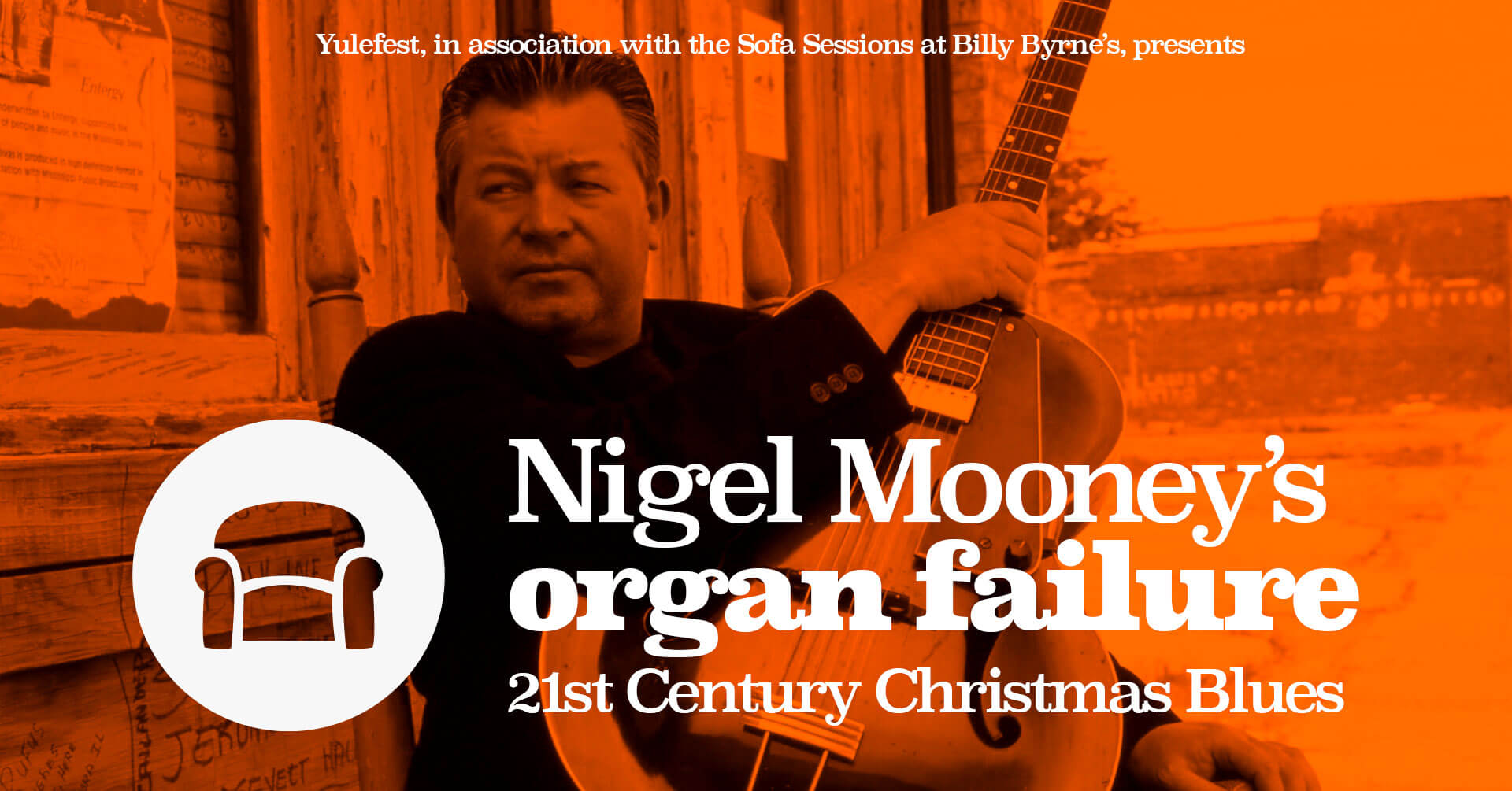 Wednesday 22nd December, 7pm
Jimmy Smyth's Xmas Organised ft. Scott Flanigan
Acclaimed jazz-rock guitarist Jimmy Smyth presents his Xmas Organised group with a very special concert of festive jazz favourites like Santa Claus is Coming to Town, Frosty the Snowman and Let It Snow, featuring Belfast organ supremo Scott Flanigan (Van Morrison) and rising Irish saxophonist Tom Caraher.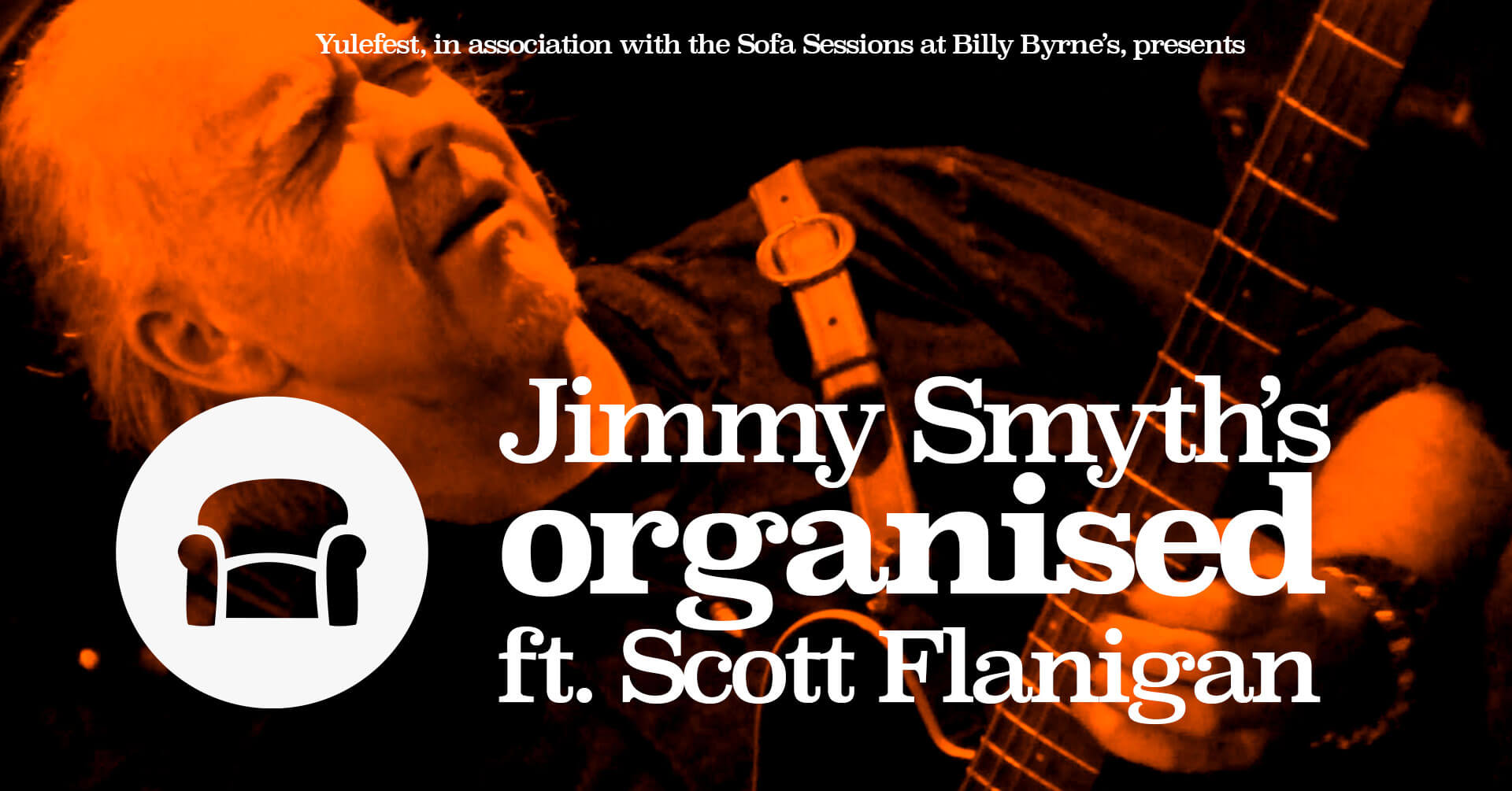 About Yulefest Kilkenny
Kilkenny, the hero county of Ireland's ancient East is hosting an extended celebration of Christmas, outdoors! The Yulefest programme of events celebrates the magic of Christmas and the wonders of winter in the beautiful Medieval city and county with winter markets, live music, outdoor movie screenings, pocket parks and more. At the centre of this year's festival is the Yulefest Bandstand which is hosting over 50 live performances from musicians of all genres. This is made possible by support from the LLPPS – Local Live Public Performance fund from the Department of Tourism, Culture, Arts, Gaeltacht, Sports and Media.
Running for the month of December, the bandstand will see some 230 musicians display their amazing talent in the medieval city.
About the Sofa Sessions
The Sofa Sessions is a concert series with a difference, top quality jazz and creative music for people who like their music served live, in the relaxed, friendly surroundings of Billy Byrne's atmospheric Terrace Room. Established in 2016, the series – curated by respected Irish Times jazz critic Cormac Larkin – recreates the energy and intimacy of a New York jazz club, presenting renowned national and international musicians, up close and in person, with none of the stuffiness and formality of a concert hall, nor any of the distractions and noise of a traditional pub gig. Over the last six years, the Sofa Sessions has presented some of Ireland's – and the world's – best musicians, including acclaimed New York vocalist Theo Blackman, ex-Jazz Messenger saxophonist Jean Toussaint, legendary UK singer Norma Winstone and Irish folk legend Andy Irvine. Described by RTE Radio's Arena show as 'one of the best small venues for music in Ireland', the Sofa Sessions at Billy Byrne's has built an international reputation for the quality of its presentations and the special listening energy of Kilkenny audiences. Serious music for curious cats!
About the Curator
Cormac Larkin is a musician, broadcaster, writer and concert promoter who lives in the foothills of the Blackstairs Mountains in Carlow. He has been one of the key figures in the promotion of jazz in Ireland for the last three decades and he was one of the founders of the Improvised Music Company, Ireland's leading promoter of jazz and world music. As a musician, he has performed with many of the leading figures in Irish jazz, and his own groups have appeared at the National Concert Hall, the Cork Jazz Festival and elsewhere. He is an award-winning director of popular mainstream television programmes like No Frontiers and Ear to the Ground, and he is also founder of Hatch 21, a specialist music video production company where his credits include concert films and music videos for RTE, the Kilkenny Arts Festival and the 12 Points Festival. As a journalist, he has written extensively on music for national and international publications, including The Irish Times, where he is currently jazz critic and he is a regular contributor to the Arena, the arts show on RTE Radio 1. He has interviewed many of the leading figures in world jazz, including Elvin Jones, Wayne Shorter and Herbie Hancock and is co-author of The History of European Jazz (Equinox, 2018). Cormac is curator and host of the Sofa Sessions, the popular, long-running concert series at Billy Byrne's on John Street in Kilkenny.
About Tudo Bem!
The music of Brazil is rich, melodic and above all, one of the most groove-laden musics on the planet. Blessed with a long tradition of great composers and songwriters, and a vast range of regional styles, the music has been hugely influential , moving far beyond its own borders to find a place in so many other musical traditions, including jazz and popular music.
Brazilian music has been a passion of bassist and composer Ronan Guilfoyle for many years, and in this group he has assembled some of the finest players in the jazz and Brazilian idioms to play classic Brazilian pieces, known and loved the world over. Outside Brazil, people often think of Brazilian music as being confined to Bossa Nova, but this is only one small part of the huge tradition of Brazilian music and Tudo Bem! explores many of these styles as well as many of Brazil's greatest composers. Expect Baions, Forros, Partido Altos, Sambas, Xaxados and more, and music by Toninho Horta, Caetano Veloso, Joao Bosco, Chico Pinheiro, Egberto Gismonti, Hermeto Pascoal, Maria Rita and Joyce. Above all expect the joyous, infectious rhythms and grooves of Brazil played with an authentic feel, and a celebration of one of the world's great music traditions.
About Nigel Mooney
Nigel Mooney has long been regarded as Ireland's leading blues singer/guitarist. His sensitive tenor voice, soulful jazz guitar stylings and preference for an acoustic-sounding, jazz approach to the blues have made him a unique and popular artist. Mooney's Gripewater Blues Band was a significant group on the Irish blues scene of the eighties, but the Mooney of today was first documented on debut first album 'All My Love's In Vain' (Rubyworks). It became the island's biggest selling jazz album of 2005, with major airplay from champions such as RTE's Ryan Tubridy, and chart placements for the single 'Beautiful Day'.
An RTE album of the week with extensive pre-release airplay on Radio 1, 'The Bohemian Mooney' saw him repeat the success of his first album in both small group and big band settings, with VIP appearances by international music icons Georgie Fame and Louis Stewart. It featured his working group of Johnny Taylor (piano), Dan Bodwell (bass) and Dominic Mullan (drums), with Richie Buckley (Van Morrison), Linley Hamilton (Paul Brady) and Michael Buckley (Glen Hansard) among the horn section.
About Jimmy Smyth
Jimmy Smyth is regarded as one of Ireland's finest guitarists, a Grammy-nominated musician and song-writer who is happy in a variety of settings from rock and blues to jazz and country. Born in Navan, Jimmy began playing guitar when he was seven years old, initially with his father's dance bands, and later when his growing interest in rock and blues led him to form his own band at school. Around this time, Jimmy was asked to join Thin Lizzy as a replacement for guitarist Brian Robertson.
Although flattered, he declined, as he was just about to release an album with his band The Bogey Boys, with whom he played from 1979 to 1983, recording several singles and two albums together. Jimmy then turned his hand to production, making albums for The Spirit of Eden, Bonnie Tyler, Toni Childs, Rob Strong, Don Baker and Frances Black. He's composed music for the movies 'When the Sky Falls' (2000) and 'Silent Grace' (2002), and for 'The Fellowship of The Ring' video game (2003).
He's also recorded and played with Roger Daltrey, Curtis Stigers, Chaka Khan, Lisa Stansfield, Van Morrison and Reba McEntire. Jimmy has been Musical Director for RTE TV shows, and regularly performs with the RTE Concert Orchestra, the RTESO, The Ulster Orchestra and many others. Jimmy is currently Head of Guitar studies at the BIMM institute in Dublin, and he's still very much in demand for touring and recording, most recently touring Australia and New Zealand with Mary Coughlan. When not on the road, Jimmy can regularly be seen playing rock and roots or jazz rock with his friends on the Dublin scene.
Musician Biogs
Ronan Guilfoyle (bassist and leader w/Tudo Bem!)
"It's hardly a coincidence that Ronan Guilfoyle's story mirrors the journey of jazz in Ireland … the bassist and composer has been one of the prime movers on that journey, an auto-didact who earned his spurs on stage with the players of the previous generation, including a prolonged stint with the great Louis Stewart."
Cormac Larkin, The History of European Jazz
"the godfather of the Irish contemporary jazz scene"
Cormac Larkin, The Irish Times
Ronan Guilfoyle is a major figure on the Irish jazz scene and has developed an international reputation as a performer, teacher and composer. He began his career with Louis Stewart's group in the early 1980's and studied at the Banff Centre for the Arts in 1986 and 1987 where his teachers included John Abercrombie, Dave Holland, and Steve Coleman. Performing on the acoustic bass guitar since the early 1980s, Ronan is now one of the instrument's leading exponents, and is much in demand as a bassist, both in his native Ireland and on the international jazz scene. Among the people he has performed with are Dave Liebman, Kenny Werner, Joe Lovano, Kenny Wheeler, Keith Copeland, Brad Mehldau, John Abercrombie, Larry Coryell, Benny Golson, Jim McNeely, Sonny Fortune, Andrea Keller, Andy Laster, Emily Remler, Simon Nabatov, Richie Beirach, and Tom Rainey.
Ronan has also been leading his own groups since the mid 1980s, and his groups have toured extensively in Europe, Asia, and North America. He has recorded extensively both as a sideman and as a leader and his output includes the award winning "Devsirme" in 1997. Ronan has been composing for classical ensembles since 1993, specialising in compositions which feature both improvised and written music. He has had great success in this field and has now a large body of work that ranges from solo piano pieces, to chamber works, to orchestral compositions. He has had commissions from a wide range of ensembles and organisations including the RTE Concert Orchestra in Dublin, The Opus 20 String Orchestra in London, and the European Jazz Youth Orchestra. He has also been commissioned to write works for many great soloists including the saxophonist David Liebman, the violinist Michael D'arcy and the virtuoso accordionist Dermot Dunne.
Ronan has also acquired a formidable reputation as a composer in the world of contemporary jazz, and his music has been performed by such jazz luminaries as Dave Liebman, Kenny Werner, Kenny Wheeler, Keith Copeland, John Abercrombie, Andy Laster, Simon Nabatov, Richie Beirach, Tom Rainey, Julian Arguelles, Rick Peckham, and Sonny Fortune. In 1997 he won the Julius Hemphill Jazz Composition Competition in the United States. Over the past 10 years Ronan has become very well known for the teaching of advanced rhythmic techniques for jazz improvisation and his book, "Creative Rhythmic Concepts for Jazz Improvisation" which covers such areas as metric modulation and odd metre playing, is now seen as the standard text for this area.
He has been invited to teach this subject at many schools around the world including Berklee College of Music, The New School, and is an associate Artist of the Royal Academy of Music in London, and has also lectured on it for the International Music Congress (UNESCO) in Copenhagen. Ronan is the founder of and head of the jazz department at Dublin City University, Ireland's first third level course in jazz performance.
For more about Ronan, check out his website:
http://www.ronanguilfoyle.com/
Paul Dunlea (special guest w/ Tudo Bem!)
Although at home in a variety of musical styles, Cork Trombonist/Composer/Arranger, Paul Dunlea concentrates primarily on Jazz and Improvisation. This has furthered his reputation as one of Irelands most in demand musicians. Dunlea has performed/toured/recorded with the likes of Michael Bublé, Cassandra Wilson, Frankie Valli, Liam O'Maonlaoi, Mick Flannery, Richard Reed Parry (Arcade Fire), Bryce Dressner (The National), Lewis Nash, Peter Washington, Billy Drummond, David O' Rourke's O' Rourkestra, Sachal Vadsandani, John Clayton, RTE Concert Orchestra, The Dublin City Jazz Orchestra, The New Irish Jazz Orchestra, The Syd Lawrence Orchestra, Hot House Big Band, Freezeroom & Brian Deady.
Dunlea is a graduate of the CIT Cork School of music holding both a bathelors degree in trombone performance and a masters degree in composition. He has held the chair of principle trombone with the Band 1 Brigade - Irish Defence Forces since 2001. 2011 saw the released his debut album 'Bi-polAr' to critical acclaim - reaching #1 in the iTunes chart. 2016 saw the release of his second album 'Fraternal' recorded at the renowned Bunker Studios, Brooklyn, NY featuring bassist Peter Washington, drummer Billy Drummond, guitarist David O' Rourke (co-leader) & Cork's Cormac McCarthy. Paul's third album is due out in early 2019. In 2013 Dunlea established his own big band as a creative outlet for his own compositions. To date, the band has performed sell out shows across the country in venues such as The Opera House, Cork, The Grand Opera House, Belfast & The Everyman Theatre - Cork along with headlining the 2015 Cork & Limerick Jazz Festivals.
Entire concerts have also been broadcast nationally on both RTE and BBC radio. Dunlea is also musical director of the New Irish Jazz Orchestra.
André Antunes (drummer with Tudo Bem!)
Andre Antunes is a Brazilian drummer/percussionist. He was born and raised in Salvador, Bahia, where for many the heart of rhythm resides. He began his musical career in the church and the grand Brazilian tradition of carnival. He recorded and toured nationally with many different Brazilian popular artists such as Edu Ribeiro, Cativeiro and Leo Maia. During 6 years spent in Sao Paolo he toured extensively throughout 20 different countries, playing with international acts and several dance companies. The past few years have seen him relocate to Europe and he is now based in Ireland. Since his arrival he has become one of the country's most prominent drummers both live, working with the renowned Irish group Republic of Loose and a host of others, and in the studio where he has most recently worked with legendary producers Ken Thomas (Queen, David Bowie, Sigur Ros) and Rob Kirwan (U2, Depeche Mode, Ray La Montagne). During his time in Ireland he has also recorded and performed with Hozier, Gavin Friday, Sinead O' Connor, and Amy Winehouse.
Scott Flanigan (organist with Nigel Mooney/Jimmy Smyth)
Hailing from Belfast in Northern Ireland, Scott Flanigan is one of the foremost keyboard players on the Irish jazz scene. He performs regularly across the United Kingdom, Ireland, France and Germany, and has recently performed with Van Morrison, the Ulster Orchestra, Larry Coryell, Jean Toussaint, Jim Mullen and Linley Hamilton. As a leader, Scott successfully tours his own contemporary piano trio, as well as a hard-swinging organ quartet. Equally at home in academia as well as the bandstand, Scott received his BMus degree from Ulster University and his MMus in Jazz Performance from Dublin Institute of Technology. Scott is currently working on a Ph.D in Jazz Performance at Ulster University, where he is researching, analysing, and synthesising contemporary trends in jazz piano. Scott is also in demand as a teacher of jazz harmony, improvisation and concert preparation, having delivered successful workshops across the United Kingdom and Ireland, and maintains a busy teaching schedule at home in Belfast.