Mass in Blue
---
---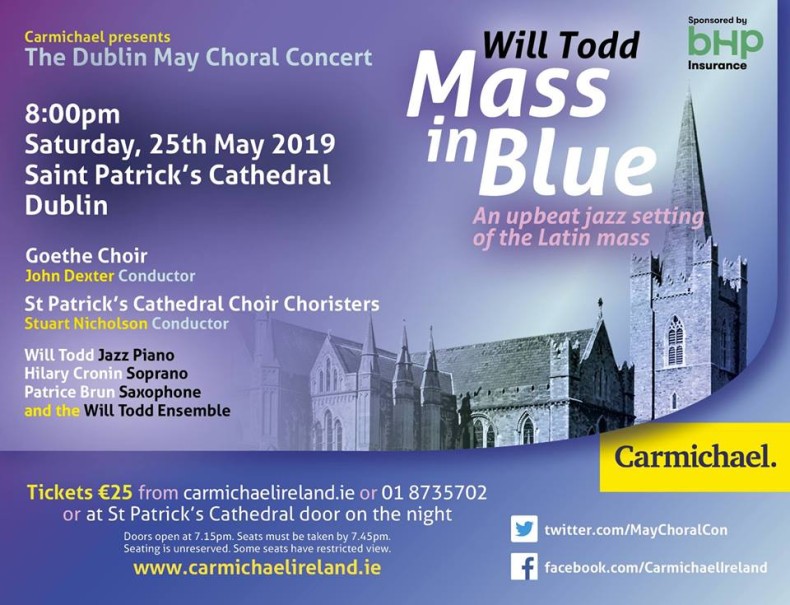 ---
Back by popular demand! This wonderful jazz setting of the Latin mass will be performed again by the Goethe Choir with the composer Will Todd on piano, conducted by John Dexter.
Will Todd: Mass in Blue – An upbeat jazz setting of the Latin mass and Pater Noster by Igor Stravinsky.
Featuring:
Goethe Choir
Conductor: John Dexter
Saint Patrick's Cathedral Choir Choristers
Conductor: Stuart Nicholson
Soprano: Hilary Cronin
Saxophone: Patrice Brun
And the Will Todd Trio
The choir comprises 45 experienced choristers from all over Dublin, and has performed regularly since it was founded in 2010. Its busy schedule has included performances by Mozart, Britten, Bach, Haydn, Mendelssohn, Duruffle, Faure and Brahms.
Amy Ryan, the musical director, following her undergraduate degree at the Cork School of Music, studied at the Kodaly Institute of the Liszt Academy of Music, Hungary, earning a Master's degree and Advanced Diploma (distinction) in Music Education and Choral Conducting respectively. She currently lectures in Music at Trinity College, Dublin and at the Royal Irish Academy of Music. She is in demand as a choral conductor and workshop facilitator. She also conducts the UCD Philharmonic Choir, award-winning chamber choir Cuore, and Cor Dhuibhlinne. She has performed throughout Europe and the United States as a cellist and flautist and regularly teaches Musicianship and Choral Conducting on the Kodaly Society of Ireland's summer programmes.
---
---
Venue Information - Saint Patrick's Cathedral
---