Chances are decent that if you are reading this on the Jazz Ireland website, you have already heard about the discovery, and pending release, of seven lost tracks recorded by John Coltrane's "classic quartet". Phrases like "a lost treasure" and "a revelation", such as have been used in newspapers and magazines to describe the find, are not hyperbole.
Simply, it is just objectively true to claim that this is the most important lost, and subsequently unearthed, Jazz recording in the history of the music.
This snapshot of the iconic quartet of Coltrane on tenor and soprano saxophone, pianist McCoy Tyner, bassist Jimmy Garrison and Elvin Jones-possibly the most important drummer in the lineage of Jazz percussion-was tracked during a busy period for the group. The band had a week's engagement at Birdland over the same period, and the following day would return the the studio in Englewood Cliffs, New Jersey, to record the album John Coltrane and Johnny Hartman. McCoy Tyner has recorded Nights of Ballads and Blues just two days previously. These guys were living in the music.
That there are mere hours between this and the Johnny Hartman recording is testimony to the seemingly effortless ability of this quartet to change gears between the most energetic playing and the most sublime and delicate. As a saxophone player, I was floored by how different in tone, phrasing and overall attitude on the instrument Coltrane's playing sounds to the Johnny Hartman record I know so well. I expected more shared melodic language between solos on the two dates, but perhaps I shouldn't have. This is John Coltrane after all. If there can be a single thing that defines a master musician such as he, for Trane, it may be a state of constant transition; the search.
This new recording has a somewhat casual air about it, and this is enhanced by a sprinkle of studio banter at the forefront where we hear Rudy Van Gelder committing the track number to tape. The playing is of course transcendent, but one can feel the process in these takes. For me, that is a delightful element and a rare window into many aspects of how this band functioned during this era. Ravi Coltrane described it like this in a recent Down Beat interview:
"For me it did feel like, 'OK, well, we're doing a few sessions this week. One of them will maybe get the band warmed up, so why don't we lay down some of the things we have been performing at Birdland all week?' It does feel very much like a live set recorded in a studio."
The nature of the studio environment will always provoke a slightly different energy to playing a set in front of a live audience however, and I feel the improvisations here are just that little bit more compositional than what one might expect if the tapes had been running that very same evening at Birdland.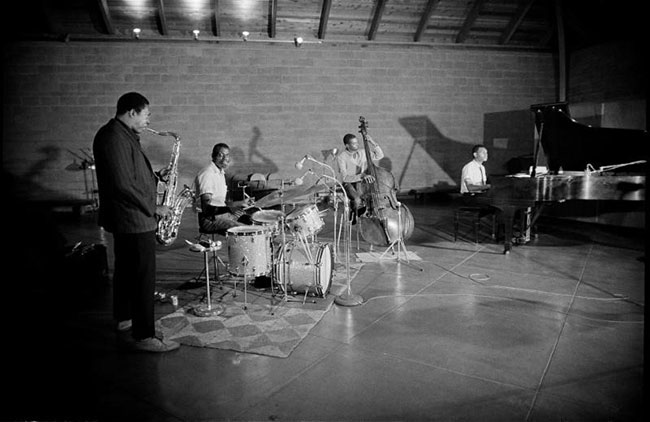 The first track, one of two untitled original compositions on the date, has Trane playing soprano and it's truly phantasmagoric from the outset. His soprano playing is really dialed in. The intonation is solid and the sound is unusually round and full. Neither of those things are any small feat on this instrument, especially during this era. That he is almost single handedly responsible for the renaissance of the soprano saxophone as an instrument of Jazz music should make perfect sense to anyone hearing this. Coltrane improvises twice on this blues, once at the top after the first head and then a shorter improvisation leading back to the last head. The forward momentum in his choruses is really exciting, and the lines are truly some of that classic Trane material that will have every saxophone player heading to the woodshed for some transcription. Also totally unique on this take is Jimmy Garrison's arco solo.
Next up comes a piano-less trio version of the Eden Ahbez standard Nature Boy. Coltrane would go on to record this two years later, in 1965, with the same quartet on the album The John Coltrane Quartet Plays. Comparing the two versions really illuminates how much this lost recording represents a transitional stage for the quartet. The 1965 version begins rubato and goes into an extended solo that begins to ever-so-slightly touch upon the "stream of consciousness" feeling that the saxophonist developed to such transcendental heights in his latter work. Contrastingly, this 1963 version swings, albeit in a deep foreboding way with Elvin counterpointing the swing on the ride with intricate threatening undercurrents on the toms. What a vibe! Coltrane's playing is pushing forward on this, we are hearing things to come. While some of the takes on this session represent a certain consolidation of the group's work prior, others provide a definite image of the future. Here he plays the melody, but improvises throughout it. The track fades after slightly less than three and a half minutes, perhaps the extra outtakes will illuminate what happened subsequently, but I can certainly see why these few minutes had to be included in the main release.
The second untitled work is also a soprano feature. This is one of the less ecstatic numbers on the date, and the composition moves between measures of Elvin-afro-swing high on the ride cymbals and more straight ahead swing with stops and hits. It's an interesting sketch-like composition involving two six bar sections and a two bar tag. An exciting moment is about halfway through Trane's solo where McCoy Tyner lays out for a while and the improvisation suddenly becomes a little more lateral. When the pianist returns Trane gives us one more melody before handing it over. Tyner's own solo on this one is deeply swinging and continually driving the pulse. But then, honestly, I could say that of every solo of his on this recording.
Villa, the fourth track on the recording, does have a tangible sense of the band consolidating an approach that they would soon begin leaving behind. This is the band swinging in a more traditional manner, and boy does Elvin swing hard on this one. In fact, the recording overall presents the rhythm section really well. There are a variety of bass and drum solos throughout, and the absolute deep perfection of the way time and feel are manipulated by this group is on full display.
While the penultimate take, Slow Blues, gives us a sense of consolidation similar to Villa, the nature of Trane's solo on this is amazing in that he really seems to have one foot in what's been and one foot firmly staking out what is to come. There is some classic Coltrane-blues material in here, but as it progresses he increasingly delivers overblowing, altissimo cries and long brush strokes of diminished colours. He is using the whole instrument here from right up into the lofty heights to phrases that bark down into the bell tones. The tempo (OH THE TEMPO!) is one of those slow meters that are just so joyous in the hands of the masters, and Trane takes full advantage of the space to play over and through the subdivisions. The band go into double time for the piano solo and then Trane returns for some choruses at the new pace and it's ...ridiculous, is what it is. Ridiculous. A real moment is when the band moves to the last head and like one mind they return to the original tempo for a few bars before the double time feel rises through Elvin's hands like some sort of ascending spirit. It's a joyful, masterful, and amazing moment.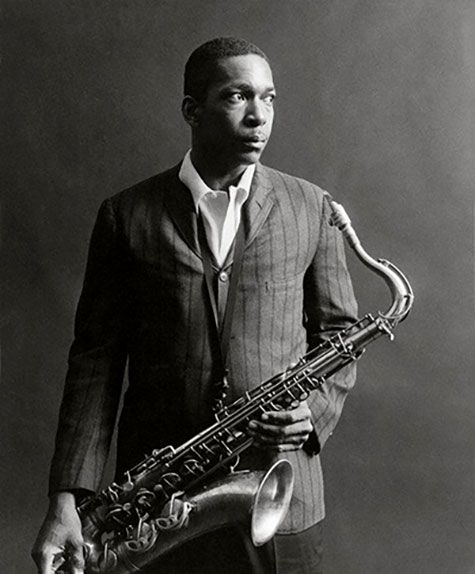 Between those last two I mentioned, however, is placed a version of Impressions, a tune based on Miles Davis' So What that has since become a universal component of any beginning music student's journey into Jazz. The song itself is a simple one, with two minor chords a semitone away that sustain for long enough that the soloist can open out quite easily. Coltrane's approach to this sort of playing has always fascinated me. What I'm most struck by is how forward momentum and the solo arc can be so profound within a system that contains so little harmonic information at its foundational level. I mean, once you have chord progressions happening, as a soloist there is an inbuilt arc of harmonic tension and release that the improviser always has pushing and supporting their line development and thematic material on a vehicle like a standard tune. Even if one is choosing to play across progressions, harmonically generalise, or play out, the trellis upon which such material stands (almost) always gives at least a subconscious sense of contour and an intuition that the improvisation is going somewhere. However, on one or two chords the duty to provide such a feeling rests squarely on the shoulders of the soloist. Coltrane is THE MAN for this, it's always pushing, it always feels like it's leading somewhere, the listener is always on the edge of their seat. Every time I hear him play a tune like this it's a lesson in how to be a real musician and own the improvisation, not just "on" the tune.
Apparently there will be four takes of Impressions released from this session. Two of which are trio versions without the piano. The version that was provided to me is one of these and is about four and a half minutes long with no other soloist but Trane throughout. Just head, tenor solo, head out. The lines are nothing short of classic Coltrane on this take. Pentatonics mixed with chromaticism slowly acquiescing to fervent themes and rapid runs over the metre. I love McCoy Tyner and this quartet particularly, but I can't help but be very excited by examples of Trane in trio format. It's a different energy.
The final take, One Up One Down, is cookin'. This is really looking forward now. Trane's playing is quite extended and he is pushing towards the ecstatic thing that will come to be so important to this group in subsequent years. Elvin is relentless, and there is trading between the drums and the tenor at the end of Trane's solo which is a nice bit of arranging. Elvin is really out of this world on this one. Everyone gets some solo time here, including a walking bass solo from Jimmy Garrison. This is definitely one of my favourites from the session. The whole vibe is just so killing! It makes me want to jump up and run feverishly about in circles in front of my hi-fi. It's so exciting!
In fact, the whole recording is pretty darn exciting. There are just no words that can adequately describe how much I love Coltrane's tenor sound on this session. It has everything; core, sizzle, projection, attack, warmth, clarity, focus, spread, brilliance. Likewise, his soprano on the first track may now be my singular favourite example of Trane on the straight horn. That this is just now coming to our ears, after a lifetime of assimilating the work of these masters from before and after this date, is nothing short of profound. There just isn't a Jazz listening experience that equates to the unique position we are now finding ourselves in at the end of June 2018.
There will be two different versions of this session released at the end of this month on Impulse records. The main one containing these seven tracks, and a second deluxe edition containing another seven outtakes from the session. It will be released on June 29 to speechless, slathering Jazz nerds worldwide, and yep-I got to hear it early! Don't think I won't be reminding all my friends of that ad nauseam for the rest of my days, thanks Red! So if you all aren't running to the record store on the 29th perhaps just don't speak to me for a while, ok? Because this recording is going to be all I want to talk about for the rest of 2018.