A Letter from Limerick
John Daly recalls the modest beginnings of a great jazz festival
When asked by Jazz Ireland to do a blog about the Limerick Jazz Festival, I thought it would be fitting to add some background history of what has been happening, jazz-wise, in Limerick over the past 38 years or so.
Limerick Jazz was founded in 1981 by a core group of dedicated jazz followers, who set in motion a jazz society which they probably never imagined would still be alive and well all these years later. Now recognised as the longest running jazz society on the island of Ireland, it has also proved to be one of the most productive. Having been quoted as "carrying well above its weight" on more than one occasion, it has brought some of the biggest names in jazz to the mid-west. Without the vision of the founders it's hard to imagine jazz of this standard being a regular occurrence in the City.
For me, as a young jazz musician at the time, I couldn't have foreseen my role as an integral part of the whole set up. Starting out as a committee member, helping set up venues with lighting and backline, this was a most exciting time, witnessing great live performances and being around some of the great players who came to us.
Limerick Jazz did not have any funding for several years so we relied heavily on door takings and the generosity and understanding of the musicians who came to us. I cannot emphasise enough the massive input by both the voluntary committee and hardworking musicians (who at the time were mostly Irish or Irish based) coming to us knowing that their fee would be on the lower end of the spectrum! To us, as a fledgling society, it showed the understanding of these musicians, that this was not just another gig in another venue. We have built up a fantastic relationship with several of these gifted individuals over the years.
For me, it was an early apprenticeship on how to the whole set up worked, and for the musicians I eventually became the recognised name at this side of the country and one who would, over the next 30 years or so, be the main contact for promoting jazz. We set up two seasonal sessions to run over the year, in Spring and Autumn, having 5 or 6 gigs in each season, starting out with local Irish musicians basis and then growing into a more international event. Our first grant from the Arts Council of Ireland was the sum of €1000, which was huge for us at that time, and gave us a lot of scope choosing who played here. Since then we have been very fortunate to receive grants on a regular basis, thanks mainly to the Arts Council, Limerick City and County Councils and also some private individuals.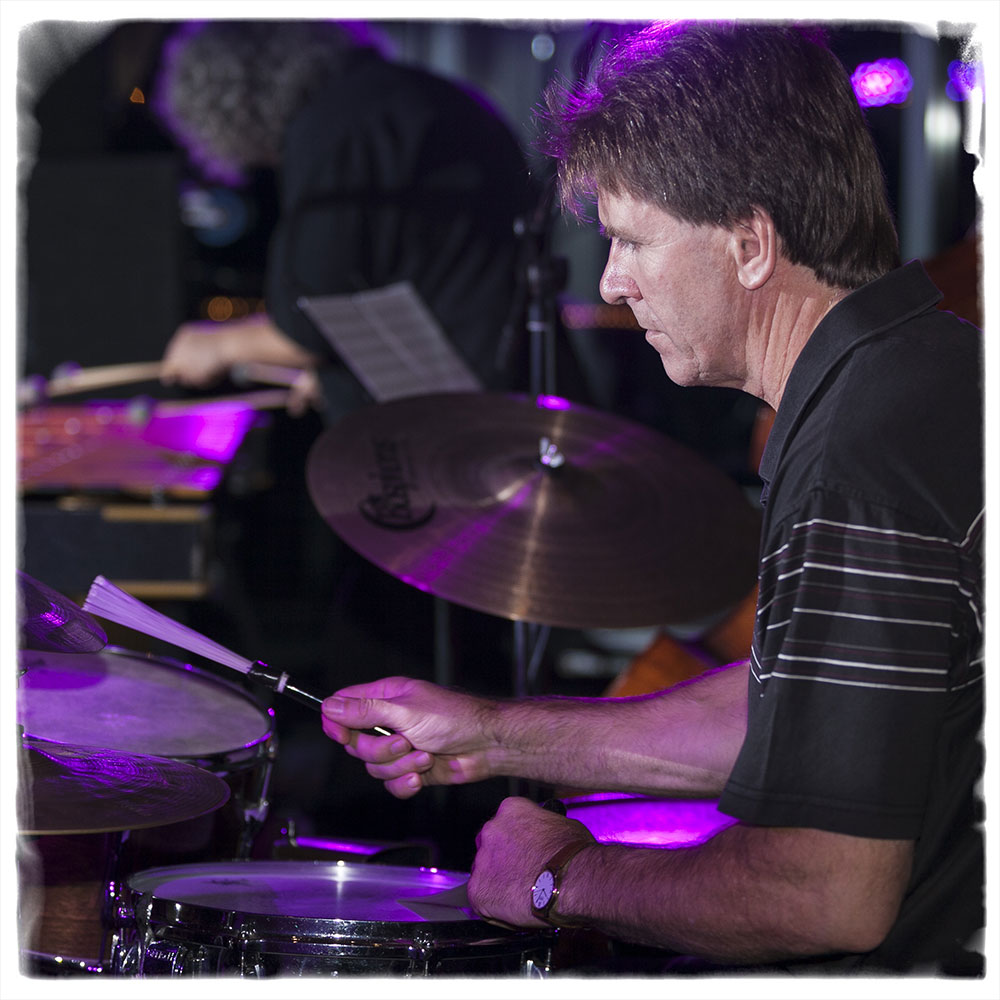 Limerick Jazz Festival
We founded the Limerick Jazz Festival in 2012. It was always my goal to internationalise what we had achieved with our Society gigs and I felt this was the best way forward. Little did I realise, even though I had negotiated several hundred gigs over the years, how different an undertaking a festival would be. The first step was to build a really good and dedicated committee around me, which was the most important factor in the whole process. At the same time I had no idea what was coming down the line!
We met around the end of 2011 and chatted about our goals and responsibilities, and became so enthusiastic about the whole idea that we couldn't wait to get the wheels on motion. Our first job was to target acts that we felt would have the biggest impact and would bring people to the city.
Then we had to choose the venues, keeping in mind not being over eager by booking venues too big for a first festival. After that it was all about detail, like sound hire, marketing, radio coverage, newspaper advertising, brochure design etc.
Of course at that time I didn't fully realise that a lot of the work would fall on my own shoulders but because I knew the music business, I also knew that I might only be happy if I did it myself! (So much for having a good committee!) It was, and still is, a huge learning process both for me and the committee. It took at least two festivals for the committee to be fully functioning. We worked on getting a "Friends" scheme in place, approaching local businesses and giving them incentives to sponsor events (something which Galway Jazz are also doing).
I can clearly remember being married to my computer for at least three months straight, utilising every hour I could get. I know from talking with other festival organisers that's par for the course. Administration is the biggest headache of any major festival but looking back I see just how much was achieved and it was all worthwhile. Good forward planning is essential for any major festival, with high quality acts to ensure good audiences and a great atmosphere throughout the city. It's been an amazing journey so far, and as we approach our 8th Jazz Festival and our 38th jazz season we can look back and feel quite content that we have done something good for our jazz fraternity. From a personal viewpoint I am as committed as I was all those years ago and will keep it going for as long as I am up to the job. I do hope in time to be able to pass the mantle to someone who shares the same passions and enthusiasm. Of course one of the perks, if I can call it that, are the opportunities to play with some of the visiting musicians, and that really makes it worthwhile!
The roll call of musicians appearing at the society gigs and in the festival is far too long to include, but to name a few of the international acts we have had in recent years - the Joe Locke Quartet, the Julian Siegel Quartet, Norma Winstone who appeared with the Dublin City Jazz Orchestra, the David Sanborn Quartet which featured Hammond organ star Joey DeFrancesco, Van Morrison, the Darius Brubeck Quartet, Kit Downes Band featuring Sarah Gillespie, and the wonderful Cassandra Wilson. It is also essential in this regard to mention, and remember, the incomparable Louis Stewart and Jim Doherty. A big thanks to all of them and to the many hundreds of musicians not mentioned. You know who you are!
Finally I would like to acknowledge the wonderful support from my amazing family especially my very understanding wife Rose, and to dedicated present and past committee members, Ed Hansom, Gerry Kirby, Deirdre Wilson, Giuseppe Torre, Rory Keane, Robert Hernan, Tony Bradley, Fiona O Connell, Tony Rodgers RIP, Evan Morrissey, Dr Paul O Sullivan and Bryan Meehan.