The Guinness Cork Jazz Festival recently appointed Sinéad Dunphy to be Festival Director for 2018 and coming years, and here she writes of the adrenalin rush that has accompanied her appointment. She has broad experienced to bring to the job, having been involved in the arts for over 20 years as a performer, producer, director and event organiser at arts festivals, shows and events. She was the highly successful Festival Manager of the Cork International Choral Festival, increasing its international profile and seeing it double in size under her stewardship.
She attended UCC, gaining a degree in Drama and Theatre Studies, and the London Academy of Music and Dramatic Arts. She has worked with Cork City and County as an educator, and with the prestigious Edinburgh Fringe Festival. She also runs her own production company where she teaches adults in acting and directing.
She sent us her thoughts on the upcoming challenges…….
Being appointed as the new Festival Director of Guinness Cork Jazz Festival has already been an absolute roller-coaster ride – to direct a top international Festival with one remit; to bring the best Jazz to Cork, and make it the biggest and best Jazz hub in Europe.
The Festival has been held for 40 years, run through the hard work of a local committee and a professional team of programmers and managers, and with the most incredible commitment from Diageo over the years. One of the wonderful things about taking on this gem of a festival is the opportunity to cast fresh eyes on the totality and have a more or less clean sheet, enabling us to look at new venues, new acts, new visions and ultimately the wider renaissance of Jazz in the island of Ireland.
We're now fully committed to bringing the greatest Jazz legends to the Festival in the coming years, together with a plethora of emerging artists. I also believe strongly that we must shift focus towards developing the export of Jazz music from Ireland. We produce some of the finest musicians in the world, including in the sphere of jazz, and that's something we are determined to highlight and help audiences to take more pride in.
On the "headline acts", as I type, I've taken three calls to bring some of the biggest Jazz acts in the world to contract, and so I'm bursting with pride and excitement. We'll be announcing our full headline line-up in May and boy, oh, boy, what a line-up! I'm not at liberty to say who just yet, but let me assure you, that the likes have rarely been seen at the Guinness Cork Jazz Festival. We're cramming the programme full of the best Jazz artists in the world and can't wait for you all to see what's in store! Although I am sworn to be silent right now as regards the acts coming, perhaps a sneak look at my own current playlist will give an idea of my preferences! Some of the sensational singer Jazzmeia Horn, the drool-worthy Avishai Cohen, some blasts from Billy Cobham and the equally mind-blowing Robert Glasper, some Nina Simone for the soul, some Gregory Porter for even more soul, and the great Diana Krall for good measure!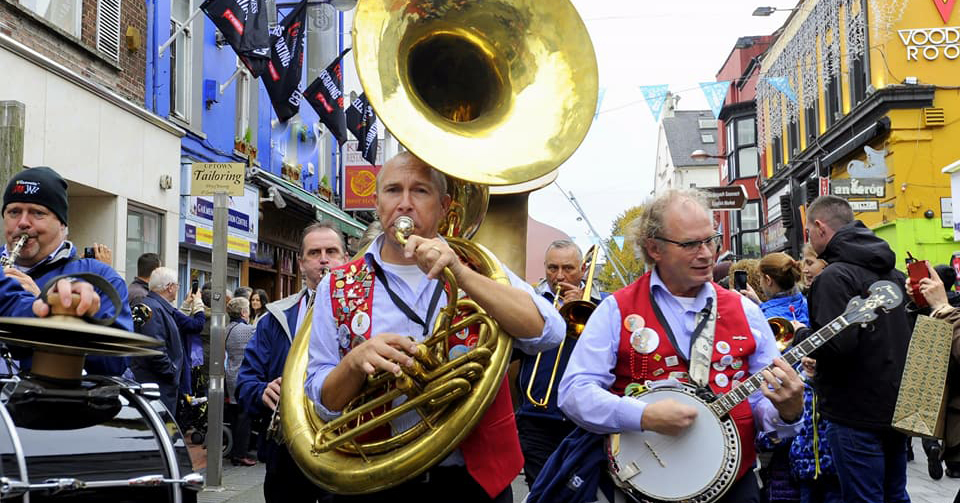 We all know that Jazz isn't something we love through just listening to recordings, it's in our veins, and it pulses as a live art form through so many media, including films and television, dance and art. In this year's Jazz Festival in Cork, we will shine a light on all things Jazz! Jazz has so many synergies with so many of these different art forms and that's why the Guinness Cork Jazz festival is hoping to take things to new heights. Whether that's with gigs, flash mobs, exhibitions, a Jazz Ball, Jazz DJ's, Swing classes, major concerts, theatre shows or interactive street performances, Jazz is about to find its way into the hearts of so many more people around the world because of our weekend. This is an opportunity to experience Jazz in all its forms and be part of the Jazz renaissance!
My personal passion for Jazz runs as far back as being a small child of about 7 or 8 years old picking up records of Miles Davis and John Coltrane in a grubby second-hand store and buying them with my pocket money. It led the way for my interest in blues, Jazz, soul and more, both as a singer and later as a gig organiser in my late teens and early twenties. My Jazz learning has been a long and fruitful one, and here I am, hoping to share my passion for Jazz with the world through the programming of Jazz legends for this great Festival. We're already working on tying down some huge names for 2019 too, as we've only one limitation for 2018 and that's very simply we don't have enough venues to take everyone. So, to say I'm excited about 2018's programme is pale in comparison to how I feel about 2019's! We're on an upward trajectory of Jazz , adrenalin fuelled by the best vocalists, bassists, trumpeters, drummers, pianists, saxophonists and everyone in between!
Jazz offers a myriad of options in terms of its contemporary offerings of playing and composition, and although it's hard to fit in every genre and style, a Festival is the best place in the world to be able to platform the established and legendary, side by side with the new and contemporary.
2018 is already an exciting one for Jazz and we're only in March! The Jazz revolution is well underway in Cork. Since I've been appointed I've been meeting with artists from all over, along with venue owners in Cork, looking at how we can reinvigorate this incredible giant of a Festival. So we're open to all ideas – if any of your readers wish to get in touch – I'm contactable by emailing . I've only one request – be passionate about Jazz and let's start the Cork Jazz renaissance together!
You can also to go the Cork Jazz Festival page here on the Jazz Ireland website where more information and links are available.