Venues for jazz music come and go, generally because the owner of the venue gets tired of scrambling for enough audience to make money, or the old owner moves on and the new owner would rather build a block of flats on the site. The Fox Inn, at Ballymadun just outside Ashbourne, County Meath was one such venue, and I am put in minded to recount this particular Unreliable Memory by the death, in New York on November 22, of the singer and lyric writer extraordinaire, Jon Hendricks, at the fine old age of 96.
Jon had two week-long residencies at The Fox Inn in the late 1960's, at a time when he was living, for about 5 years, in Britain. He was a veritable fount of jazz wisdom, extremely funny on and off stage, and he exuded an enthusiasm for life that was very infectious. That's another way of saying that The Fox Inn was riotous when Jon was in town. Read on for a while and I will get around to further eulogising Mr Hendricks but first…..
And a bit of history…..
A few years ago I got it into my head to try to trace the one-time owner of the Fox, American saxophonist Jim Riley. Jim and I had been friends when he presided over this most unlikely jazz venue, and we had even travelled to London together on one occasion to see the Thad Jones/Mel Lewis Jazz Orchestra at Ronnie Scotts. We met up with Jim's mentor and friend Lee Konitz while we were in London, and together we occupied a table at the club. Every single member of that legendary band came up during the break to shake Lee's hand. It had not previously occured to me just what an important figure Lee was!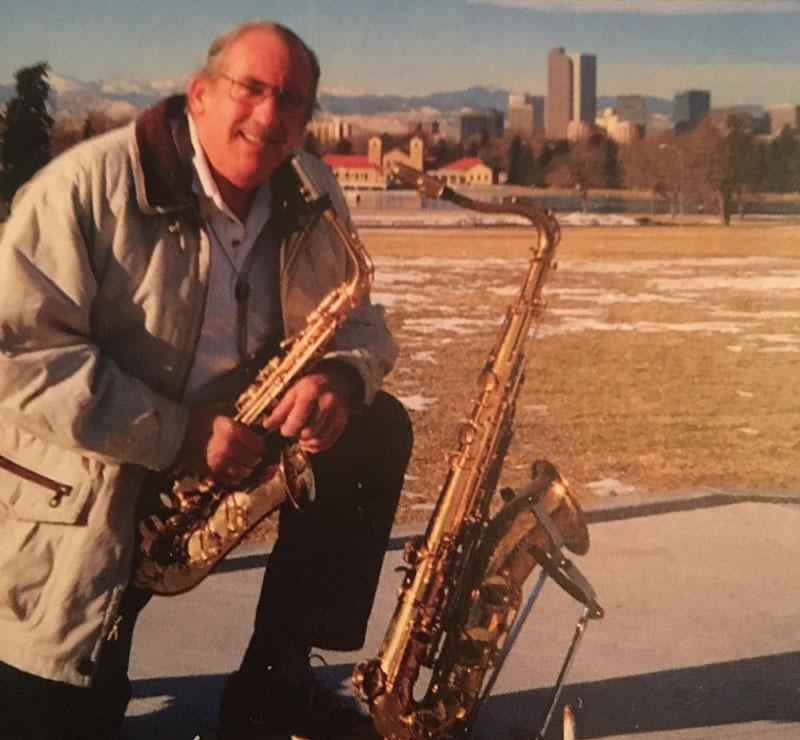 After Jim and his wife sold up in Ashbourne and I lost touch with him. He had returned to the USA, eventually settling in Denver, Colorado where he played regularly around the city in various formats, graduating, if that's the right word, from playing alto saxophone to doubling on tenor as well, with equal facility. His jazz background, when he had come to Ireland, was pretty good, having been in Willis Conover's big band in Washington DC, on one occasion sharing the stage with Charlie Parker. (Another link with Hendricks, who had apparently been encouraged to make a singing career by none other than Bird.) After a bit of sleuth work I reached Jim in Denver and was able to get some of the Fox story direct, but unfortunately he refused to be interviewed for radio, believing he would be tongue tied in front of a mike. But I'll let him take up the story…
"…..we bought the pub about October 1965 and stayed until about October 1971, just about 6 years. The place was pretty run down and out in the country. It had no water, the mens' room was the next field and the ladies room was a chemical toilet under the stairs. The business? It was lucky to do five pounds on a Saturday night. The local lads loved to come in and have a "forever" glass and play rings all night. Some jazz club!".
The lure though was a barn behind the main building, which was converted, after a few months hard work into a fine jazz club with a big fireplace and a small stage that could (just about) accomodate a quartet, although it had to stretch a bit more than that on really good nights. The doors of the new lounge opened in January 1967.
Jim takes up the story again. ……..
"Jon Hendricks was our first name attraction. A week of Jon started with about 10 people in the lounge. By Saturday, some were actually standing on the bar."
And that was maybe where I was. Standing on the bar! Jon Hendricks was already something of a legend, and to retain any cred as a jazz fan one certainly had to get out to Ashbourne to see him.
His earliest influences had included both Art Tatum and Louis Armstrong. Tatum was a near neighbour in Toledo, Ohio, where the Hendricks family had settled with their 15 children, and Hendricks sang both in his father's church and at one of the local bars, well-known for hosting musicians when they passed through the area. He had encouraged Tatum to hang out there and maybe get gigs. It is interesting to speculate that the astoundingly rapid runs in Tatum's paino playing might have been central to the formation of Hendricks' later singing style. Armstrong became a keen mentor a while later.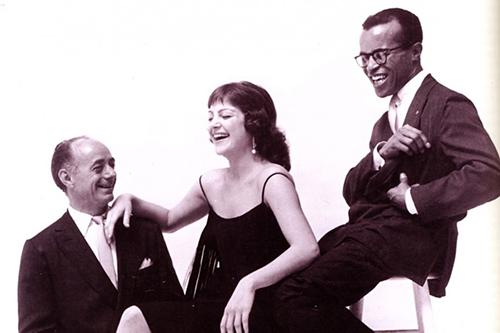 After World War 2, in which Hendricks had done army service, he settled in New York City and soon befriended another singer, Dave Lambert. The duo that they established recorded Jimmy Giuffre's "Four Brothers" in 1955 as a vocal performance, with Hendricks lyrics, and they then set about looking for a third voice, eventually settling on the Scottish singer Annie Ross. Lambert, Hendricks & Ross was born. (Annie Ross was later to sing solo at The Fox for a week's residency).
The trio became a massive success, recording many top selling albums and even encroaching occasionally on the pop market, giving rise to a new popular word in the jazz lexicon, "vocalese", by which the vocalist dispenses wholly or partially with the words and in many cases uses voice to imitate instruments. This style of singing, that Hendricks and LHR pioneered, became the greatest single influence on the future of vocal jazz since the blues shout. Everyone from Mark Murphy to Al Jarreau, from Bobby McFerrin to Kurt Elling, and of course The Manhattan Transfer, has been steeped in the style pioneered by that trio. Van Morrisson and Joni Mitchell have both ackowledged Hendricks' influence on their musical direction.
Typically, Hendricks was casual about his lyric writing and his "invention" of the style. In an interview with the singer Roseanna Vitro he said he had "stumbled" into lyric writing.
"I would forget lyrics. I'd think what is the next line? Then I'd make up my own, and nobody noticed. That's exactly how it happened. I didn't know what I was doing when I wrote them".
The trio came to an abrupt end in 1966 when Dave Lambert was killed in a road accident, so when Hendricks played The Fox in '67 the group was already, but only recently, part of jazz history. He subsequently performed solo or in "super" groups, and when he visited Ireland for the second time (I think) he performed with his wife Judith, who had absorbed the style, but in this observer's opinion at that time, was no match for Annie Ross. Alas, I can find no pictorial record of either visit, nor even confirmation that he did in fact play The Fox twice.
After such a baptism it was hard for The Fox not to establish itself as "the" venue at that time, and it received some worldwide publicity as an unlikely spot for jazz to flourish. It even merited an article in the US jazz bible, Downbeat. The business of actually getting famous musicians to come and perform proved quite easy, particularly as Ireland was conveniently placed for air travel between the States and Europe. Visiting musicians could be put up in the little apartment over the pub, and if necessary local musicians brought in to support. The jazz musicians who flew in included Keith Jarrett, Mal Waldron, Lee Konitz (of course), Don Rendell, John Surman, two separate bands modern and dixieland, made up from the University of Illinois Jazz Band (which included trumpet player Cecil Bridgewater, who later gave his name to his wife, DeeDee), singers Sheila Jordan, Carol Sloane, and the aforementioned Annie Ross, plus several other well-known musicians from the UK. The most frequently appearing Irish musicians either on regular weekday duty or part of the support bands were John Wadham, Louis Stewart and Jimmy McKay, with the owner Jim Riley joining in too.
But as Riley recalls…..
" like most jazz clubs (that I know), it had to come to an end. The use of local musicians ended, and we put in a local accordion player on the weekends for a sing song. Bad changes, dirty lyrics. It was all we could do, (but) local business took off. It saved us, by the end it was stable business."
It would be nice to record that the little jazz explosion started by Jon Hendricks , in a field in County Meath, gave rise to an enduring centre for his kind of music but it didn't. I guess it was a miracle that it lasted as long as it did.
Jon Hendrix never really looked back though. He wrote a stage show Evolution of the Blues, taught at University of California, appeared in Wynton Marsalis' slave story Blood on the Fields, and taught singing at university in his old home town of Toledo right up to 2015. His last singing appearance was a celebration of his 95th birthday in New York the same year. His death came, almost to the day, 50 years after he opened for a jazz club in a field, in Ashbourne, County Meath.
Music to check on;
Lambert Hendrix & Ross
Sing A Song of Basie
The Hottest New Group in Jazz
High Flying with LH&R
Lambert, Hendrix & Ross Sing Ellington
Don't forget to check out The Hot Box #012 – Unreliable Memories