Back in 1977, while the rest of the world was busy discovering punk rock and the rings of Uranus, I made a couple of discoveries of my own; a long-lost uncle and, thanks to him, a whole new world of music. We had just 2 records in our house, so our first visit to Uncle Denis was quite a shock to the system… in his living room, there was an entire wall of floor-to-ceiling shelves stuffed with LPs, and almost all of them were jazz recordings. Denis couldn't believe that I hadn't heard any jazz before, and he had no doubt about the best way to get me started. "You've got to listen to this!" he said, putting on Django Reinhardt et le Quintet du Hot Club de France. 30 seconds in, and I was hooked.
It's hard to define what makes Gypsy Jazz so infectious, but somehow it seems to cast that instant spell on almost everyone that hears it. Of course, there's the inspiration of Django himself, playing with unbelievable fluidity and speed with just 2 fingers. That virtuosity echoes through generations of players, and the melodies are always sweet and intricately layered. There's that bounce, "La Pompe", the driving rhythm that gives the music its uplifting energy. But for me, there's an underlying character that really brings the music to life, that I saw shining out of my uncle's face as he played it for me, that I see in every player, every die-hard fan and every new listener opening up to it for the first time. The melody might be a mischievous swing or a heartbroken blues, but it's always expressed with a warm, wide-open heart.
Those that fall in love with Gypsy Jazz fall hook, line and sinker and, in true gypsy fashion, they'll gladly travel the world to follow the music. Now in its 38th year, the Festival Django Reinhardt at Samois sur Seine attracts 15,000 visitors from around the world, and they've carried the tradition home with them. These days, it's hard to find a country that doesn't have it's own Django festival, with enough events to keep a true devotee on the road year-round hopping from Europe to North America and now even to Israel and Taiwan. So in 2011, with a growing Hot Club scene and an excellent stable of home-grown bands, I felt it was time for a festival here in Ireland.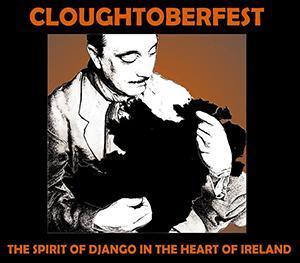 Set in the little village of Cloughjordan, Tipperary, Cloughtoberfest was about more than just the music. The midlands of Ireland tend to be overlooked by tourists, and our little community struggled to survive without them. Still, we were steadily building ourselves up with creativity and optimism, and any visitors that did come to see our beautiful countryside, cosy village and warm-hearted people instantly fell in love with the place. Cloughjordan and Gypsy Jazz seemed to be a match made in heaven… even the hostel was called Django's! Of course, starting a festival from scratch isn't easy, especially in a community that's less than wealthy. As an unknown quantity, it was impossible to attract either funding or sponsorship in the first year, and I ran the whole festival on my single parent benefit… I was out of work at the time. I have to confess to having quite a few sleepless nights, worrying about ticket sales, but the gamble paid off and the festival ran successfully for 5 years, attracting a host of fans from around the world and creating a lot of new Django fans closer to home!
Although we have some amazing Irish players, when we started out they were still relatively unknown on the international scene, and I knew I'd have to bring in some bigger names to attract a wide enough audience. Of course, I also hoped that sharing the stage would open up more opportunities for our home-grown musicians (which I'm happy to say it did, over the years). The Irish posse have been the backbone of the festival, working with the visiting players to put together top-class programmes. Dublin band Locoswing, Rudi Bado and Jose Anselmo, guitar legend Fintan Gilligan, bassist Paul O'Driscoll and the Belfast duo Manouche all deserve medals for services to Gypsy Jazz. What I hadn't been prepared for was the rush of world-renowned players that couldn't wait to come to Ireland, and also for the generosity of their support for a small festival with a limited budget. We've been privileged to host, among others, the stunning violinist Tim Kliphuis and Sinti guitarist Paulus Schafer; Tcha Limberger, who not only astounds you with violin and voice but cannot pick up a glass or sit on a chair without making music with them; quiet, gentle gypsy Lollo Meier, with his easy, sensual guitar style; young sensations Olli Soikkeli from Finland and Kourosh Kanani from the UK; veteran swinger Jerry Senfluk on clarinet; ever-positive and warm Robin Nolan, Dario Napoli and Denis Chang; showmen extraordinaire Frank Vignola, Vinny Raniolo and the UK's Gipsy Fire…. and too many more to mention here. After their shows, all of these musicians joined the festival crowd, happy to jam with one and all and filling every corner of the village with music, and with friendship.
Alas, Cloughtoberfest swings no more. Although we did secure some funding in the end, the amount was too small to even cover one evening of our programme. It was the support of our audience, and those generous musicians, that kept us afloat, but while I'm proud to say that the performers always got paid (and were patient with any delays!) there was never enough in the kitty to pay the organiser, the sound man, the people who put it all together. It's not an unusual story… with funding for the arts being cut year after year, most arts events depend on the work of volunteers, and while such worthy work might nourish the soul, it doesn't put food on the table. Of course, we could raise the ticket prices, but that would exclude many of our loyal supporters who've attended year after year, and would completely change the character of an event that, I hope, stayed true to its gypsy heart.
But have no fear, because Django sur Lennon is here! The gypsy spirit is alive and swinging in Ramelton, Co. Donegal and got off to a fabulous start in 2016. This year's festival kicks off on October 27th, and you can find all the details over at http://www.djangosurlennon.com/ With old friends Dario Napoli and Paulus Schafer on the bill, new faces Adrien Moignard and Marcel Loeffler plus all the usual festival craic, you just have to be there… I certainly will!