Lulu's Jazz Club in Whelan's – A Night of WAYNE SHORTER
Ireland Ireland
25 Wexford St, Dublin 2 -
Whelan's
---
---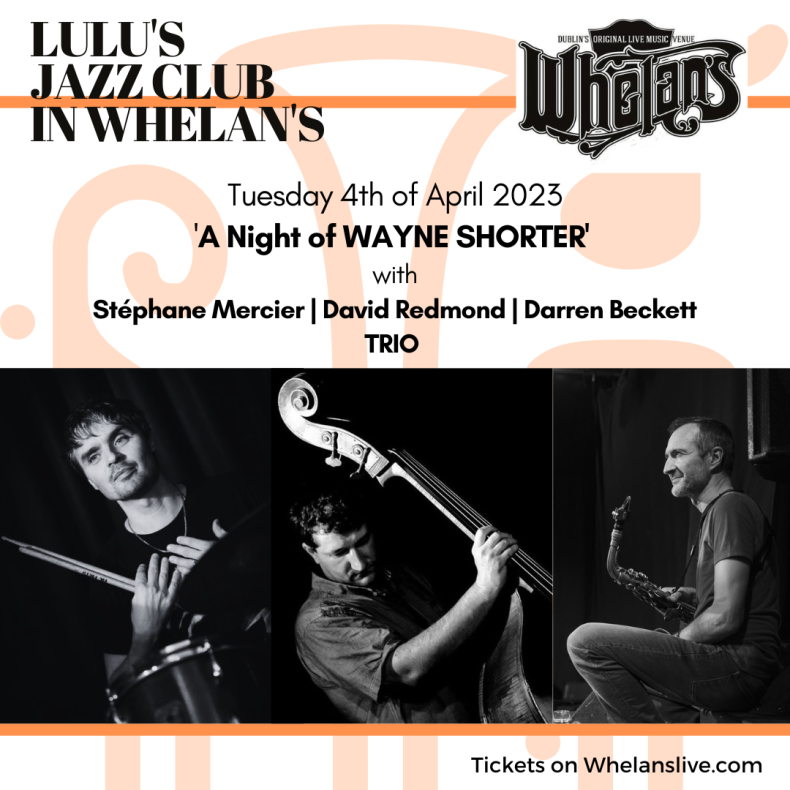 ---
'A Night of WAYNE SHORTER'
with Stéphane Mercier | David Redmond | Darren Beckett TRIO
'Having met each other in the mid 90's in New York City, Darren and Stéphane struck up a musical and personal friendship. Over the years Darren and Stéphane have toured together in Europe and met David in Dublin on tour in 2018.
They have performed many tours together as a trio with performances at the Bray and Derry jazz festivals and have performed in London at the iconic Ronnie Scott's  jazz club with the addition of Grammy winning Harmonica player Grégoire Maret and acclaimed Pianist Jason Rebello. They currently recording their debut album. They are due to tour Belgium in Dec 2023.'
After studying at Berklee College of Music in the nineties, Belgian saxophonist Stéphane Mercier settles for seven years in New York where he develops his career and signs for one of the most important jazz indie label: Fresh Sound/New Talent. His album, Flor de Luna, is recorded in 2000 and distributed worldwide.
He moves then to Paris before returning to Belgium, still performing internationally with bands ranging from intimist duo to big band.
In 2013, he releases not only an album that includes 16 different duos, a live performance with an international sextet, but also participates in a 300 date tour with his father as a host, having created a multi- media show about jazz history. Following that, he travels worlwide as an ambassador for the 200 year birthday celebration of Adolphe Sax, the Belgian creator of the saxophone, in countries such as Hungary, USA, Qatar, Kazhakstan,...).
In addition to his performances, Stéphane wrote a book about jazz history (2017, Ikor editions)) and works on a series of interviews (Quincy Jones, Ivan Lins, Toots Thielemans, Kurt Rosenwinkel, Kenny Garrett...).
He also takes the leadership of the Jazz Station Big Band, the house band of the famous Jazz Station club in Brussels, with a monthly residency and international collaborations (Grégoire Maret, Jason Rebello, Emil Viklicki, Damon Brown,...).
His last album "Trip!" is produced on Igloo Records.
Darren Beckett (drums) won a prestigious Bass Ireland Award as a teenager, leaving the emerald isle to study jazz in New York, where he resided for 21 years. Across his career, he has played drums everywhere from Carnegie Hall in New York to the Royal Albert Hall in London. He's performed on over 50 albums recording with notable names like Brandon Flowers, Daniel Lanois, Madeleine Peyroux, Billy Bragg, Ronan Keating,  Lee Konitz and Kenny Wheeler. Over the years, Darren has worked with Lauryn Hill of The Fugees, Mercury Rev, Amen Dunes, James Hunter, jazz pianist Aaron Parks His current main gigs today are with Brandon Flowers (The Killers), and American jazz singer Madeleine Peyroux, whom he toured with for over ten years. Darren co-wrote the lead single 'Can't Deny My Love' on Brandon Flowers' number one charting second solo album, 'The Desired Effect'.
Since moving back to the UK in 2016 he's been a regular on the London jazz scene playing Ronnie Scott's, Pizza Express and the 606 club, playing with Jason Rebello, Gilad Atzmon, Jim Mullen, Leo Richardson.  And active on the studio scene in London and Dublin.
 Irish Bassist David Redmond is best known for his collaborations with renowned Irish and International groups, and musicians including the acclaimed American pianist Bill Carrothers as part of the Kevin Brady Trio, Larry Coryell, the UK jazz vocalist Ian Shaw. He is also a member of Yurodny (one of Irelands leading World Music groups) and Dana Masters soul/Jazz group.
He attended The Newpark Music Centre, Dublin for three years (1999-2002) where he focused on double bass receiving the 'Associate in Jazz Double Bass Performance', awarded by the London Guildhall School of Music and Drama. In 2017 he was awarded an 'M.Mus in Music Performance' with 1st class honours by The Dublin Institute of Technology.
His career as a professional musician commenced in 2001 with several musical performances and recordings a week with top Irish musicians such as Van Morrison, Jerry Fish, Tommy Halferty, Luka Bloom,  Dave Geraghty (Bellx1, Choice award nominee), Jimmy McCarthy, Michael, Richie and Hugh Buckley.
He became a member of The Louis Stewart Quartet (which held a weekly residency for four years), and the Phil Ware Trio (Irelands leading jazz trio for many years). He is also a member of Yurodny (one of Ireland's leading World Music groups). More recently he has joined the Kevin Brady Trio featuring the acclaimed American pianist Bill Carrothers and Kevins Electric Quartet with the addition of world leading jazz saxophonist Seamus Blake.
He also regularly plays with visiting artists such as Bob Dorough, Eddie Reader, Keith Copeland, Georgie Fame, Jesse van Ruler, Bobby Wellins, Dave Liebman, Jason Rigby, Guy Barker, Bobby Wellins, Ian Shaw, Jacqui Dankworth, Scott Hamilton, Norma Winstone, Bruce Adams, Jim Mullen and Chris McNulty.
David also performs annually at the Cork, Derry and Bray Jazz festivals in Ireland.
David has appeared on over 40 albums of established Irish and International artists.
In 2003 he became a bass tutor on the BA Degree in Jazz Performance now in DCU. In 2005 he travelled to New York City to study with the Great Jazz Bass player Drew Gress, and in 2006 he studied with Ben Allison.
He regularly performs abroad in Mexico at the Euro jazz festival, Dubai Jazz Festival, Glasgow Jazz Festival, Azores Jazz Festival, Brecon Jazz Festival and the Abu Dhabi Jazz Festival. He has also performed at the famous london jazz club Ronnie Scotts as part of the Ian Shaw septet (UK's leading male jazz vocalist) and with Jason Rebello in 2021. He has also performed all over Europe, the U.S, Hungry, Colombia, Cyprus, Ukraine, Kosovo, China and Scandinavia.
In 2014, Redmond released his Debut recording (Roots) featuring leading jazz musicians Jason Rigby (sax) Bill Carrothers (Piano) and Kevin Brady (drums) on the leading Spanish record label "Fresh Sound New Talent" featuring Redmond's compelling and original compositions. "All About Jazz" featured this recording as one of the top releases of 2014. It also received a 4 star review in the Irish Times and RTE Ten Magazine.
In 2021 Redmond appeared two award winning jazz albums. The George Colligan Trio 'Live in Arklow' winning live album of the year on the British jazz website Marlbank. Also Redmond appeared on Kevin Brady's electric quartet album 'Plan B' receiving the accolade of one of the top jazz releases of 2022 with the iconic Downbeat jazz magazine. A first for an Irish jazz release.
---
---
Venue Information - Whelan's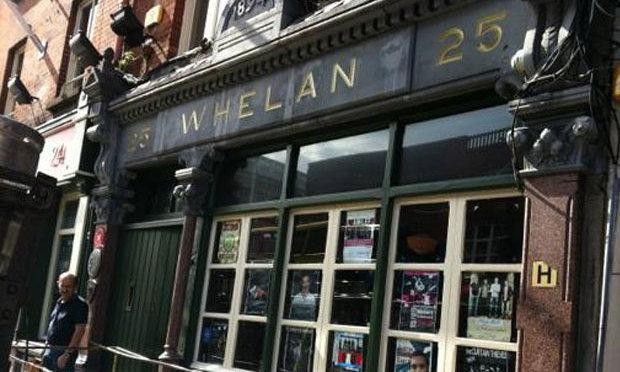 Whelan's is in the unique position of being not only one of the most important live music venues of the last decade, but also one of Ireland's most famous pubs, favoured for its warm, convivial atmosphere. Whelan's live venue and bar is located on the bustling Wexford Street strip in Dublin's city centre.
---