The Dublin Jazz Co-op Presents SlapBang
---
---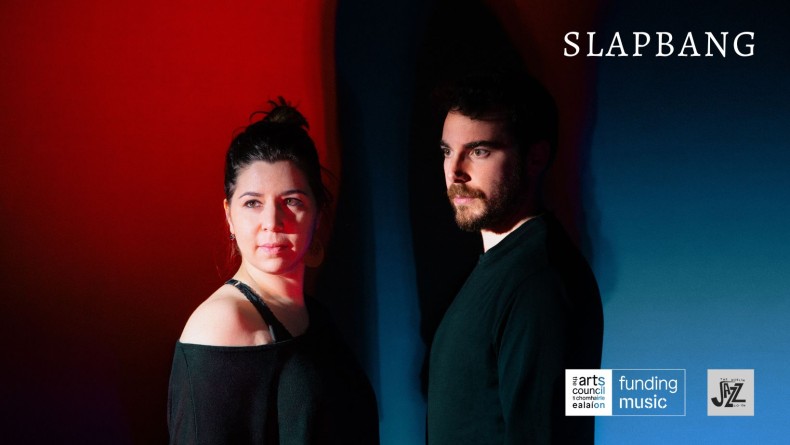 ---
Lina Andonovska (flutes) and Matthew Jacobson's (drum kit) worlds collided in Ireland's experimental music scene - Andonovska from a contemporary music background and Jacobson from the world of improvised sounds. Their collaboration seeks to blur the boundaries and distinctions between genres. Together they subdivide,recite semiotic quotes, and bring new sounds into the ether.
Independently, both are internationally respected soundmakers in the fields of composed score and improvisation. Collectively, they are embarking upon a quest to commission new work and
improvisational scenarios for their combination of amplified low flutes and drum kit.
So far, SlapBang have presented offerings at New Music Dublin, University College Dublin's 'text/sound/performance', the Association of Irish Composers, in residence at the Dun Laoghaire Lexicon, as featured performers as part of Bottlenote 10: an artist-led annual festival of improvised music in Dublin and at Brilliant Corners in Belfast where they premiered two Arts Council- commissioned pieces by Rachael Lavelle and Colm O'Hara.
Two pieces composed for the duo by Barry O'Halpin (Hox) and Nick Roth (Bátá) featured on Lina's solo album 'A Way A Lone A Last' on Diatribe Records (2020).
The Vintage Room
doors at 7:30pm, music at 8:00
use discount code for students: dcujazzsoc
---
---
Venue Information - The Workman's Club
Run by people passionate about music, our venue welcomes performers of all flavours. Alongside the headline gigs, The Workman's Club is home to some of the capital's finest club, comedy, acoustic and new band showcase nights.
The striking old-school decor makes it a popular choice for parties, launches, screenings, book readings and multimedia takeovers, as well as photo, video and movie shoots.
---