Darren Beckett Trio
Ireland, Dublin Ireland, Dublin
14-15 Upper Ormond Quay -
Sin É
---
---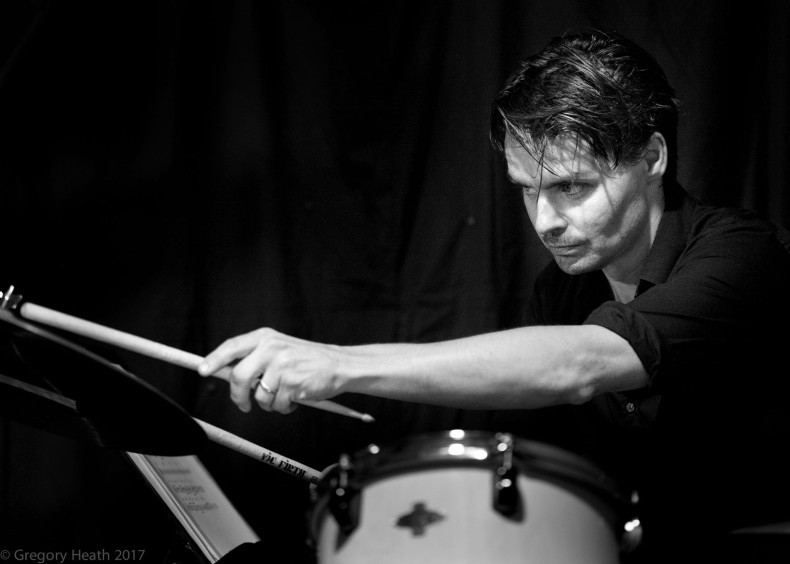 ---
The Darren Beckett Trio feat. Stéphane Mercier & Lee Meehan at Sin E on 25th of June
Darren Beckett - drums
Stéphane Mercier - saxophone
Dave Redmond - double bass
Lee Meehan - guitar
Darren A Beckett is one of Ireland's most talented musical exports, but the Belfast-born drummer hit the road early in his career which explains why he's not the big star he should be on these shores. Darren has been based in New York for the last two decades where he became a first-call studio musician, appearing on over 50 albums and working with singers like Lauryn Hill, Madeleine Peyroux and Killers front man Brandon Flowers, as well as collaborating with jazz stars like Lee Konitz and Kenny Wheeler.
About Stéphane Mercier
After studying at Berklee College of Music in the nineties, Belgian saxophonist Stéphane Mercier settles for seven years in New York where he develops his career and signs for one of the most important jazz indie label: Fresh Sound/New Talent. His album, Flor de Luna, is recorded in 2000 and distributed worldwide. He moves then to Paris before returning to Belgium, still performing internationally with bands ranging from intimate duo to big band.
In 2013, he releases not only an album that includes 16 different duos, a live performance with an international sextet, but also participates in a 300 date tour with his father as a host, having created a multi-media show about jazz history. Following that, he travels worldwide as an ambassador for the 200 year birthday celebration of Adolphe Sax, the Belgian creator of the saxophone, in countries such as Hungary, USA, Qatar and Kazhakstan. In addition to his performances, Stéphane wrote a book about jazz history (2017, Ikor editions) and works on a series of interviews (Quincy Jones, Ivan Lins, Toots Thielemans, Kurt Rosenwinkel, Kenny Garrett). He also takes the leadership of the Jazz Station Big Band, the house band of the famous Jazz Station club in Brussels, with a monthly residency and international collaborations (Grégoire Maret, Jason Rebello, Emil Viklicki, Damon Brown). His last album "Trip!" is produced on Igloo Records.
About Darren Beckett
Darren Beckett (drums) won a prestigious Bass Ireland Award as a teenager, leaving Ireland to study jazz in New York, where he resided for 21 years. Across his career, he has played drums everywhere from Carnegie Hall in New York to the Royal Albert Hall in London. He's performed on over 50 albums recording with notable names like Brandon Flowers, Daniel Lanois, Madeleine Peyroux, Lee Konitz and Kenny Wheeler. Over the years, Darren has worked with Lauryn Hill of The Fugees, Mercury Rev, Amen Dunes, James Hunter, jazz pianist Aaron Parks Played festivals all over the world from Austin City Limits to Montreaux to NH7 in India. His current main gigs today are with Brandon Flowers (The Killers), and American jazz singer Madeleine Peyroux, whom he toured with for over ten years. Darren co-wrote the lead single 'Can't Deny My Love' on Brandon Flowers' number one charting second solo album, 'The Desired Effect'. He currently teaches drums at ACM London, and has been touring the US and Europe with Indie darlings Amen Dunes this year, Mercury Rev, Shane McGowan also spending part of the year recording in LA, Austin and New York with various artists and film composers. Darren's band Ambulance ltd recently reformed to play some shows in New York.
Since moving to the UK in 2016 he's been a regular on the London jazz scene playing Ronnie Scott's and the 606 club, playing with Jason Rebello, Gilad Atzmon, Jim Mullen and Alan Barnes. And active on the studio scene in London and Dublin.
About Dave Redmond
A regular favourite at the Sofa Sessions, Dave Redmond is one of Ireland's leading jazz bassists, known for his collaborations with leading international musicians including acclaimed American pianist Bill Carrothers, legendary fusion guitarist Larry Coryell, and the respected UK jazz vocalist Ian Shaw. In constant demand on the domestic scene, both in jazz and as a session musicians, Dave is a member of both the Phil Ware Trio and Tommy Halferty Trio, and is also a member of the Yurodny emsemble, one of Irelands leading World Music groups.
About Lee Meehan
Lee is best known on the Irish music circuit for being a blues guitarist and singer playing with the likes of Don Baker, The 9Bars (9bar blues band) Gotcha!, The Business, Rob Strong, Damien Dempsey, Mik Pyro (Republic Of Loose).
After hearing Wes Montgomery for the first time Lee quickly became fascinated with jazz and studied the genre extensively for some time. He then went on to study at Newpark College for four years, graduating with a Batchelor of Arts in Jazz Performance in June 2019.
Lee now plays with established Irish jazz musicians regularly as a sideman such as Hugh Buckley, Darren Beckett, Sean Maynard Smith, Richard Nelson Quintet and many more. He has also played on albums for Richard Nelson, Sean Maynard Smith, God Creative, Chris Turner. Lee is currently recording his own debut album and has put his first jazz band together as a band leader. Lee still has a huge love for the blues and plays both genres' regularly on the Irish circuit in clubs all over.
---
---
Venue Information - Sin É
---