Jimmy Smyth
Ireland, Kilkenny Ireland, Kilkenny
39 John Street Lower -
Billy Byrnes
---
---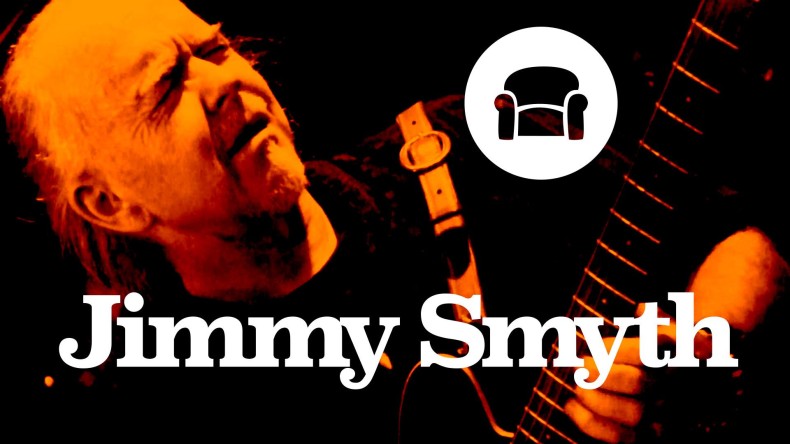 ---
The Sofa Sessions presents Jimmy Smyth
When somebody told Rory Gallagher he was the best guitarist in Ireland, Rory said "I don't know about that, there's this young kid from Navan, Jimmy Smyth, you should hear him'
When Thin Lizzy needed a new guitarist, Phil Lynott went to Jimmy Smyth - but Jimmy said no.
9pm | No CC | Comfy Chairs
About Jimmy Smyth
Jimmy Smyth is regarded as one of Ireland's finest guitarists, a Grammy-nominated musician and song-writer who is happy in a variety of settings from rock and blues to jazz and country. Born in Navan, Jimmy began playing guitar when he was seven years old, initially with his father's dance bands, and later when his growing interest in rock and blues led him to form his own band at school. Around this time, Jimmy was asked to join Thin Lizzy as a replacement for guitarist Brian Robertson.
Although flattered, he declined, as he was just about to release an album with his band The Bogey Boys, with whom he played from 1979 to 1983, recording several singles and two albums together. Jimmy then turned his hand to production, making albums for The Spirit of Eden, Bonnie Tyler, Toni Childs, Rob Strong, Don Baker and Frances Black. He's composed music for the movies 'When the Sky Falls' (2000) and 'Silent Grace' (2002), and for 'The Fellowship of The Ring' video game (2003).
He's also recorded and played with Roger Daltrey, Curtis Stigers, Chaka Khan, Lisa Stansfield, Van Morrison and Reba McEntire. Jimmy has been Musical Director for RTE TV shows, and regularly performs with the RTE Concert Orchestra, the RTESO, The Ulster Orchestra and many others. Jimmy is currently Head of Guitar studies at the BIMM institute in Dublin, and he's still very much in demand for touring and recording, most recently touring Australia and New Zealand with Mary Coughlan. When not on the road, Jimmy can regularly be seen playing rock and roots or jazz rock with his friends on the Dublin scene.
---
---
Venue Information - Billy Byrnes
Billy Byrnes is a family run tradional Irish bar and first opened its doors in 1954. We are centrally located in Kilkenny City, just around the corner from the train and bus station.
---