Hugh Buckley
Ireland, Dublin Ireland, Dublin
4 Main Street, Howth Village, Howth -
The House
---
---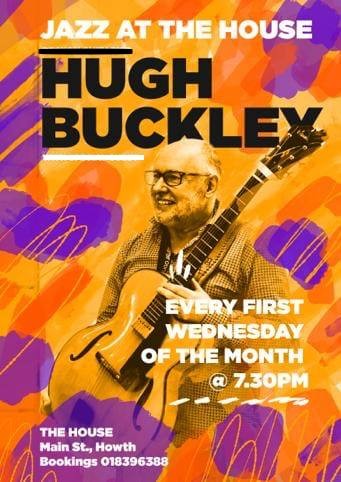 ---
Hugh Buckley at The House, Main St., Howth on the first Wednesday of the month. Music at 7-9pm. Reservations (01) 839 6388
Hugh Buckley is a Dublin born and based, self-taught guitarist, composer, arranger, educator and author. He has performed throughout Europe, the U.S., Argentina and China, working as a sideman and also leading his own groups.
He has performed with a wide array of internationally acclaimed artists including: John Stowell, Peter Bernstein, Sheryl Bailey, Jim Mullen, Louis Stewart, Nigel Clark, Daniel Corzo, Phil Robson, Libor Smoldas, Terry Smith, James Williams, Brad Mehldau, Frank Harrison, Brian Kelloch, Mike Carr, Scott Hamilton, Tim Ries Rolling Stones Project (w/Bernard Fowler and Michael Davis), Javon Jackson, Bobby Watson, Alan Barnes, Harry Allen, Spike Robinson, Ruben Gonzales, Joe Temperley, Bobby Wellins, Gilad Atzmon, Guy Barker, Jon Faddis, Bruce Adams, Anders Bercrantz, Bobby Shew, Dwayne Eubanks, Roy Williams, George Masso, Marshall Gilkes, Peter Appleyard, Tony Miceli, Georgie Fame, Cleveland Wattkiss, Stacey Kent, Christine Tobin, Sara Lazarus, Guillermo Rozenthuler, Van Morrison, Lisa Stansfield, Ronnie Drew, Peter Washington, Jeremy Brown, Wayne Bachelor, Javier Colina, Mark Hodgson, Dave Green, John Wadham, Stephen Keogh, John Riley, Steve Brown. Also many wonderful Irish musicians, too many to mention here.
Besides featuring on many recordings as a sideman, Hugh has released three CDs as leader, "Yes Indeed" (1998) w/ James Williams, Peter Washington, Darren Beckett, "Spirit Level" (2001) (both recorded in New York) and "Sketches of Now" (2008). "The Day of the Duo" (2014) is a duo recording with renowned Scottish guitarist Nigel Clark. In March 2016, "Two Heads are Better Than One", a duo recording with vocalist Honor Heffernan was released.
In 2013, Hugh launched his highly acclaimed book "The Guitar Chord Doctor". The book deals with chord voicings and techniques for the contemporary guitarist.
More about Hugh at www.hughbuckleymusic.com
---
---
Venue Information - The House
---