ÄTSCH
---
---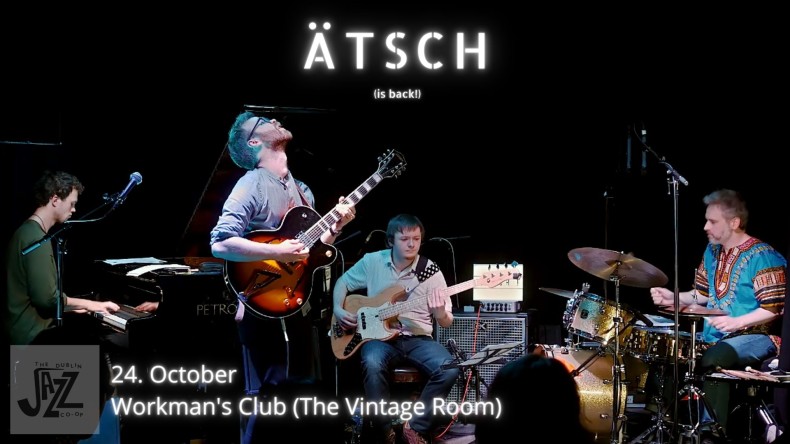 ---
ÄTSCH are back! Performing live in front of an audiance as part of the Dublin Jazz Coop series at the Workman's Club (Vintage Room) The group is in preparation of recording their third Album and this will be a great opportunity to hear their new music first.
!!Please note full Covid Vaccination Certificate required for venue entry!!
ÄTSCH is mixing the aesthetics of open post-rock soundscapes with the exiting freedom of Jazz improvisation.
Their interesting mix of strong melodies, contrasted with big open spaces for improvisation made them the first Irish band to travel to Germany twice, as part of the renowned Jazzahead Clubnight.
Hugh Denman - Drums
Graeme Bourke - Piano
Eoin O'Halloran - Bass
Matthias Winkler - Guitar
"the best Irish jazz release in 2019 easily"
- marlbank.net
"It feels like that most elusive of all Jazz animals; a band"
- JazzIreland
"Promising music that mixes jazz improv with a post-rock sensibility"
- Irish Times
Spotify:
https://open.spotify.com/artist/6HZlEkD1W6AP6M5avtLpqg 
Bandcamp:
https://atsch.bandcamp.com/album/live-at-arthurs 
Reviews:
https://www.jazzireland.ie/blog/album-reviews/190-aetsch-ep-review.html 
---
---
Venue Information - The Workman's Club
Run by people passionate about music, our venue welcomes performers of all flavours. Alongside the headline gigs, The Workman's Club is home to some of the capital's finest club, comedy, acoustic and new band showcase nights.
The striking old-school decor makes it a popular choice for parties, launches, screenings, book readings and multimedia takeovers, as well as photo, video and movie shoots.
---