Honor Heffernan
Ireland, Kilkenny Ireland, Kilkenny
39 John Street Lower -
Billy Byrnes
---
---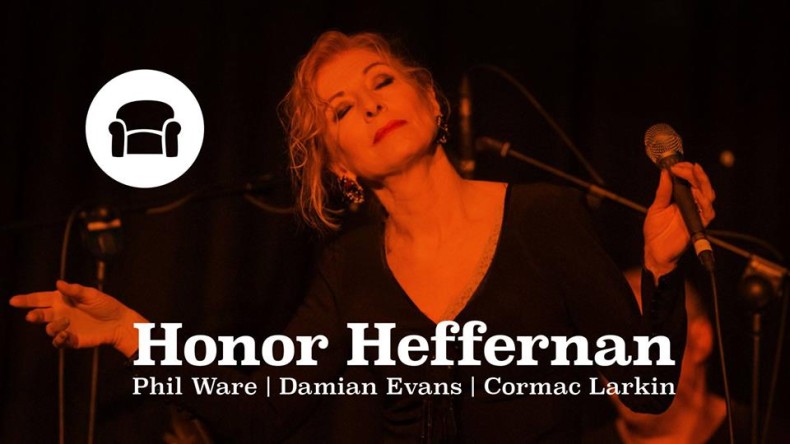 ---
The Sofa Sessions presents Ireland's Greatest Jazz Voice Honor Heffernan
Acclaimed vocalist Honor Heffernan returns to the Sofa Sessions following her spectacular appearance in July with her hit show Whistling Girl. This time, Ms. Heffernan fulfils a promise made then to return to Kilkenny to sing jazz standards, backed by a trio led by much-respected UK pianist Phil Ware.
Honor Heffernan - vocals
Phil Ware - piano
Damian Evans - bass
Cormac Larkin - drums
About Honor Heffernan
"a riveting performer, combining the talent of a jazz musician with the power and pathos of a leading lady"
The Irish Times
Honor Heffernan is an internationally acclaimed jazz/blues singer who has been performing as both a singer and actress for over 30 years. She has released three solo albums- 'Chasing the Moon', 'Fire and Ice' and 'The Other Side' and one duo album entitled "Two heads are better than one" with guitarist Hugh Buckley.
Singer/Actress Honor Heffernan began her career in 1971. Over the years she's sung pop, folk, rock, blues and jazz, but has concentrated on jazz since the 80s. As an actress she is best known for her roles in Neil Jordan's 'Angel' and the RTE soap opera 'Fair City'.
Her jazz career took off in the early 80s when she began singing regularly in Dublin with the jazz pianist Jim Doherty and collaborated with Noel Kelehan. She has released three solo albums- 'Chasing the Moon', 'Fire and Ice' and 'The Other Side'. Her second album 'Chasing The Moon' [1991] was recorded with Kelehan and featured Peter Ainscough, Richie Buckley, Mike Nolan and Martin Curry. Since then, she has sung with top Irish musicians such as Noel Kelehan, Stephen Keogh, Richie Buckley, Dave Fleming, John Wadham, Mike Nielsen and Louis Stewart. In October 2005 she released 'Fire and Ice' with Barry Green (piano), Jeremy Brown (bass) and Stephen Keogh (drums) which was very well received.
She became a regular attraction at the annual Guinness Cork Jazz Festival. She worked in Norway with the Knut Mikalsen Trio and the Sandvika Big Band conducted by trombonist/ arranger Rob McConnell. She also sang with the BBC Big Band, recording two concerts for radio with them.
---
---
Venue Information - Billy Byrnes
Billy Byrnes is a family run tradional Irish bar and first opened its doors in 1954. We are centrally located in Kilkenny City, just around the corner from the train and bus station.
---