Cora Venus Lunny / Izumi Kimura Duo
---
---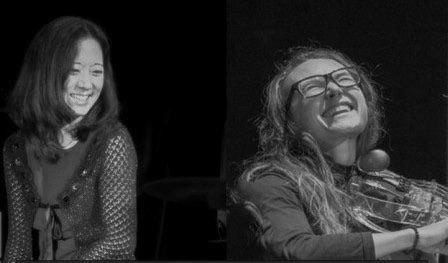 ---
Improvising duo, Cora Venus Lunny and Izumi Kimura was first commissioned by Improvised Music Company in 2017, and immediately hit it off. The most recent exploration with the duo is Field Recording Project, a collaboration with artist Anthony Kelly.
The first album release is scheduled in summer 2020.
"The music unfolded as a journey of constant revelations, the two musicians embracing space and silence as tools to frame their dialogue.
…The short but brilliant final conversation sparked lyricism and fire -the transitions seamless, the empathy pronounced.
Kimura and Lunny's riveting improvisations heightened the senses and stirred the blood, the emotional energy of their music fairly animating the crowd. Simply too good a collaboration to be a one-off."
All About Jazz
"one of the Irish scene's most intriguing duos"
"The empathy between the pair is astounding, and the breadth of the exploration a delight"
"There is huge potential in this duo; definitely ones to watch."
Irish Examiner
---
---
Venue Information - The Workman's Club
Run by people passionate about music, our venue welcomes performers of all flavours. Alongside the headline gigs, The Workman's Club is home to some of the capital's finest club, comedy, acoustic and new band showcase nights.
The striking old-school decor makes it a popular choice for parties, launches, screenings, book readings and multimedia takeovers, as well as photo, video and movie shoots.
---