Ronan Guilfoyle's Evidence
Ireland, Kilkenny Ireland, Kilkenny
39 John Street Lower -
Billy Byrnes
---
---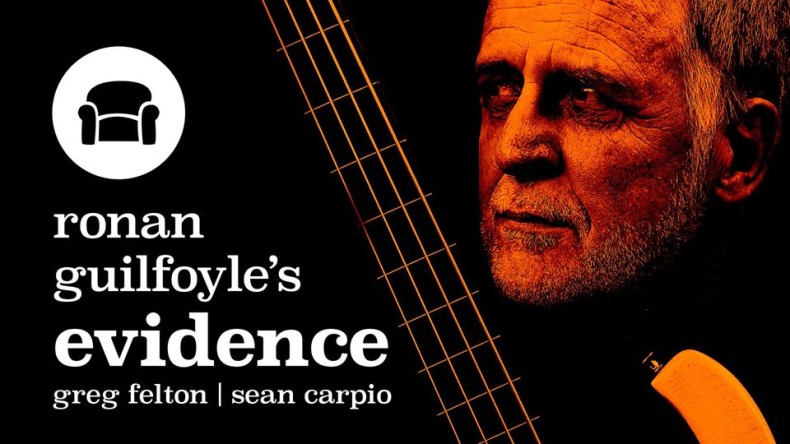 ---
The Sofa Sessions presents Ronan Guilfoyle's EVIDENCE
Ronan Guilfoyle - bass
Sean Carpio - drums
Greg Felton - piano
9pm / No Cover Charge
The Sofa Sessions is thrilled to present three undisputed heavyweights of the Irish creative music scene playing the music of one of the great geniuses of modern jazz, pianist Thelonious Monk.
Thelonious Monk's witty, brilliant and swinging music has been a part of Ronan Guilfoyle's life since he was a child, and in 2017 he was commissioned by Galway Jazz Festival to write 'Always Know' a large scale piece dedicated to Monk on the occasion of his centenary. Over the past 30 years he has formed several groups dedicated to playing the music of Monk, including 'Evidence', which features drummer Sean Carpio and pianist Greg Felton, two of the most respected Irish jazz musicians of their generation and both adept interpreters of Monk's knotty and exhilarating music.
What the critics say:
"It's hardly a coincidence that Ronan Guilfoyle's story mirrors the journey of jazz in Ireland … the bassist and composer has been one of the prime movers on that journey, an auto-didact who earned his spurs on stage with the players of the previous generation, including a prolonged stint with the great Louis Stewart." - The History of European Jazz
"Greg Felton is a fearless and inventive improviser whose bravura two-fisted technique draws on everything from jazz and folk traditions to South Indian classical music" - The Irish Times
"Seán Carpio may be the finest drummer that Ireland has ever produced" - The Irish Times
About Ronan Guilfoyle
Ronan Guilfoyle is a major figure on the Irish jazz scene and has developed an international reputation as a performer, teacher and composer. He began his career with Louis Stewart's group in the early 1980's and studied at the Banff Centre for the Arts in 1986 and 1987 where his teachers included John Abercrombie, Dave Holland, and Steve Coleman. Performing on the acoustic bass guitar since the early 1980s, Ronan is now one of the instrument's leading exponents, and is much in demand as a bassist, both in his native Ireland and on the international jazz scene. Among the people he has performed with are Dave Liebman, Kenny Werner, Joe Lovano, Kenny Wheeler, Keith Copeland, Brad Mehldau, John Abercrombie, Larry Coryell, Benny Golson, Jim McNeely, Sonny Fortune, Andrea Keller, Andy Laster, Emily Remler, Simon Nabatov, Richie Beirach, and Tom Rainey.
Ronan has also been leading his own groups since the mid 1980s, and his groups have toured extensively in Europe, Asia, and North America. He has recorded extensively both as a sideman and as a leader and his output includes the award winning "Devsirme" in 1997. Ronan has been composing for classical ensembles since 1993, specialising in compositions which feature both improvised and written music. He has had great success in this field and has now a large body of work that ranges from solo piano pieces, to chamber works, to orchestral compositions. He has had commissions from a wide range of ensembles and organisations including the RTE Concert Orchestra in Dublin, The Opus 20 String Orchestra in London, and the European Jazz Youth Orchestra. He has also been commissioned to write works for many great soloists including the saxophonist David Liebman, the violinist Michael D'arcy and the virtuoso accordionist Dermot Dunne.
Ronan has also acquired a formidable reputation as a composer in the world of contemporary jazz, and his music has been performed by such jazz luminaries as Dave Liebman, Kenny Werner, Kenny Wheeler, Keith Copeland, John Abercrombie, Andy Laster, Simon Nabatov, Richie Beirach, Tom Rainey, Julian Arguelles, Rick Peckham, and Sonny Fortune. In 1997 he won the Julius Hemphill Jazz Composition Competition in the United States. Over the past 10 years Ronan has become very well known for the teaching of advanced rhythmic techniques for jazz improvisation and his book, "Creative Rhythmic Concepts for Jazz Improvisation" which covers such areas as metric modulation and odd metre playing, is now seen as the standard text for this area. He has been invited to teach this subject at many schools around the world including Berklee College of Music, The New School, and is an associate Artist of the Royal Academy of Music in London, and has also lectured on it for the International Music Congress (UNESCO) in Copenhagen. Ronan is the founder of and head of the jazz department at Dublin City University, Ireland's first third level course in jazz performance.
For more about Ronan, check out his website:
http://www.ronanguilfoyle.com/
---
---
Venue Information - Billy Byrnes
Billy Byrnes is a family run tradional Irish bar and first opened its doors in 1954. We are centrally located in Kilkenny City, just around the corner from the train and bus station.
---