Boye & Colours Afrobeat
Ireland, Dublin Ireland, Dublin
28 Thomas St -
Arthur's
---
---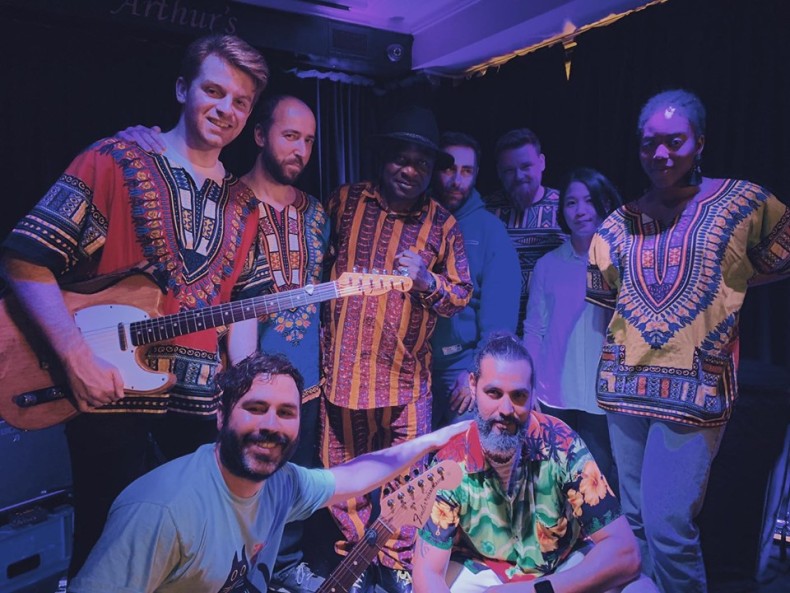 ---
---
---
Launched originally as Colours Afrobeat Foundation – 'Boye PapaGee (Gboyega Akerele) is a Belgian/Nigerian (Yoruba) born drummer/percussionist, saxophonist, singer/song-writer, musical director/producer, cultural envoy and custodian, overseer and keeper of authentic, genuine Afrobeat in Ireland; he is the founder and leader of Colours Afrobeat a 12-piece Band, Ireland's first and foremost multicultural Afrobeat band that premiered before a sold out audience at the Drogheda Arts Centre.
With own tunes; the repertoire of songs are all original; culturally pro-active, consciously progressive in nature and the roots of the music is African blended with all the elements of West African music such as Juju music, Fuji/Apala music, and high-life music intermingled with funk and jazz with emphasis on chanted vocals in the form of call-and-response, intricate criss-crossing rhythm on the drums usually in the form of polyrhythmic percussion and all families of percussions such as Congas, Claves, Shekere, Akuba: a set of 2-3 piece small stick-hit Yoruba Congas that plays accompaniment/solos and ostinatos.
Gboyega PapaGee Akerele - Lead Vox/Alto Sax
Anthony McMahon - Drums #1
Emmanuel Smiley Osungboun - Drums #2
Fjon Klein - Bass
Rodrigo Caixinha - Tenor guitar
(T.B.C) - Rhythm guitar
Marcinho Tarktarov - Congas #1
Luke Olugbenga Aremu - Congas #2
Andrea Fra Manno - Tenor/Baritone Sax
Kendo Dapotter - Trumpet
Krists Liepa - Trombone
Joyce Ileogben - Backing Vocals/Claves
Wendy Godfrey - Backing Vocals/Shekere
Justin McCann - Piano
'Boye PapaGee was dubbed in Paris after hearing his soft and mellow voice as the 'Satchmo of Afrobeat' during a song recording session in collaboration with Kologbo Oghene ex Fela-Kuti's African 70 Guitarist (titled 'Gbogbo-Aye' - meaning the whole world); recorded and produced by Paris DJ record label in Paris in 2017. 'Boye PapaGee & Colours Afrobeat has also collaborated with the legendary drummer Tony Allen (Ex Fela-Kuti's Africa 70 drummer/music director and co-creator of the genre Afrobeat) twice in Dublin, in 2013 at the Ep's launch at The Sugar Club and at the premiere of Feile Afro Culture Summit pioneered by 'Boye PapaGee in 2016 at the Button Factory, Temple-Bar Dublin respectively with huge success. Fela Kuti was once quoted as saying that, "without Tony Allen, there would be no Afrobeat."
'Boye PapaGee & Colours Afrobeat has shared the stage with the Grammy Award-winning American Hip-hop trio 'Naughty by Nature', the legendary Ghanaian guitarist, composer, arranger, bandleader and producer Ebo-Taylor to mention a few. 'Boye PapaGee's song 'Prayer for World Peace' was featured by Star Wax Record Label based in Paris in their limited edition of 33 Rpm Vinyl Afro Disco Dub Volume 4.
The high octane in 'Boye PapaGee's groove creates such energy in the music that is guaranteed to get you dancing from the start to finish.
'Boye PapaGee & Colours Afrobeat long awaited full album was out as download only on Feile Afro Culture Ireland label from the 3rd July 2018 titled AK47 - the idea is to use the craft of music to resist wars, conflicts, terrorisms, bombs, rocket-missiles and bullets resulting in all the senseless killings going on in Nigeria, Africa, U.S.A, in Syria and Iraq, Europe and all around the world. The album also feature track like Mister President, its high time we start asking questions from the politicians on how we are being governed, 'Prayer For World Peace' is also filling European airwaves from the shores of Ireland to France, Belgium, Spain, Brazil, Argentina and The Netherlands and other high octane tracks such as 'Ak47' and 'It is good to be Good' - guaranteed to get you dancing. This album is the finest yet from 'Boye PapaGee & Colours Afrobeat. The date for the album launch is yet to be announced
doors 8.30 music 9-11 entry 15e or 10e(inc booking fee) tickets through eventbrite
---
---
Venue Information - Arthur's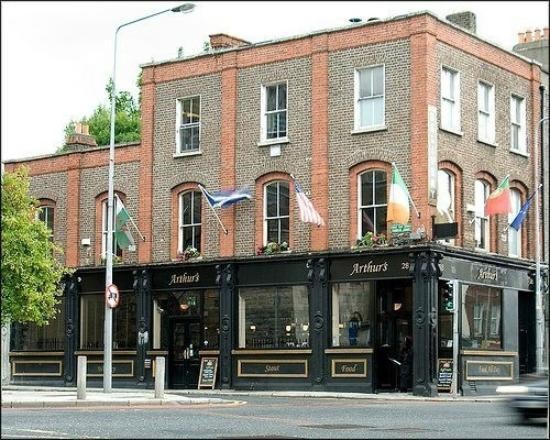 Arthur's is the nearest pub on the route to The Guinness Storehouse, one of the city's foremost tourist attractions. It is popular both with locals and tourists. Naturally it has the freshest pint of Guinness in all of Ireland.
---