RYNX Laneran
Ireland, Dublin Ireland, Dublin
1-B Blessington Street -
La Pausa Caffe
---
---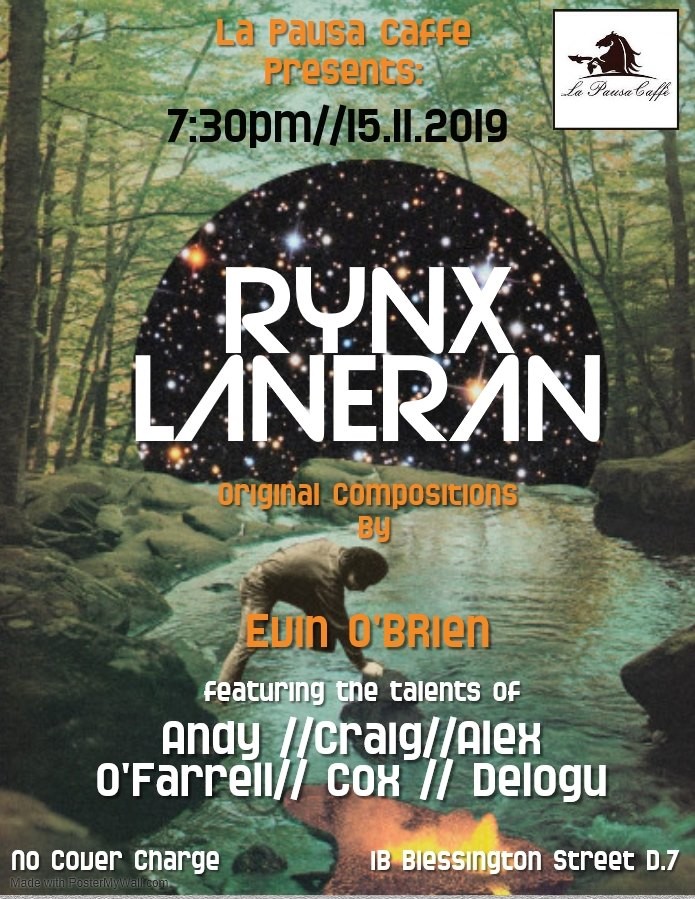 ---
Ranx Li....
Lynx Raner…
Rynx Laneran (phew!..that's it) are back at La Pausa Caffe this November. Everyone's favourite weirdly named quartet return to give us another dose of jazzy, trip hop inspired tunage! Not one to be missed, come check it out! (It's free!) Book your table now!
Rynx Laneran is an innovative quartet based in Dublin and acts as band leader Evin O'Brien's primary vehicle to experiment and develop new compositions. The project brings together members from an eclectic mix of backgrounds in composition, classical music, sound design and theatre and dance, yet grounded with a solid foundation in jazz performance.
Rynx Laneran draws inspiration from classical, contemporary and film score to encourage active participation in the mind of the listener, with an emphasis on the visual aspect that music conjures in the imagination. The quartet combines minimalist melodies with heavy grooves and an informed harmonic sensibility. Original compositions provide the framework from which the band may explore various textures and experiment through improvisation. Each member is given ample room to contribute and a balanced representation of each musician is encouraged as their performance plays a key role in creating Rynx Laneran's dense atmospheric tone and rich spectrum of cinematic aesthetics.
---
---
Venue Information - La Pausa Caffe
---