The Next Experiment with Giani Gagliardi
Ireland, Dublin Ireland, Dublin
28 Thomas St -
Arthur's
---
---
---
The Sofa Sessions at Billy Byrne's presents from Venezuela/Spain/Hungary Next Experiment feat. Gianni Gagliardi
9pm / No Cover Charge
Gianni Gagliardi - saxophone
Leopoldo Osio - piano
Peter Erdei - bass
Gonzalo del Val - drums
The Sofa Sessions is thrilled to present Dublin-based Next Experiment, one of Europe's leading young piano trios with special guest, Barcelona-born saxophonist Giani Gagliardi, one of the rising stars of the Brooklyn jazz scene.
Here's what Sofa Sessions curator and jazz critic Cormac Larkin said about the band in the Irish Times:
"the DNA of the piano trio may be clearly discerned in the close texture of the group's interactions, but the grooves and the instrumentation would be more associated with funk and fusion. [The band's sound] belongs to the piano trio lineage, but CEO Experiment are taking it somewhere altogether unexpected..."

This new multi-national Dublin trio, led by Venezuelan virtuoso pianist Leo Osio, is the successor to the CEO Experiment, a group that brought a welcome new voice to the Irish scene over the past few years, headlining at the Sugar Club and the Sofa Sessions, not to mention collaborating with famed US guitarist Kurt Rosenwinkel. The hugely talented Hungarian bassist Peter Erdei - a regular and popular musician at the Sofa Sessions - returns as the trio's anchor, with star Barcelona drummer Gonzalo Del Val joining, adding his subtle grooves and creativity to Next Experiment's mix of jazz, funk and EDM.
Joining them for this very special short tour is Barcelona born saxophonist Giani Gagliardi, who divides his time between New York and Barcelona.
Gagliardi's debut album, which features the renowned Israeli guitarist Gilad Hekselman, has been described as "the most impressive debut... Gagliardi is now a rising star in the Brooklyn Jazz scene" by the Rochester City Newspaper. Legendary New York pianist David Berkman had this to say about him: "Gagliardi is a wonderful player and composer with a unique lyrical voice. Here on his debut album he shines with a first rate band. His playing has a natural, unhurried, organic quality. His solos unfold very naturally and beautifully. Looking forward to hearing more from this significant new player on the NYC jazz scene."
About Giani Gagliardi
Gagliardi was born In Barcelona in 1987, and is now based in Brooklyn, NY. He began to study violin and baroque/renaissance flute, switching to saxophone at 14. Two years later he moved to the Netherlands to pursue a degree in jazz performance at the Conservatorium van Amsterdam. In 2009 Gagliardi studied at SUNY Purchase with Eric Alexander, Hal Galper and Arturo O'Farrill, leading to studies at Le Conservatoire National Superior de Paris. After moving to Boston to attend Berklee College, Gagliardi was awarded a presidential scholarship in 2012 to the new Berklee Valencia school as a Student/Ambassador, charged with performing for and promoting the college around the world, with appearances at the European Parliament in Brussels, the MIDEM Convention in Cannes, France and many others.
Gianni is the Director of the Barcelona Jazz Collective, a platform for rising musicians to produce and release albums, and has been invited to perform at prestigious international jazz festivals around the globe, such as The North Sea Jazz Festival, the Luxembourg Jazz Festival, Guatemala and Nicaragua Jazz Festivals and Eurojazz Festival (Mexico), as well as leading jazz venues, such as Bimhuis, Porgy & Bess Vienna, Jamboree. Gagliardi has also played in Europe, South America and USA with musicians such as John Clayton, Eric Alexander, Dick Oatts, Phillip Harper, Terell Stafford, Jorge Rossy and many others.Now, Gagliardi is determinedly making his mark on the Brooklyn/NYC scene with the release of his debut CD, Nomadic Nature.
About Leopoldo Osio
Leopoldo Osio was born in Ciudad Bolivar, Venezuela, and started playing piano at a very early age, inspired by Venezuelan traditional music. He credits George Shearing as being the first musician that got him hooked on jazz when he was 14 years old. Around this time, Leo began studying with jazz musician and promoter Ivo Farfan, who introduced him to jazz trumpet player Julio Mendoza who was to become his principal mentor and develop his interest in bebop. Leo immersed himself in the music of Charlie Parker, Dizzy Gilliespie, Chucho Valdes and Paquito de Rivera. At the age of 16, he was invited to perform in the Festival de Jazz en el Orinoco with important Venezuelan musicians like Ivo Farfan, Victor Cuica, Roberto Giron, and later the same year The Jazz Festival El Hatillo with Julio Mendoza Quartet.
His interest in music led him to study at several universities in 3 countries to improve his knowledge in different areas of the music, including Jazz and Latin Music at IUDEM-Venezuela, Brazilian Music at Conservatory Souza Lima-Brazil and Newpark Music Centre where he was awarded a Bachelor of Arts in Jazz Performance (Hons) in 2010. Some of his Jazz Piano Professors have been Phil DeGreg from U.S. Guillherme Ribeiro from Brazil, Laurent Lecuyer and Leo Blanco from Venezuela and Phil Ware and Justin Carroll form Ireland.
International Musicians include Kurt Rosenwinkel, Curtis Fowlkes, Cyrille Aymee, Paul Booth, Ben Castle, Cleveland Watkiss, Ryan Quigley, Michael Buckley, Ronan and Conor Guilfoyle, Nigel Mooney, Richie and Hugh Buckley, Kevin Brady, Cuban All Stars, Dublin City Jazz Orchestra and Hot House Big Band in Ireland, Vicente Macian and Mario Rossi in Spain, Nicolas Folmer and Pierre Bertrand from France, Alejandro Aviles form USA among many other musicians.
Important Venezuelan musicians including Pablo Gil, Andres Briceño, Biella Da Costa and Alvaro Falcon, Leo Quintero, Xavier Padilla, Aquiles Baez, Gonzalo Mico, Orlando Poleo, Orquesta Sinfonica Gran Mariscal de Ayacucho, Orquesta Sinfonica Dr. Carlos Mohle and La Orquesta Sinfonica del Estado Nueva Esparta among many others.
Leo has performed in several countries like Venezuela, Brazil, Uruguay, Colombia, Spain, Russia, Slovakia and Ireland and International Jazz Festivals and Clubs include Bratislava Jazz Days 2014, Lucenec Jazzove Listie 2014, Bray Jazz Festival, Cork Jazz Festival, Galway Jazz Festival, Limerick Jazz Festival, Festival of The World Cultures in Dun Laoghaire, Electric Picnic, Music al Carrer, XII Festival Jazz al Parque, Nagua-Nagua Jazz Festival, Jazz Festival El Hatillo, Festival de Jazz en el Orinoco, Margarita Jazz Festival. Jazz clubs: JJ Smyths and Bewley's Cafe Theatre in Dublin, Sindikat Jazz Club and Ao Vivo in Sao Paulo, Cafe Mercedes Jazz in Valencia-Spain, Forte Jazz Club and The Vniigaz Auditorium in Moscow among many others.
Leopoldo Osio is currently based in Dublin-Ireland, where he has been very active as a Jazz Pianist and Piano Teacher.
About Gonzalo del Val
Born in Miranda de Ebro, Burgos, Gonzalo del Val began his musical studies at the young age of 7 years old at the Municipal Conservatorium of Miranda of Ebro. Then relocated to Madrid where he studied drums with Guillermo McGill and composition-arrangements with Ramón Paus for two years.Later on, he received a scholarship to study at Conservatori del Liceu in Barcelona, where he obtained a Bachelors degree under the direction of musician Marc Miralta.
Gonzalo del Val's final thesis; entitled "Seis Cuentos Musicales" received the highest marks of excellence. His work based on original compositions was inspired by the work of French filmmaker 'Eric Rohmer'. He has also studied at Conservatori del Liceu in Barcelona under talented teachers such us Aldo Caviglia and renowned American drummer Ed Soph.
In 2009 Gonzalo was awarded a Youth Excellence scholarship to study at the prestigious Manhattan School of Music in New York, under the instruction of Professor John Riley. While studying in New York, Gonzalo also received classes under the instruction of drummer Adam Nussbaum.
That same year, French magazine 'SOJAZZ' included a review of Gonzalo's album in a section esteeming his talent as "… one of the best representatives of the Spanish contemporary scene …"
---
---
Venue Information - Arthur's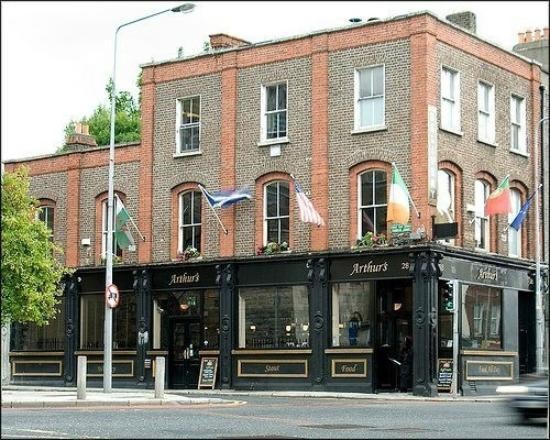 Arthur's is the nearest pub on the route to The Guinness Storehouse, one of the city's foremost tourist attractions. It is popular both with locals and tourists. Naturally it has the freshest pint of Guinness in all of Ireland.
---