The Jabin Ward Trio
Ireland, Dublin Ireland, Dublin
18 camden street lower -
Anseo
---
---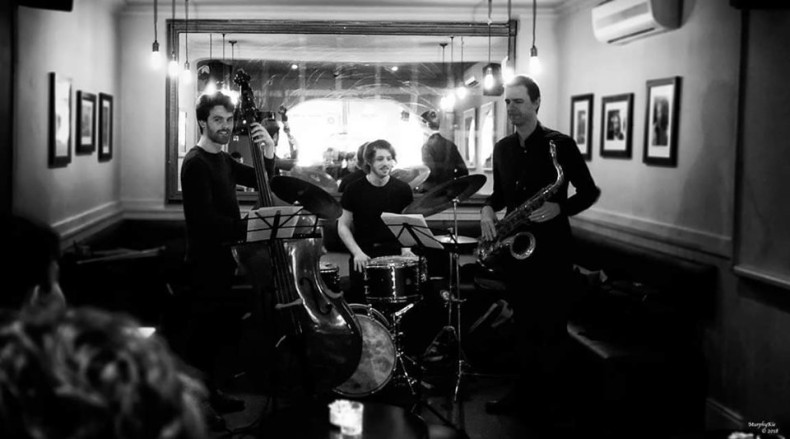 ---
The Jabin Ward Trio is a contemporary improvising Jazz group featuring Jabin Ward [Tenor sax], Niall McGuinness [Bass] and Dan Walsh [Drums]. The trio has developed their free and rooted approach over years of working as residents at Cork's long running Blue Note At The Roundy [2010-2016] and through exploration in various groups at Cork Improvised Club in time since.
Hailing from the mighty Waikato region of New Zealand, Jabin Ward moved to Wellington and spent 10 years in the vibrant Wellington music scene. He then honed his skills touring for six years with reggae/funksters 'The Black Seeds' gathering inspiration from the many great artists he shared the stage with at festivals and clubs around the world. Since living in Cork he has had the fortune to perform with the legendary 'Karma Parking' and also contributed to the funky stench of improvised funk band STINK!
Niall McGuinness comes from a background that encompasses jazz, trad and heavy metal, his unique perspective produces a sincere approach. Niall lends his ear to a wide spectrum of music, working in many different situations including singer songwriters such as Sam Clague and Ruairi D'Leister; ensembles such as the Cork City Jazz Orchestra, FONN, as well as working with the Cork Concert Orchestra.
Dan Walsh is a musician from Cork City currently active as drummer, bandleader and composer in FIXITY, a project dealing with improvisation, repetition and textural movement in song-form, as Soprano Saxophonist/Percussionist in The Bonk, as Drummer/co-producer in The Great Balloon Race and as half of experimental electronic duo Senior Infants. Dan has been curator/promoter of the ongoing experimental music event Cork Improvised Music Club since 2013 and has used these opportunities to hire, perform with and learn from a large pool of musicians from Ireland and abroad, informing through collaboration his approach to improvisation which permeates all of his work.
The Trio plays Free music that draws on a long-standing tradition of real time composition in Jazz and a collective love of the work of Ornette Coleman and Thelonious monk.
---
---
Venue Information - Anseo
---