F-JoB
Ireland, Dublin Ireland, Dublin
34 Anne's Lane -
Venue 35
---
---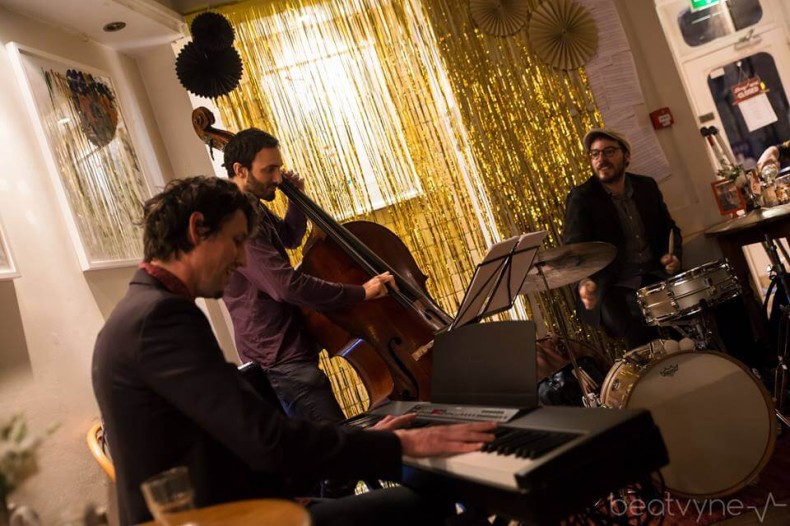 ---
F-JoB take to the stage again in Venue 35. We'll be having some fun exploring standard repertoire.
Greg Felton - Piano
Cormac OBrien - Double Bass
Matthew Jacobson - Drums
As individual artists, the three members of F-JoB have been at the forefront of several of the most artistically and commercially successful projects in creative Irish music over the last fifteen years. Pianist Greg Felton has played in groups lead by Ireland's most renowned jazz musicians Louis Stewart and Ronan Guilfoyle and was commissioned to write and perform a large-scale piece for the RTÉ Living Music Festival in 2007 with the group White Rocket. Bassist Cormac OBrien is one of the most in-demand bass players in Ireland, holding the bass chair with the Dublin City Jazz Orchestra as well as leading his own groups and performing regularly with Irish jazz and folk singer Mary Coughlan. He worked regularly with Louis Stewart for a number of years as well as international luminaries such as Bobby Watson, Ernie Watts and Cleveland Watkiss. Drummer Matthew Jacobson is highly active on both the Irish and European creative music scenes, performing with and composing for several leading ensembles including Aerie, Insufficient Funs, Umbra, Ensemble Ériu and ReDiviDeR. However, for the past year, the three have been developing their own sound as a piano trio, working on both original material and arranging and improvising with broadway standards and even well-known pop songs.
Felton, Jacobson and OBrien share a lot in common: all three studied both at Newpark Comprehensive secondary school and later at Newpark Music Centre; they all visited Chennai in South India at separate times to study the region's South Indian Carnatic music; they all have a deep interest in the traditions of jazz but are equally adept at interpreting challenging contemporary material; and all have an open-minded, inclusive vision of the music they perform. All these shared characteristics give the group a unique vantage point, allowing them to take the well-trodden piano trio format to innovative and exciting places.
It is unusual to hear a piano trio that are as at home swinging through standards as they are making their way through rhythmically shifting downtown grooves and that also play with the spontaneity and reactivity to suddenly break all of this information down and interact in a free and open manner.
They have already had several critically successful performances, including at the Galway Jazz Festival 2016 – about which AllAboutJazz magazine stated: "F-JOB is a trio with bags of personality, where virtuoso playing is tempered by rich rhythmic textures strong melodies and a soulful collective voice".
https://www.facebook.com/FJoBmusic
Audio
https://soundcloud.com/cormacobrien/rum
https://soundcloud.com/cormacobrien/i-mean-you
Review
https://www.allaboutjazz.com/galway-jazz-festival-2016-andy-sheppard-by-ian-patterson.php?pg=4
---
---
Venue Information - Venue 35
---