Emilie Conway Brazilian Jazz
Ireland, Dublin Ireland, Dublin
28 Thomas St -
Arthur's
---
---
---
The evocative melodies and grooves from some of Brazil's leading composers Jobim, Nascimento, Bosco, Powell, Joyce & more
Featuring "Yemanjä" an original art-music collaboration between Emilie Conway and artist, Mairead DeBlaca
Emilie Conway - voice
Johnny Taylor - piano
Paddy Groenland - guitar
Dave Mooney - bass
Andre Antunes - drums
Mairead DeBlaca - original artwork
Facebook:https://www.facebook.com/emilieconwaymusic
Twitter @emilieconway
https://deblaca.eu
Following sold-out gigs at the Workman's Club and at the National Concert Hall, Emilie Conway and band present their further exploration of music from Brazil : the beautiful melodies, elegantly evocative lyrics, gently swaying bossa novas and lively sambas by some of Brazil's leading composers. This concert will also feature a special ongoing collaboration between Emilie and artist Mairead deBlaca with original music and artwork, inspired by the Candomblé legend of Yemanjá, Goddess of the Sea.
Emilie's band members include some of the leading artists of the Irish jazz and world music scene: pianist Johnny Taylor (Mary Coughlan, Nigel Mooney, Linley Hamilton, Aoife Doyle, Loah). guitarist Paddy Groenland, (Ensemble Eriu, West African group Manden Express, Leafzang). bassist Dave Mooney (Gavin Friday, Sarah Brightman, Jeff Ramsey, Al Jarreau Group) and Brazilian drummer Andre Antunes, (Loah, Republic of Loose, Sinead O Connor, Amy Winehouse, Edu Ribeiro, Leo Maia).
Emilie's love of literature, especially poetry, informs her love of music and singing and frequently she marries these two loves in performance. She created You Won't Forget Me, a celebration of the life and work of writer Maeve Brennan in 2017 which she presented at the world-renowned Cornelia St Café in New York's Greenwich Village, Chicago's American Writers' Museum and The American Irish Historical Society, NYC, culminating in a sold-out performance at the National Concert Hall. Most recently, in March 2019, she was invited to collaborate and perform at the Lincoln Centre, NYC in a musical and literary production of the work of Yeats and Tagore.
"A wonderful talent. Emilie Conway sings her songs from her heart. She really means what she sings."
- Sheila Jordan (jazz singer/composer)
"Splendid. Emilie Conway gets better all the time."
- The Sunday Independent
"… her own vocalese to Coltrane's solo demonstrate[ed] her abilities to their fullest, flitting through the lyrics at a tempo most rappers would be envious of, while maintaining a bouncing melody and clarity of diction throughout."
– GoldenPlec Music Magazine
"Star of the show is Conway's voice."
- Hot Press Magazine
---
---
Venue Information - Arthur's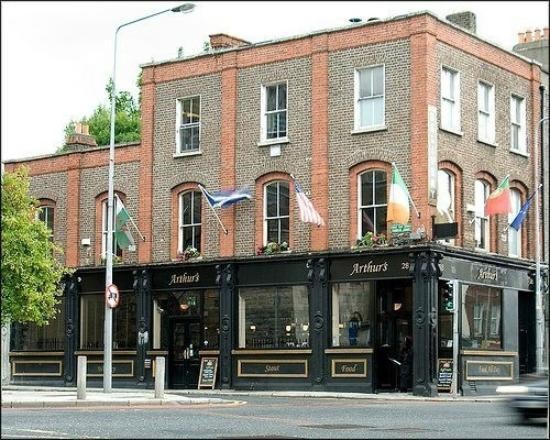 Arthur's is the nearest pub on the route to The Guinness Storehouse, one of the city's foremost tourist attractions. It is popular both with locals and tourists. Naturally it has the freshest pint of Guinness in all of Ireland.
---