Guilfoyle / Nielsen Trio
---
---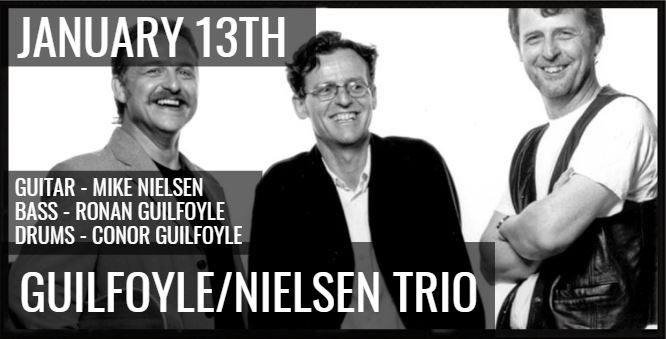 ---
You can't keep a good band down, and guitarist Mike Nielsen and the brothers Guilfoyle are ready again to ply their intense, rhythmically adventurous approach to jazz and improvisation.Their chemistry is undeniable, creating a collective intensity and brawn that few Irish groups before or since have matched, and developed over formative musical experiences together that go back to the early 90's.
Ronan Guilfoyle is director of the jazz department at DCU and has performed extensively worldwide with high profile artists such as Kenny Werner, Dave Liebman and Brad Mehldau.
Conor Guilfoyle is Ireland's leading contemporary jazz drummer, and a leading exponent of Afro-Cuban drumming.
Mike Nielsen is currently Director of Jazz Performance at the DIT Conservatory of Music and Drama, with an impressive career having played with Kenny Wheeler, Joe Lovano and Dave Liebman amongst many others.
Get ready for one of the most invigorating experiences Irish jazz has to offer!
---
---
Venue Information - The Workman's Club
Run by people passionate about music, our venue welcomes performers of all flavours. Alongside the headline gigs, The Workman's Club is home to some of the capital's finest club, comedy, acoustic and new band showcase nights.
The striking old-school decor makes it a popular choice for parties, launches, screenings, book readings and multimedia takeovers, as well as photo, video and movie shoots.
---