Izumi Kimura 'Finger Painting'
---
---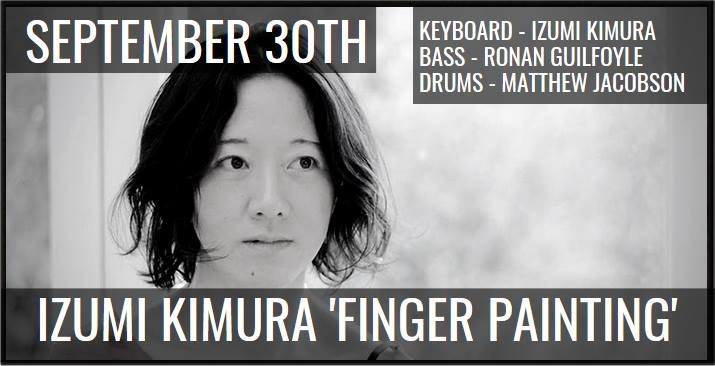 ---
Pianist Izumi Kimura brings together her longtime collaborator and friends Ronan Guilfoyle and Matthew Jacobson for improvising trio.
'Sometimes I like to paint pictures with my fingers. They are abstract shapes and colors. I let my fingers dance on the paper without care. I don't know anything about painting, I just enjoy the feeling. And I simply wanted to play music like that.
I am lucky to have these friends and wonderful musicians who are willing to do this together, sincerely and light-heartedly, bringing their expertise and sensitivities, to have fun and let it unfold'.
Izumi Kimura, Keyboard
Ronan Guilfoyle, Bass
Matthew Jacobson, Drums
Izumi Kimura continues to perform and teach in fields of classical, jazz and improvised music. Her interest is in connecting separate parts back in improvisation. She has worked and played with many great musicians in Ireland and Internationally.
Kimura brings a combination of feral creativity and technical virtuosity to the stage that belies her calm demeanour.
Colmac Larkin, Irish Times
THE VINTAGE ROOM, above the Bison Bar
---
---
Venue Information - The Workman's Club
Run by people passionate about music, our venue welcomes performers of all flavours. Alongside the headline gigs, The Workman's Club is home to some of the capital's finest club, comedy, acoustic and new band showcase nights.
The striking old-school decor makes it a popular choice for parties, launches, screenings, book readings and multimedia takeovers, as well as photo, video and movie shoots.
---