LJF ONLINE 2021: University of the Arts Big Band Philadelphia
---
---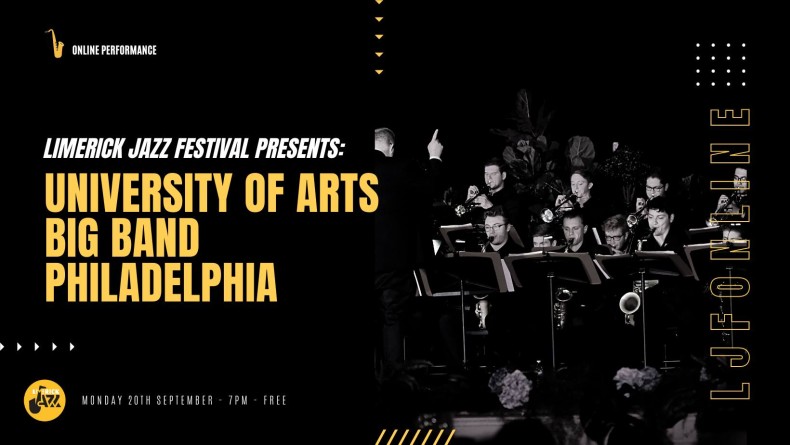 ---
Limerick Jazz Festival is proud to present an online big band performance from University of the Arts Philadelphia.
Admission to this online event is free. A link to the stream will be posted closer to the event.
The University of the Arts is located in center city Philadelphia, Pennsylvania, and offers undergraduate and graduate degree programs in Art, Dance, Design, Film, Music, and Theater. The School of Music has a distinctive history in Philadelphia as one of the oldest music schools in the city of Philadelphia. The chool started its jazz program just over 50 years ago, and currently offers undergraduate programs in Instrumental Performance, Vocal Performance, Composition, Music Business, Entrepreneurship and Technology (MBET) and graduate programs including MM in Jazz Studies, Master of Arts in Teaching in Music (a five year, BM+MAT and standalone MAT program). The school offers core classes, private lessons and over 30 ensembles with world-class musicians and educators. Being an arts institution, the school offers opportunities to work with and experience other disciplines.
In December of 2019, the School of Music moved into brand new facilities located in the University's Terra Building. Our new music facilities include the Laurie Wagman Recording Studios, two beautiful recording studios, hosting a balance of analog and digital technology, a circuitry lab for the study and creation of audio electronics, new practice rooms and rehearsal rooms, production suites, and multiple computer labs. Our desire is to prepare students for an ever changing industry, which requires expertise in the performing arts combined with an understanding of the marketplace and the many ways to establish a successful career.
More information available at the Limerick Jazz Festival Website: http://www.limerickjazzfestival.co
---
---
Venue Information - Online Event
---