Marc Copland
---
---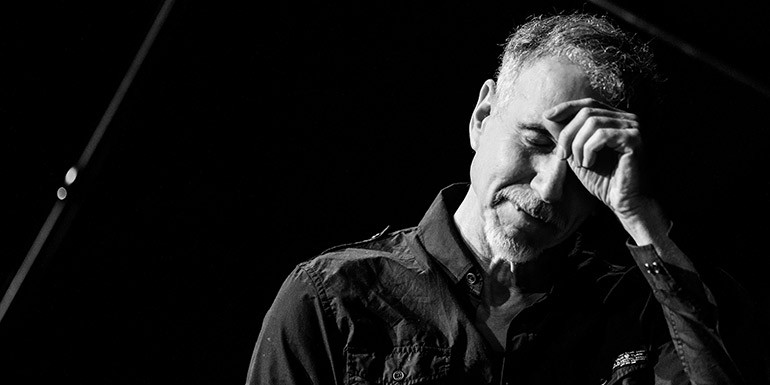 ---
It doesn't seem right to think of him as an elder statesman but pianist and composer Marc Copland, now 73 years old, has been spinning out sounds like no other pianist since the mid-1970s.
For his exclusive solo concert at Triskel, Marc will also perform selections from his new solo album John, which is a homage to his long time friend and collaborator John Abercrombie. It is being extremely well-received by critics and already earned "CD of the Month" (Stereoplay, Germany), "Editor's Pick (Downbeat, USA), "Choc" (Jazz Magazine, France), 4,5 Stars (All About Jazz, USA), 5 Stars (Rondo, Germany).
He is considered a player with a lyrical sense of touch, unique innovative harmonies, and a deep sense of swing. His output as a leader is staggering: over 40 albums, recorded for over 10 different labels, featuring major jazz voices of the past and present – John Abercrombie, Ralph Alessi, Joey Baron, Mike Brecker, Randy Brecker, Dennis Chambers, Mark Ferber, Drew Gress, Billy Hart, Dave Liebman, Victor Lewis, Joe Lovano, Greg Osby, Gary Peacock, Bill Stewart, Robin Verheyen, Ken Wheeler, etc. In the last decade, he was pianist for both Gary Peacock's trio and John Abercrombie's quartet.
But if you were thinking of Copland as an older musician simply resting on his laurels – you couldn't be more wrong. In 2016 he started his own label, innerVoice Jazz, and in 2019 a partner label, Illusions/Mirage. His latest release, the solo piano outing John received several "best of" citations: Down Beat (USA), "Editor's Pick", CHOC (best of the month) from Jazz Magazine (France), "CD of the Month" from Stereoplay (Germany), five stars from both Rondo (Germany) and Neu Zuricher Zeitung (Switzerland). Dan McClenaghan of allaboutjazz.com put it this way: "Copland is a genius … he creates the loveliest of sounds." The respected blog jazzstation awarded him "#1 Acoustic Pianist of the Year" for 2020 (http://jazzstation-oblogdearnaldodesouteiros.blogspot.com/2021/01/the-best-jazz-of-2020-os-melhores-do.html)
REVIEWS
"A genius." allaboutjazz.com
"A veritable poet of the piano." Repertoire, France
"Jazz at its absolute finest." Jazzreview.com
"A quiet giant….the stuff of legend." allaboutjazz.com
"The best and most lyrical album I've heard in a while." Downbeat (USA)
"The piano whisperer." Jazz n More (Switzerland)
"Only a genius could do this." Arnaldo de Souteiro jazzstation-oblogdearnaldodesouteiros.blogspot.com
---
---
Venue Information - The Triskel Arts Centre
Triskel Arts Centre is a vibrant cultural HUB in the heart of Cork City and we celebrated 40 years in 2018. Our main auditorium Triskel Christchurch is a multidisciplinary space housed in a fully refurbished neoclassical Georgian Church.
This state of the art venue, which launched in 2011, is programmed with a rich bill of live music, with a focus on Classical and Jazz concerts, cultural cinema, visual art exhibitions and literary events. Triskel also runs a contemporary art room Triskel Gallery Space. Unique in Ireland, Theatre Development Centre is the only fulltime operation dedicated to the development of theatre, this is managed by Corcadorca Theatre Company.
---