Linda May Han Oh & Fabian Almazan
Ireland Ireland
Military Rd, Knocknashee, Boyle, Co. Roscommon -
King House
---
---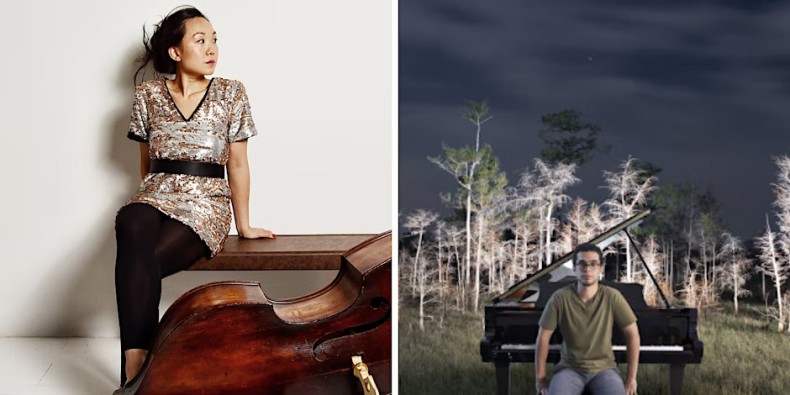 ---
Music Network closes its Spring 2023 season with bass and piano duo, a jazz combination that is refreshing in its simplicity.
Linda May Han Oh bass
Fabian Almazan piano
Doors will open at 7pm, and the performance will begin at 7.30pm
The lingering days of midsummer will be the perfect time to delight in the music of two leading jazz artists of our time: Malaysian-Australian bassist Linda May Han Oh and pianist Fabian Almazan. These two hugely accomplished performers, improvisers and composers visit Ireland this year with over a decade of stunning musical collaborations, and their concerts will highlight mostly original works that express virtuosity and imagination in generous measure. Almazan draws profound inspiration from his Cuban heritage, its natural environment, and his musical training in jazz and classical idioms—by bringing this together with Oh's prodigiously gifted bass-playing and compositional talent, the result is a recipe for awe-inspiring musical brilliance. Displaying musical sensitivity and audacity in perfect proportion, these two players deliver an impeccably paired and unforgettable musical experience this June.
Linda May Han Oh
Based in New York City, Linda May Han Oh is a prodigiously gifted bassist and composer who has performed and recorded with renowned artists such as Pat Metheny, Kenny Barron, Joe Lovano, Dave Douglas, Terri Lyne Carrington, Steve Wilson, Geri Allen and Vijay Iyer.
Born in Malaysia and raised in Perth, Western Australia, Linda has received many important awards including 2nd place at the BASS2010 Competition, semi-finalist at the BMW Bass competition and an honorary mention at the 2009 Thelonious Monk Bass Competition. She also received the 2010 Bell Award for Young Australian Artist of the Year and was 2012 Downbeat Critic's Poll Rising Star on bass. In 2018 and 2019 she was voted Bassist of the Year by the Jazz Journalists Association, as well as being Up-and-coming Artist of the Year in 2019. A recipient of both the Jerome Foundation Fellowship and the Chamber Music America New Jazz Works Grant in 2019, she was also voted 2019 Bassist of the Year in Hothouse Magazine and won the Margaret Whitton Award in 2020.
As a leader, Linda's five album releases have received widespread critical acclaim. Her most recent release Aventurine is a double quartet album, featuring string quartet and vocal group Invenio. Jazz Trail stated "Oh's compositional virtuosity is on display throughout the record, generating layered and risk-taking new music" while Downbeat wrote "it's a testament to her musical vision that even after a dozen or more listens, the album continues to reveal additional depths". Linda has written for large and small ensembles as well as for film, participating in the BMI Film Composers Workshop, Sundance Labs at Skywalker Ranch and Sabrina McCormick's short films, A Good Egg and FracKtured. Linda was recently featured as the bassist in the Dorothea Williams Quartet in the Pixar movie Soul under the musical direction of Jon Batiste (The Late Show with Stephen Colbert) alongside drummer Roy Haynes.
As an active educator, Linda has created a series of lessons for the BassGuru app for iPad and iPhone. She is currently on faculty at the New School - School of Jazz, as well as Berklee College of Music.
Fabian Almazan
Celebrated Cuban-American pianist and composer Fabian Almazan found his musical roots as a child in Havana where he was first introduced to the classical piano tradition. During the completion of his jazz piano bachelor's degree at the Manhattan School of Music, Fabian immersed himself in the realm of orchestral composition, studying instrumentation and orchestration with Mr. Giampaolo Bracali, and his musical journey took off from there. He has received two Grammy nominations and additional accolades include the SWR New Jazz Meeting Commission, Copland Fund, Jerome Fund for Emerging Composers Award, Jazz Gallery Residency, Rockerfeller Brothers Residency and Cintas Foundation Award in Composition.
As a performer, Fabian has developed a personal voice through the electric manipulation of the acoustic piano in live and studio settings. He has toured his music extensively as well collaborating with artists such as Terence Blanchard, Gretchen Parlato, John Hollenbeck, Mark Guiliana, Dave Douglas, Avishai Cohen and Ambrose Akinmusire. Most recently, Fabian can be heard in films Harriet, Chi-Raq, Red Tails and Miracle at St. Anna.
As an environmentalist and naturalist, Fabian travelled back to his birthplace where he made field recordings of endemic Cuban birds which were then Incorporated into This Land Abounds With Life, his most recent album as a leader. He is the founder and director of Biophilia Records and has worked diligently towards ensuring a continued dialogue of awareness concerning music and environmental justice.
---
---
Venue Information - King House
---