Piece by Piece #8: Úna Monaghan
---
---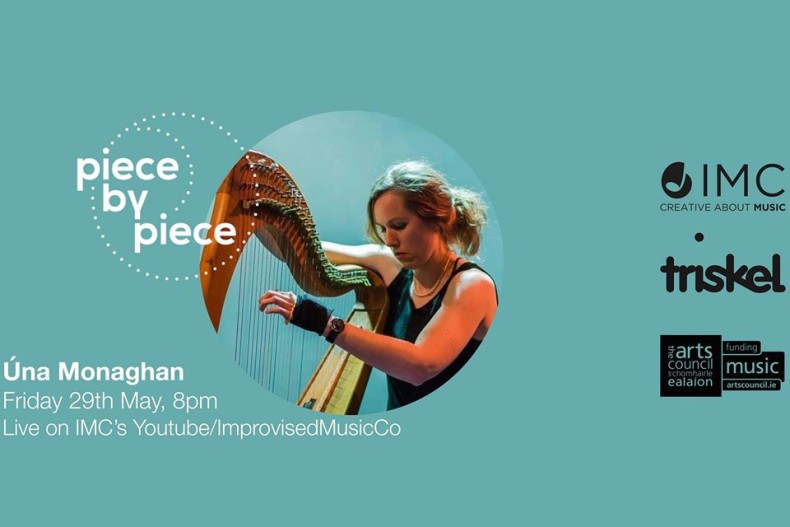 ---
IMC and Triskel Arts Centre are coming together to host a weekly sequence of online solo performances featuring leading Irish improvisers, streaming each Friday at 8pm.
Completing the sequence for Piece by Piece is Belfast harper and sound artist Úna Monaghan. Monaghan examines the intersections between Irish traditional music, experimental music practices, improvisation and interactive technologies. She frequently mixes electro-acoustic textures and ambient sound recordings with traditional tunes and harp improvisations. Often strongly narrative, her work can dwell on darker aspects of human experience alongside re-imaginings of traditional dances and airs.
In the Piece By Piece series, each artist's input performance will influence or inspire the next performance in this musical chain. Piece by piece, artists will create new improvised work, based on the preceding work. Improvising musicians are uniquely skilled at interpretation and spontaneous creation allowing for fresh creation of the highest calibre.
Enjoy fresh new music, influenced in real-time, from world-class Irish improvising musicians, telling the story of these strange times through new music and live performance, piece by piece.
Friday 29th May, 20:00 GMT+1
Streaming on IMC's Youtube channel
https://www.youtube.com/user/ImprovisedMusicCo
And Triskel Arts Centre Facebook page
https://www.facebook.com/triskelartscentre/
READ MORE about the full programme here: https://www.improvisedmusic.ie/news/artists-announced-for-piece-by-piece
---
---
Venue Information - The Triskel Arts Centre
Triskel Arts Centre was founded in 1978, and moved to its current home in Tobin Street in 1986. Triskel celebrated its Thirtieth Anniversary in 2008. As Cork's principal Arts Centre our mission has always been to commission, present, and promote the contemporary arts in Cork, and to ensure the arts are made available to as wide a public as possible.
---