Nigel Mooney (guitar, vocals) was the very first jazz and blues musician to play in JJ Smyth's, back in 1986. The upstairs venue in Aungier Street went on to become the nearest thing we had to a jazz club in Dublin. Sadly, all this has come to an end with the owners' decision to sell the pub. After several 'farewell gigs' over the last few months, the absolutely final finale took place on Sunday 23 April. Nigel Mooney, who played the first gig 31 years ago, also played the last. He was backed by Johnny Taylor (piano), Barry Donoghue (bass) and Dominic Mullan (drums), with Richie Buckley (tenor sax) as a special guest. The place was packed.
The occasion was memorable for Nigel's sparkling guitar and exuberant vocals, Richie's full-blooded tenor and the rollicking beat of the Taylor Trio. The accent was on the blues as the singer belted out Willie Dixon's 'I'm Ready', followed by his own 'I Ain't Ready' and the ever-popular 'Got My Mojo Workin''. An old pop ballad, 'It's Magic', provided a contrast.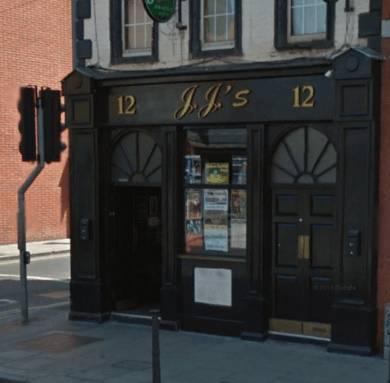 More guests got up on the stand in the second half. Jim Doherty played piano while Charlie Mooney (guitar) accompanied his Dad's singing on 'God Bless the Child'. Ray Preston's delectable harmonica was featured on this and other numbers. 'Teach Me Tonight' and 'It Ain't Necessarily So' were followed by a driving instrumental, 'Cherokee', played at a fast lick and featuring a fiery tenor solo.
Before ending, Nigel Mooney thanked JJ Smyth's owners and staff, and of course the one and only Spanner, long-time doorman, sound technician and photographer. Then he went on to sing a quietly optimistic 'Over The Rainbow' and a rousing 'Every Day I Have the Blues'. It was a great gig, full of energy, drive and zest, and a fitting farewell to JJ's.
Editor's Note:
At the time of posting this article, Jazz Ireland received word on the grapevine that the music policy may yet live on at JJ Smyth's, so we hope that the many announcements of its demise, both on-stage and off, are proven to be premature. Watch this space.