The Guinness Cork Jazz Festival fast approaches and I wanted to send out a preview of the jazz events happening on the October Bank Holiday Weekend.
There will be a healthy mix of acts in this post, some headline, some not and some real gems but as always everything will be in the jazz event calendar on the website. With over 100 upcoming events listed on the website you are sure to find something you like.
It will be too overwhelming to cover everything in a single post so I will be following this up with a newsletter on Wednesday. Hopefully this small selection gives you a taste of what is on offer in Cork this year.
Featured Spotlight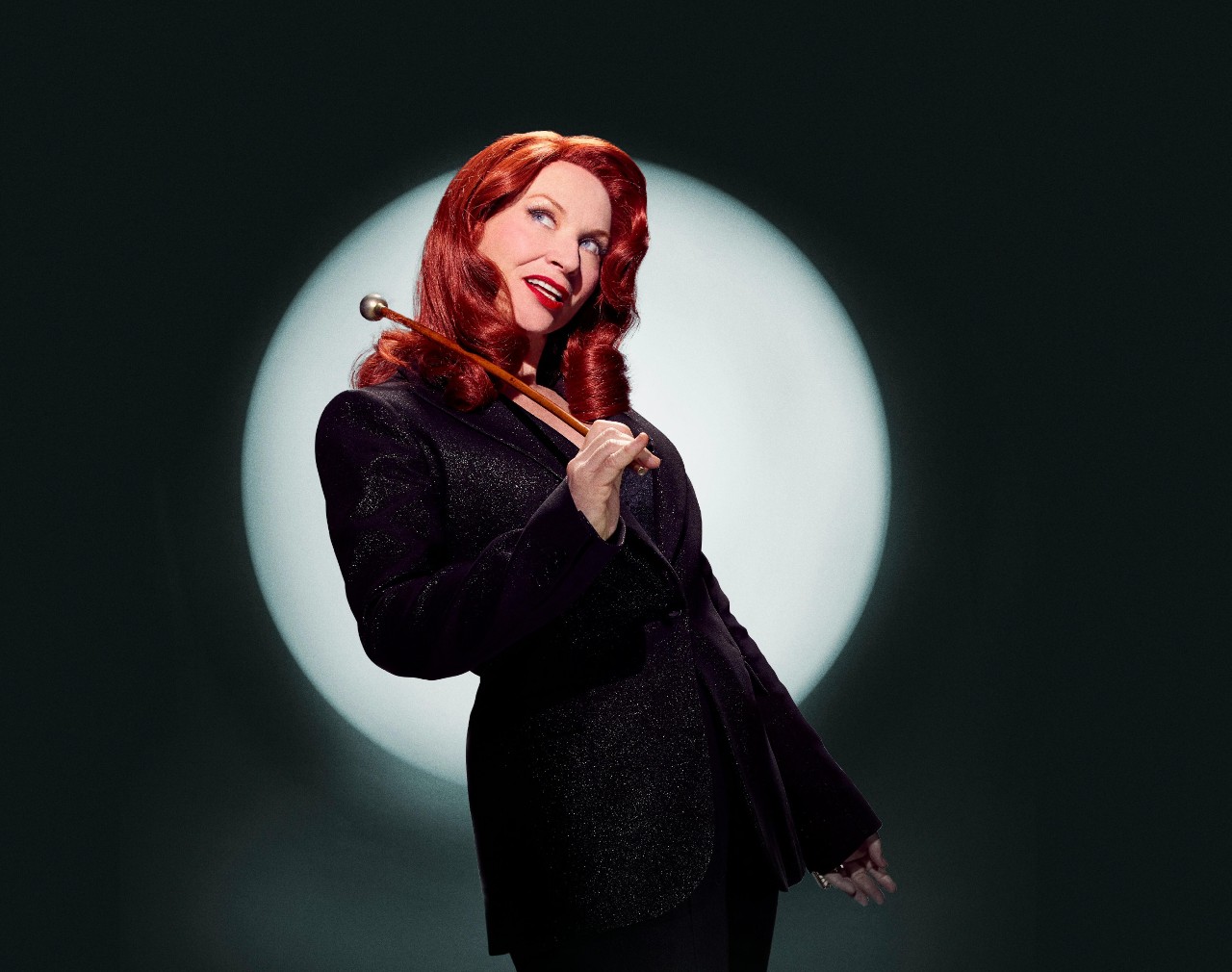 The first act on the list I want to give a little more space to is Judith Owen and her New Orleans Gentlemen Callers, Rumour has it tickets are SOLD OUT so if you get to see her you will be in for a real treat.
Friday October 28 - The Metropole Hotel - at 7.30pm
Saturday October 29 - The Metropole Hotel - at 9.30pm
The shows are a timely opportunity for Irish Jazz music lovers to hear Judith's seductive, fun and alluring new album 'Come On & Get It' for the first time, live.  The album has just gone on release and the advance album tour included shows in Paris, London and New Orleans with dates also expected to come in New York and Los Angeles.
'Come On & Get It''' is now available on iTunes
Radio stations across Europe has embraced this beautiful album.  With both singles to date; Blossoms Blues and Fine Brown Frame notching up plays in Germany, Italy, Spain, The Netherlands and more than 40 playlists in the UK including Jazz FM.  Blossom's Blues was added to many radio playlists in France this summer after Judith played an industry event in Paris and this September she went on to sell out four consecutive shows in the city.
'Come On & Get It' was conceived out of Judith's childhood fascination with the jazz music of some of the ballsiest women of the Jazz and Blues world, including unsung trailblazers; Nellie Lutcher and Julia Lee whom she discovered hidden on the shelves of her father's record collection alongside the likes of Oscar Peterson and Jelly Roll Morton.  Captivated and enchanted by these unapologetic chanteuses of the 40's/50's (Pearl Bailey, Dinah Washington, Blossom Dearie, Peggy Lee, Julie London); Owen made it her mission to dig deep and find out more from both a musical and historical perspective. The resulting album is the most uplifting and empowering project, for this artist, to emerge out of Covid and is a throw-back with a fresh feel, Judith style; complete with a look and style that speaks of all those hugely entertaining women who broke the glass ceiling with their shoe heels and were ever so proud of it! 
 "Owen's new album, Come On & Get It - one of the most joyous releases of the year"
UK Times
"She made us swing in the TSF JAZZ studio and at Le Duc des Lombards: The singer with sensual, even torrid jazz, signs a joyful and perfectly retro album" 
TSF JAZZ (France)
 "It was the best show I've ever seen at Pres Hall.  It had everything!"
Eric Paulson (WWL-TV/CBS) USA
Watch Judith in action here;
Judith Owen - Live from Jude's Place
Friday October 28 - The Metropole Hotel - at 7.30pm
Saturday October 29 - The Metropole Hotel - at 9.30pm
You can also listen to Judith in the latest edition of The Hot Box 087 – Best Female Jazz Artists Past & Present.
Triskel Arts Centre
There is always a great programme from the Triskel Arts Centre for the Cork Jazz Festival and it is always recommended to go check them out.
Triskel are bringing these artists to Cork for the Guinness Cork Jazz Festival because of repeated requests from Cork Jazz audiences and ECM fans. This weekend will be truly memorable, featuring Irish jazz musicians, legends from the ECM label and Music Network. Triskel will once again be your sanctuary for incredible jazz.
Here's the line-up!
Friday 28 October 8pm Notify & Aoife Doyle
Saturday 29 October 2pm Amaro Freitas
Saturday 29 October 8pm Ralph Towner
Sunday 30 October 2.30pm Seline Saint-Amis, as part of a Music Network tour
Sunday 30 October 8pm Andy Sheppard East Coast
 The Everyman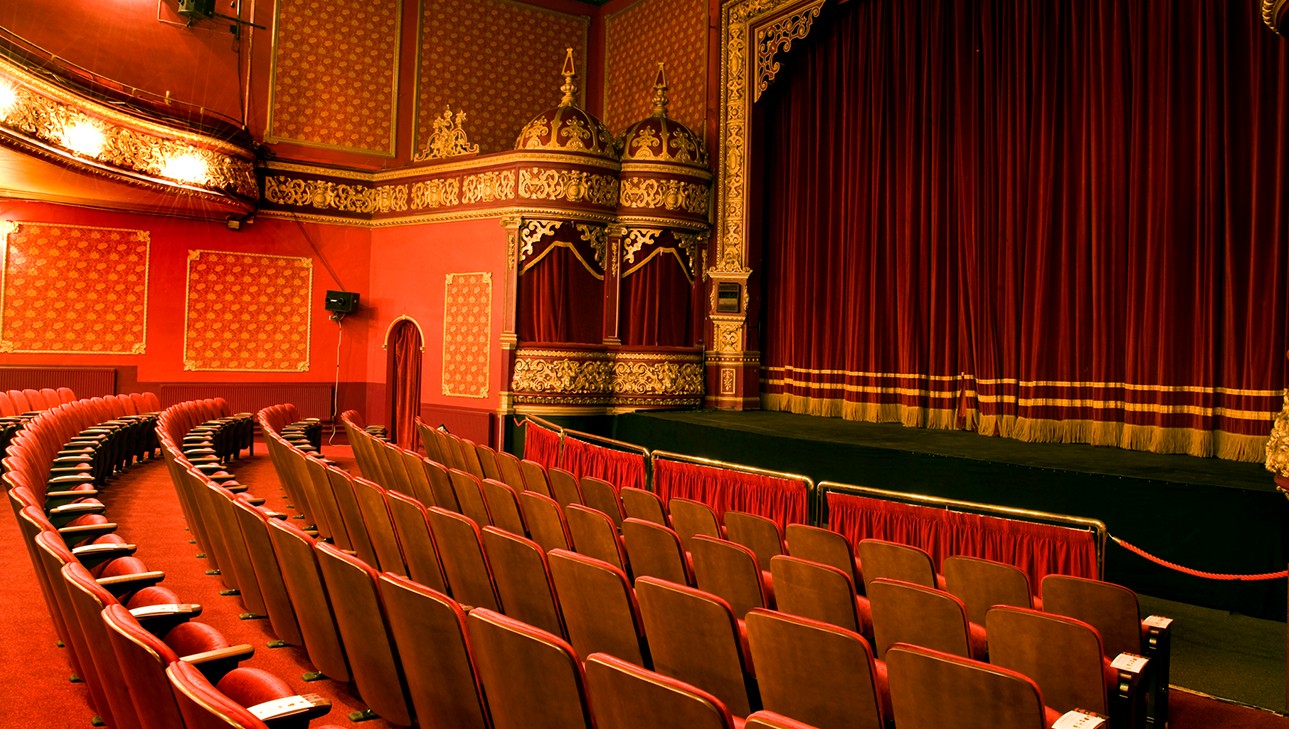 Some of the headline acts appearing at the Everyman Theatre I have chosen are late night events so please be ware of that in case you need to make other travel arrangements to get home safety.
Friday 28 October 2022 - GoGo Penguin - 10:45pm - 12:15am
Following the release of their new single, 'Ascent', internationally hailed collective GoGo Penguin take to the stage of The Everyman as part of the Guinness Cork Jazz Festival.
GoGo Penguin have been internationally hailed as electrifying live performers, innovative soundtrack composers and as a collective that channel electronic and club culture atmospheres alongside minimalist, jazz and rock influences to create music that pulses and flows from the dancefloor to meditative inner worlds, transporting us into brand new realms.
Sunday 30 October 2022 - Hermeto Pascoal -  2:30pm – 3:45pm
Unique Brazilian artist Hermeto Pascoal makes a rare trip to Europe to play on The Everyman stage in the company of twenty of the UK's finest players as part of the Guinness Cork Jazz Festival.
"One of the most important musicians on the planet"
– Miles Davis
O Bruxo, they call him in Brazil. It means the sorcerer, and it's an apt description for the charismatic, wayward, once-in-a-lifetime genius of Hermeto Pascoal. This unique artist makes a rare trip to Europe and, rarer still, he does so in the company of twenty of the UK's finest players, assembled to play compositions from his vast repertoire of music that defies category, classification or genre.
Sunday 30 October 2022 - Portico Quartet – 10:45 – 00:30
Following the release of their new electronic-driven album Monument Portico Quartet come to The Everyman as part of the Guinness Cork Jazz Festival.
Portico Quartet has defied categorisation over the course of six studio albums, from their 2007 Mercury Music Prize nominated breakthrough Knee-Deep in the North Sea through to the hypnotic, long-form Terrain in 2021.
Unique Events
WE GOT THE JAZZ: Chuck Stewart Exhibition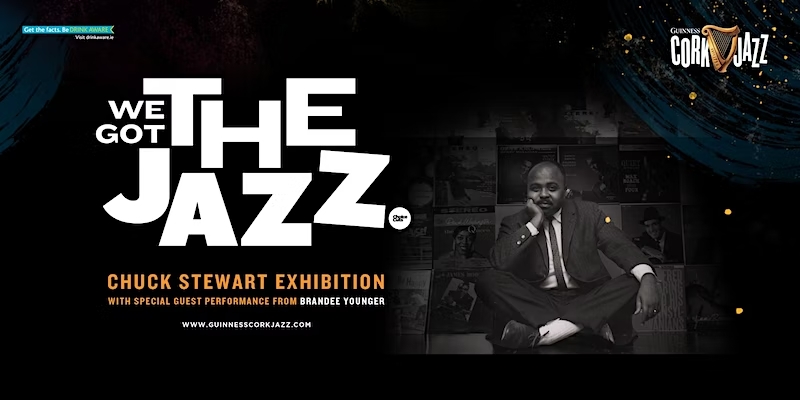 Chuck Stewart Exhibition for the first time in Ireland with special performances from harpist Brandee Younger. An immersive visual experience that showcases the wonderful photography of Chuck Stewart accompanied by live music in the beautiful setting of St. Peter's Church.
CHUCK STEWART - an African American fine art photographer, is the most important music photographer of the twentieth century. Period. He was the only photographer in the room when John Coltrane recorded the iconic A Love Supreme.
Brandee Younger - A leading voice of the harp today, performer, composer, educator, and concert curator Brandee Younger defies genres and labels. She has performed and recorded with artists including Pharoah Sanders, Ravi Coltrane, Jack DeJohnette, Charlie Haden, Common, John Legend, The Roots, Stevie Wonder, and Lauryn Hill.
"No harpist thus far has been more capable of combining all of the modern harp traditions — from Salzedo, through Dorothy Ashby, through Alice Coltrane — with such strength, grace and commitment."
 – The New York Times.
Special performances from harpist Brandee Younger:
- Fri 28th |11am - 5pm free entry to exhibit
- Sat 29th |11am - 5pm free entry to exhibit
- Sun 30th |11am - 5pm free entry to exhibit
- Mon 31st |11am - 5pm free entry to exhibit
Brass Brunch at The River Lee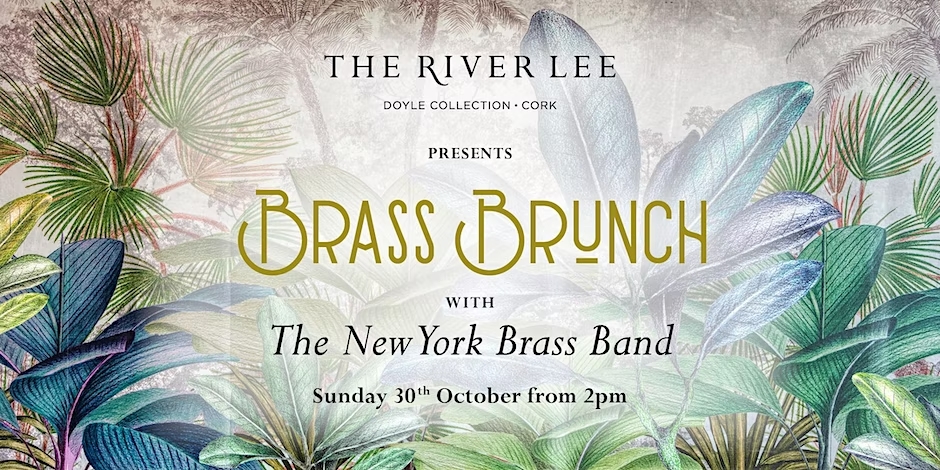 Sunday October 30 - The River Lee Hotel – 2pm – 6pm
The River Lee Presents: A special Cork Jazz Festival Brass Brunch, with entertainment from The New York Brass Band on Sunday 30th October Taking place in the glamorous Mirror Room on Sunday 30th October, set your sights on an unmissable afternoon of rousing brass, jazz and modern anthems, served alongside delicious food and cocktails.
Start off with a welcome cocktail, followed by an indulgent 3-course brunch celebrating the best of Cork produce. Then, settle in, or amp up for an electrifying 2-hour performance by the New York Brass Band. Tickets are €50 and includes a 3-course brunch, and welcome cocktail per person. Terms and conditions apply.
Crawford JAZZ afternoon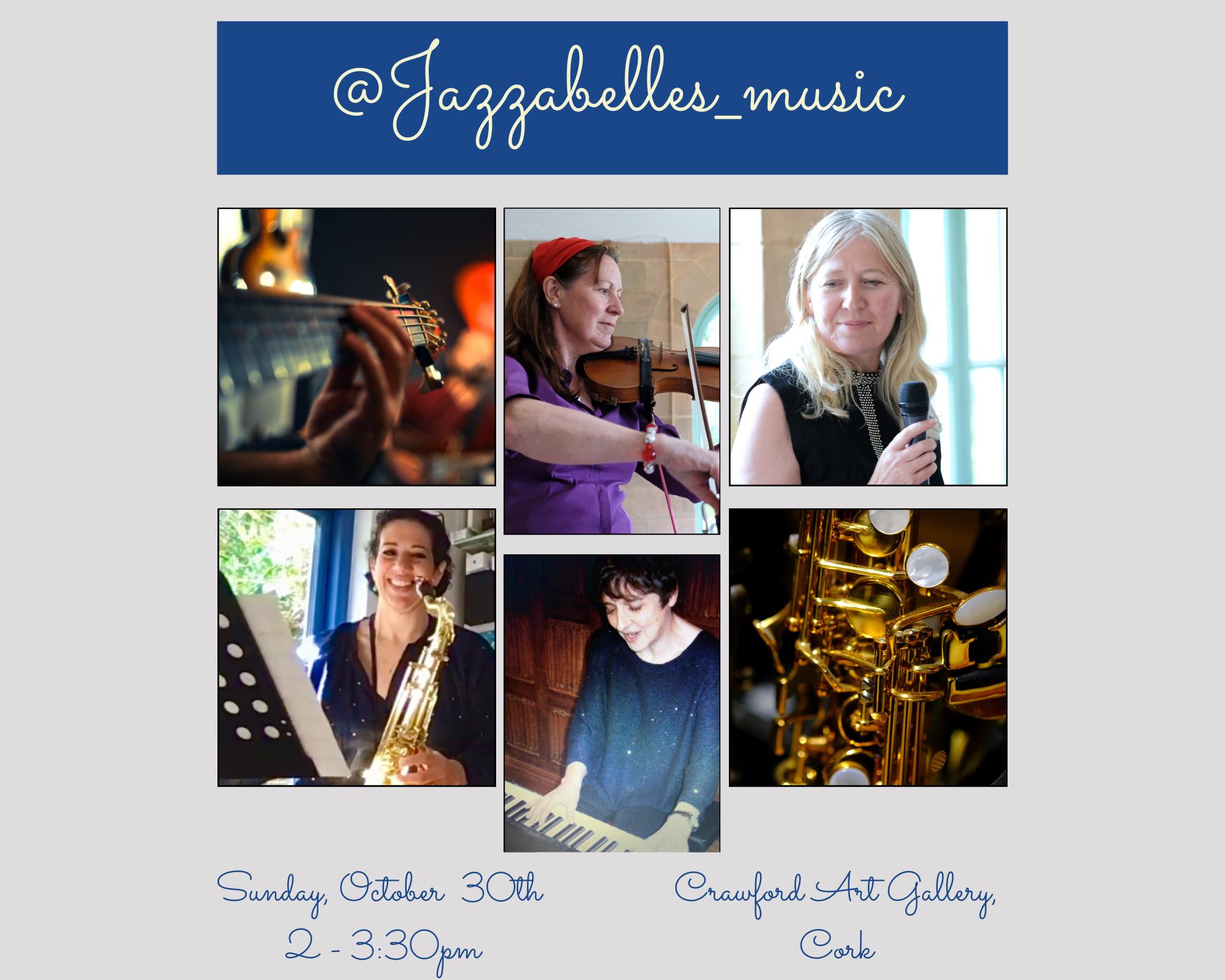 Sunday 30 October 2022 - Crawford Art Gallery - 2pm - 3:30pm
Bustling with energy and a passion for live music Jazzabelles showcase soul, jazz, blues and contemporary songs in their own unique style.
Crawford Art Gallery's historic building provides an oasis of calm and tranquillity in the heart of Cork city. Welcoming local, national and international audiences the gallery boasts also an award-winning Café in stunning surroundings, serving fresh local produce for which Cork is famous.
Harry Connolly & Friends
Harry Connolly, a member of the first jazz festival committee & jazz playing musician for the first jazz festival of 1978 and all 42 Festivals to date. Harry has events in the Shelbourne and the Metropole and will be joined by Jenny Howe, a versatile vocalist and experienced session singer with film and T.V  acting and singing credits such as Spike Milligan's acclaimed "Puckoon" and James Ellroy "L.A sherriif's homicide". Jenny recorded the main  soundtrack for the film The Brylcreem Boys, starring Gabriel Byrne, and Jean Butler, and sang at the Cannes film festival, where it was premiered.
Friday October 28 - Shelbourne Bar - 7pm - 9pm
Saturday October 29 - Shelbourne Bar - 1pm – 3pm
Saturday October 29 - Shelbourne Bar - 6.30pm - 8.30pm
Saturday October 29 - Metropole Hotel - 11pm - 1am
Sunday October 30 - Shelbourne Bar - 1pm - 3pm
Sunday October 30 - Metropole Hotel - 7pm - 9pm
Monday October 31 - Shelbourne Bar - 1pm - 3pm

The 115 Spot Jazz Jam Session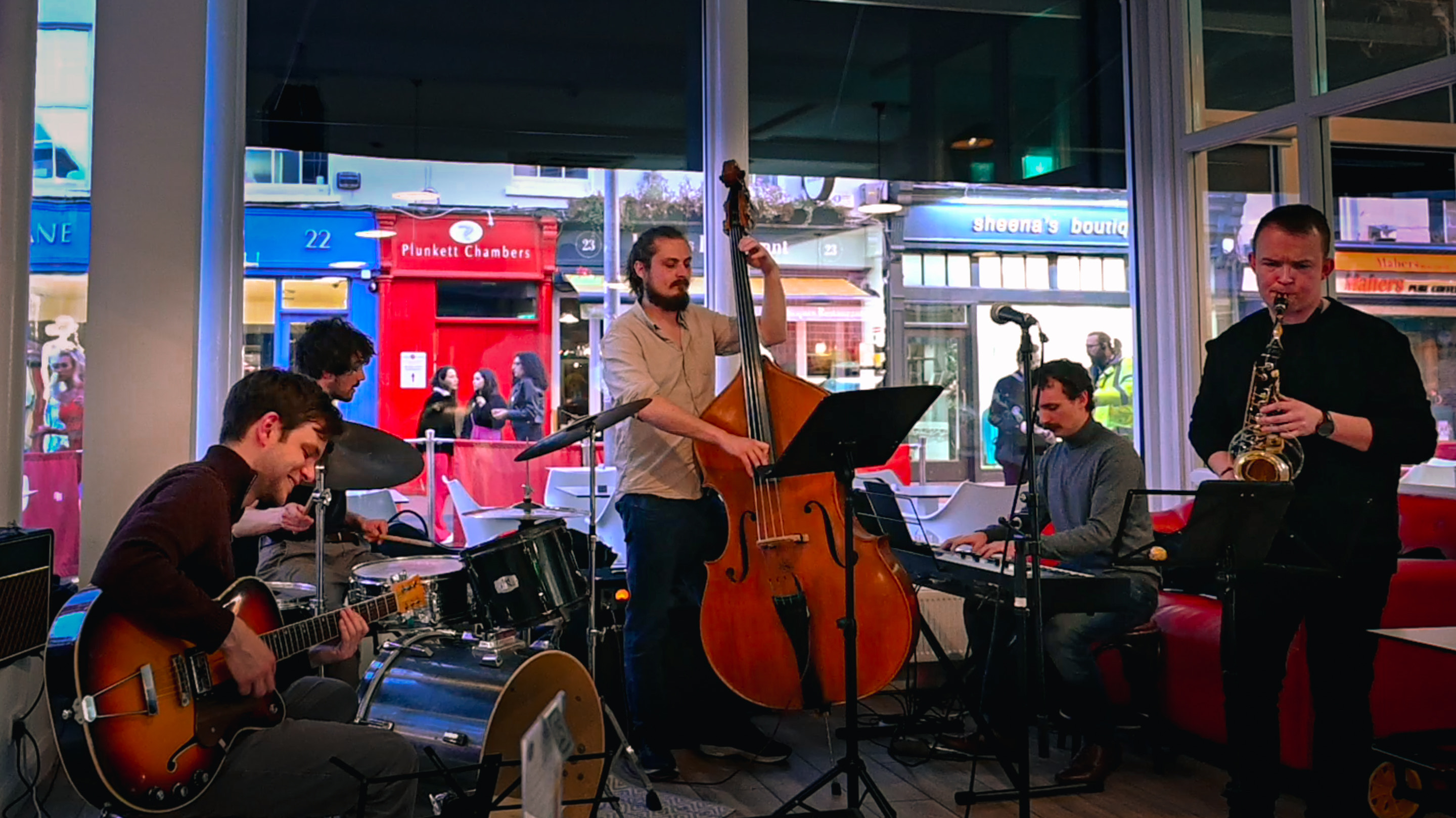 The 115 Spot is a weekly jazz jam session hosted in one of Cork City's freshest spots 115 Café, Oliver Plunkett St. All players/vocalists welcome to join the house band for a tune or two. Come for the music, stay for the atmosphere.
Thursday 27 October 2022 – 9pm – 11:30pm
Saturday 29 October 2022 – 10pm – 11:30pm
Sunday 30 October 2022 - 10pm - 11:30pm
Guinness Kinsale Jazz Fringe Festival 2022
October 27, 2022 @ 8:00 am - October 31, 2022 @ 5:00 pm
Kinsale Kinsale, Co. Cork, Kinsale, Ireland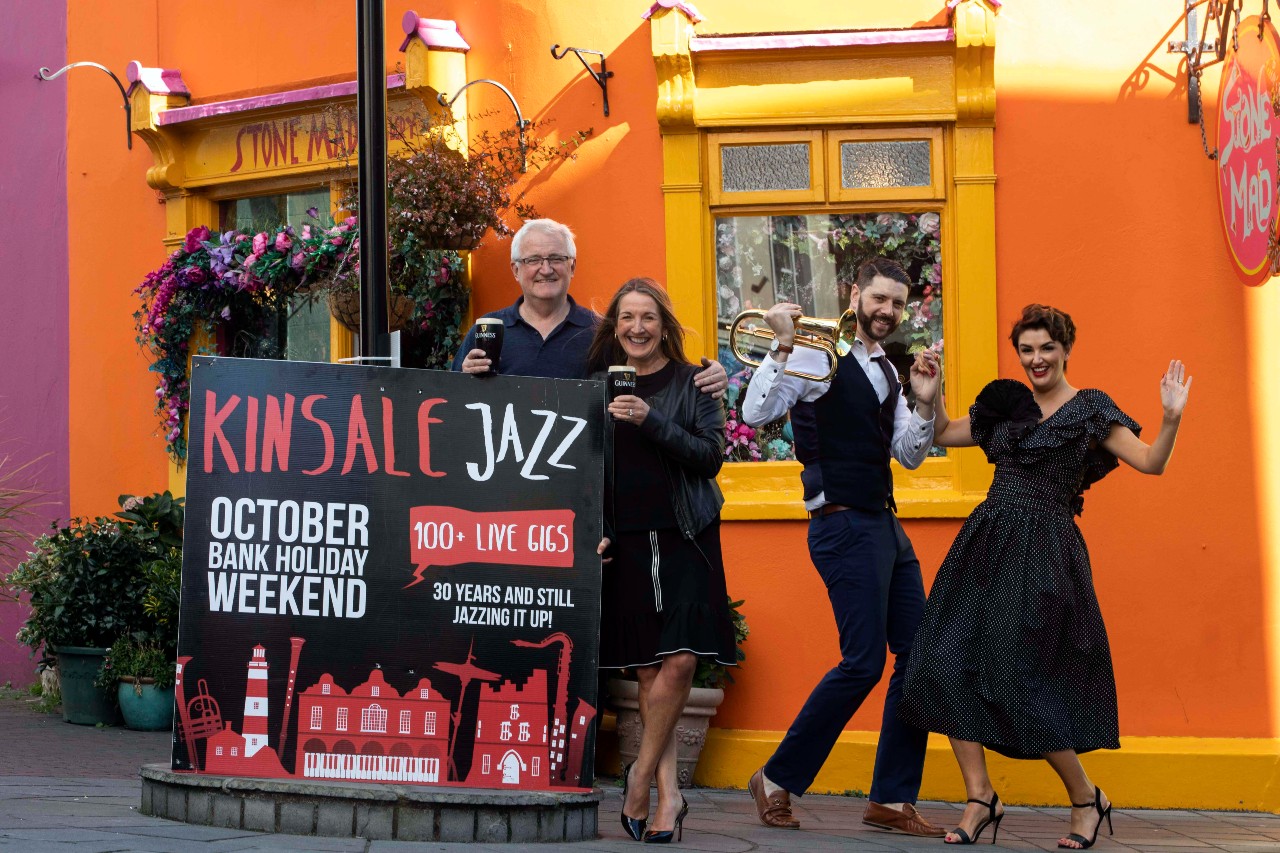 If you're looking for a mix of jazz and coastal beauty over the Guinness Cork Jazz Festival weekend, then swing on down to the picturesque town of Kinsale! An offshoot of the Cork Jazz Festival this event has a slightly less frenetic pace than the larger festival but there is still plenty on offer for Jazz lovers. With events running every day from lunchtime to late night at some 20 venues in the town, you may well find there is no need to ever leave Kinsale and head to Cork.
It being Halloween, there is generally a theme of suitably scary and goulish events running alongside the Jazz programme, making this an event with something for all the family, not just Jazz lovers.
We're thrilled to announce that the Kinsale Guinness Jazz Festival will be on from 27th to the 31st October. We are waiting for the organisers to announce the line-up and timetables so please be patient. To make sure you don't miss any announcements make sure you like the festival's official Facebook Page: https://www.facebook.com/corkjazzfestival/
The streets of Kinsale will literally come alive with music on the Sunday as a jazz procession winds it's way along the colourful town. Of course, every bar and hotel in Kinsale will also be in full swing with residencies and more than 100 gigs in more than 20 venues.
More Jazz
There are more events in the Jazz Ireland calendar and Jazz Ireland Event list being added every day so please keep an eye out and sign up for the newsletter to get updates in your inbox.
For those travelling to the festival this year I hope this list helps and enjoy the Bank Holiday Weekend.