As with most interesting stories it started with a saxophone, then a google search, then an idea. Roseanne Lynch actor, playwright and partner in Darn Skippy Productions had left her saxophone idle for some time much to the dismay of husband Richard Lennon who thought it was time she picked it back up again. He went out and bought her a set of reads and Roseanne played again.
She decided to look up female saxophonists on Google and found a radio documentary on Lyric FM by Marc Mc Menamin about Zandra Mitchell, Ireland's first professional female saxophonist. Inspired by the story she decided to write a play about Zandra.
With an Emerging Artist Bursary from Dun Laoghaire-Rathdown County Council Arts Office; and with further support from dlr LexIcon Library Roseanne travelled all the way to rural Donegal to speak with Michael Gallagher who was Zandra's closest friend. She spent many hours interviewing Michael learning all she could about Zandra, with each new piece of information her admiration for Zandra grew and grew.
Over three days she learned everything she could about Zandra, what made her laugh, made her angry and what made her tick. Most importantly she learned her sayings and phrases, parts or Zandra you can't read in books or find in her music. She got to learn of her character and even played Zandra's old saxophone, left to Michael along with all of her letters, postcards, photos and other personal items.
Zandra lived an extraordinary life and defied expectations, lived with boldness outside the norms of her time.
Josephine Alexandra (Zandra) Mitchell was born in 1903 in Phibsborough, Dublin, into a very musical family. From a very young age, she learned to play a wide range of instruments, including the violin, the cello and later the saxophone. When Zandra went to London with her brother, Eddie, to play sax with his band, she was spotted by an agent, who invited her on a tour of Switzerland with a jazz band. Zandra accepted the invitation and went on tour - against the wishes of her parents, who threatened to disown her. She travelled for years with many different jazz bands - including her own 'Baby Mitchell's Queens of Jazz' - and during her career played with some of the greatest jazz musicians of the twentieth century, including Django Reinhardt and Coleman Hawkins.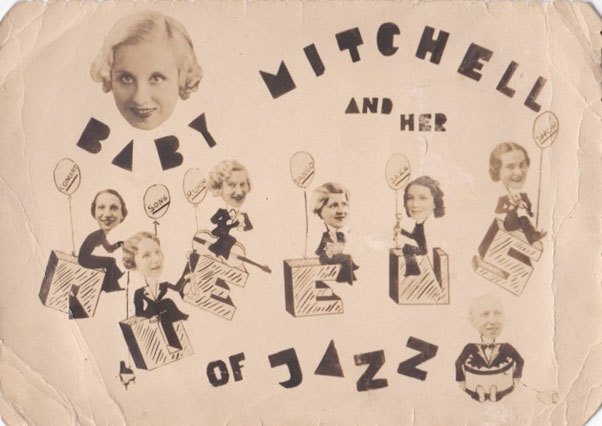 Zandra eventually settled in Berlin and was one of only very few Irish citizens living there during World War II. She witnessed Hitler's rise to power from an incredibly dangerous perspective. Jazz was seen as 'degenerate art' and a threat to the Nazis' control, so to be a jazz musician in that place and time was a huge risk.
Zandra, Queen of Jazz has been in development for two years, while this play is not a documentary - some poetic license has been taken – Roseanne and Richard have tried to create something that draws on all of this research and captures the spirit of who she was. Zandra's story also has a lot of relevance today - this is a play that asks some challenging questions about power and freedom, art and politics. It is an evening of vivid storytelling, comedy, tragedy and, of course, jazz...
https://vimeo.com/367273954
The play is gathering attention with interviews from HotPress Magazine, Sunday Independent newspaper and from Dublin City FM. There are two opportunities to see this wonderful play:
It is very important for our culture that works like this be undertaken and supported, so if you can, please consider a donation to the Zandra, Queen of Jazz Gofundme Campaign that Darn Skippy Productions are running.
Zandra, Queen of Jazz - A Darn Skippy Production
Written & Performed by Roseanne Lynch
Directed by Katherine Soleviev
With Music & Sound Design by Richard Lennon
Lighting & Costume Design by Lianne O'Shea
Poster by: Eugene Korolkov
Follow Darn Skippy:
DarnSkippy.com
Facebook.com/darnskippyproductions
Twitter.com/darnskippy
Vimeo.com/darnskippy
Instagram/darnskippy_prod