Nigel Mooney is widely regarded as Ireland's leading jazz singer and guitarist. A charismatic figure on the Dublin jazz and blues scenes since the early 1980's, his Gripewater Blues Band spearheaded the blues movement in Ireland and drew many fans of both jazz and the blues. Mooney's much-anticipated fourth album sees him collaborating with some well-known players in the recent history of jazz to create his finest work yet.
A fund it campaign has been launched to help the album come to fruition.
Mooney's Blues
The new album is entitled "Mooney's Blues" and almost all of the songs are new compositions. The principal recording is finished and sounds fantastic, the fund it campaign will help with the next phase of editing, additional production, mastering and manufacture of CDs and vinyl records prior to official release. Your collective and much appreciated contribution will go towards the final completion and release of the album.
"I've experienced the smiles and frowns, the ups and the downs of the labours and mysteries of the recording process. Now, with the benefit of this experience, I believe it has all come together on "Mooney's Blues" and that it comprises my finest work."
 - Nigel Mooney
Some of the VIP musicians will include the great Jean Toussaint (ex-Art Blakey's Jazz Messengers) on tenor saxophone, Ben Cauley (ex-Bar-Kays/Otis Redding band) on trumpet, Lannie McMillan (ex-Ike Turner and Buddy Guy) on tenor saxophone, Deborah Swiney and Carolyn Chatman (ex-Al Green) on backing vocals and many, many more great musicians from Ireland and overseas.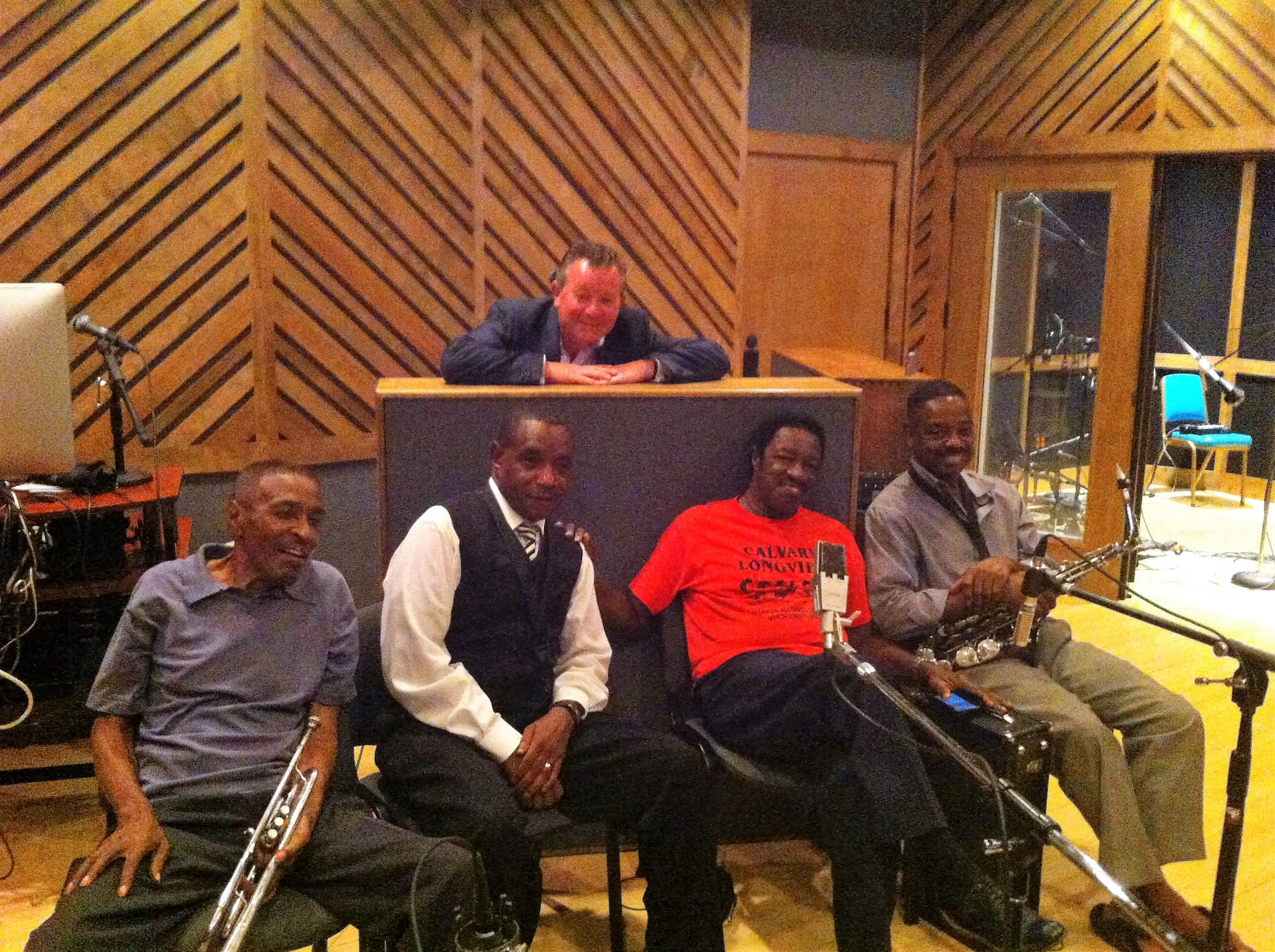 Nigel in studio with Mickey Gregory, Lannie McMillan, Ben Cauley and Jessie Smith.
Watch the campaign video
The campaign will run for 49 days in total. This is your opportunity to contribute to the manufacturing process by advance purchasing the album - as well as some unique special offers - you will be among the first to own a copy of this great record. Browse the fantastic "rewards" listed and choose a treat that suits your fancy or your budget, then pay that amount (or whatever amount you like) and you will receive your copy of "Mooney's Blues" before the official release date.
The most prestigious of the rewards is the chance to own Nigel's beautiful Danvel-Nelson guitar, one-of-a-kind, hand-made and designed by Derrick Nelson to Nigel's exclusive specifications, played by Nigel for over thirty years and used on the recording of "Mooney's Blues".

More about Nigel
Nigel Mooney has long been regarded as Ireland's leading blues singer/guitarist. His sensitive tenor voice, soulful jazz guitar stylings and preference for an acoustic-sounding, jazz approach to the blues have made him a unique and popular artist. Mooney's Gripewater Blues Band was a significant group on the Irish blues scene of the eighties, but the Mooney of today was first documented on debut first album 'All My Love's In Vain' (Rubyworks). It became the island's biggest selling jazz album of 2005, with major airplay from champions such as RTE's Ryan Tubridy, and chart placements for the single 'Beautiful Day'.
In May 2013, Mooney's second album, "The Bohemian Mooney", was released to critical acclaim, featuring as "Record of the Week" on mainstream R.T.E. radio (a rare honour for a jazz recording); the Irish Times review awarded the album four stars before going on to award it International Jazz Album of the Year in December 2013.
In 2017 Nigel released "Twenty-First Century Christmas Blues" featuring new compositions, including his YouTube hit single/video "Twenty-First Century Santa Claus Blues", a poignant Christmas ballad "Let's Cancel Christmas for Jesus' Sake" and a modern Christmas re-working with "It Ain't Nobody's Christmas But Our Own" to name a few. There are also some beautiful new versions of some of our favourite hymns, carols and classic Christmas standards. This release was followed by a successful Irish tour in December of 2017.

Connect with Nigel Mooney

Website:              www.nigelmooney.com
Facebook:           www.facebook.com/nigelmooneymusic
Twitter:                www.twitter.com/Nigel__Mooney