Jermyn Guilfoyle Jacobson at MVP #2
Ireland, Dublin Ireland, Dublin
29 Upper Clanbrassil Street -
MVP
---
---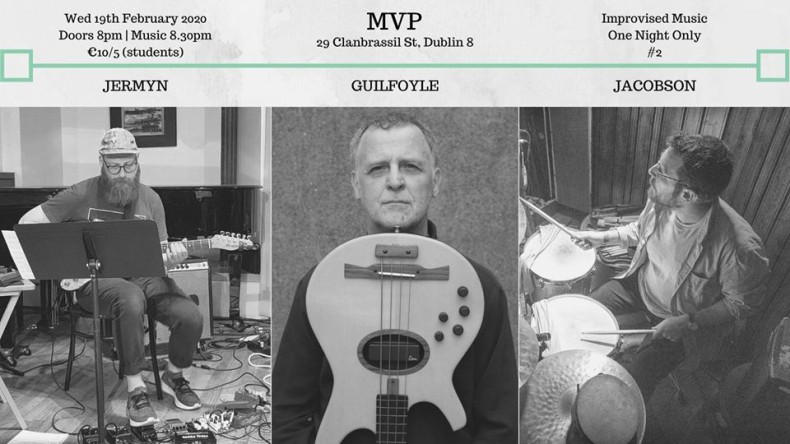 ---
They had so much fun playing this gig last August, these three have decided to do it all again, followed by a day in the studio for posterity!
Three of Ireland's foremost creative musicians come together for a one-night only set of improvised music (again?!). Between them they have released numerous albums as leaders and sidemen and have performed with luminaries past and present including Dave Liebman, Kenny Wheeler, Ingrid Laubrock, Jim Black and Ralph Alessi.
Each of them are in constant international demand, notably for their sonic and rhythmic sensibilities and this will be a unique chance to hear them stretch out while New York-based Jermyn is on a short trip home, all in the cozy surrounds of MVP upstairs in Dublin 8.
Simon Jermyn - guitar
Ronan Guilfoyle - bass
Matthew Jacobson - drums
www.matthewjacobsonmusic.com
www.ronanguilfoyle.com
www.simonjermyn.bandcamp.com
MVP
29 Clanbrassil St Upper, Dublin 8
Monday 26th August 2019
8pm | €10/5 (students)
Tickets available on door
---
---
Venue Information - MVP
Come join us in our lovely neighborhood bar. The Upstairs @ MVP is a great place to host an event, celebrate anything and everything, or just have a good night. We are open to most ideas.
---