Amazing Grace - Aretha Franklin
Ireland, Dublin Ireland, Dublin
8 Leeson Street Lower -
The Sugar Club
---
---
---
We were overwhelmed with requests to show this time capsule of perfection with none other than the Queen of Soul Aretha Franklin.
So, here is the vibe
Doors 8pm
Soul / Gospel to warm up
Serving Charcuterie/Cheeseboards
Fine wines
Delicious Cocktails
Movie Starts 9pm
and to follow
we have a Soul Party with some of Dublin's favourite Djs and crews
Singer Aretha Franklin performs gospel songs at the New Temple Missionary Baptist Church in Los Angeles in 1972.
"Amazing Grace" is a filmed record of the two nights, in January 1972, during which Franklin recorded the gospel performances that became the celebrated live double album "Amazing Grace." It remains not only the best-selling gospel record of all time, but the best-selling album of Franklin's 50-year career. She was then at the height of her stardom, with 20 albums and 11 number-one singles (all the iconic hits: "Respect," "Chain of Fools," "Think," etc.) under her belt, and she wanted to do a record that honored the formative gospel roots of her youth.
Warner Bros. hired director Sydney Pollack to film the sessions (this was the early-'70s heyday of the grainy verité concert film), and in "Amazing Grace" we see Pollack wandering around the church, directing the action and at one point holding the camera. But the project wound up getting shelved. There was a severe technical glitch (much of the sound was out of sync with the images), and later, when attempts were made to solve that issue, Franklin herself repeatedly blocked attempts to release the movie. It's not clear why, but now that it's been lovingly restored and assembled (the sound is clear as a bell, and in perfect sync), "Amazing Grace" can stand as an essential filmed record of what is undoubtedly one of the greatest gospel performances you'll ever see.
Visually, the movie isn't much to speak of. The church, a plain and rather dilapidated place, looks at once dingy and overbright, and during the first night it's only half-full, creating the atmosphere of a filmed rehearsal. But Aretha herself is incandescent. And the movie, while as neutrally shot as a news-magazine segment (there's about a minute of split screen, and there should have been a lot more of it), has a structure that quietly builds. Franklin was 29 when "Amazing Grace" was recorded, and in her silky flowing outfits and light blue eye shadow and a set of earrings that look like bejeweled clusters of tiny snowballs, she's a magnetic paradox: a diva tucking in her ego in front of the lord. She almost never speaks between songs, but her contact with those who've gathered to be in the audience is, if anything, even more direct. She's got her mind on higher things.
One can speculate that Mick Jagger dropped by because he was still finishing up the recording of "Exile on Main St.," an album as dunked in the raw majesty of gospel as any in rock history. Another telling figure who appears is Franklin's father, the Baptist minister C.L. Franklin, whom she toured with as a child gospel singer. He's dapper and aristocratic, like Billy Dee Williams as a churchly power player. In the few minutes they're at the front of the church together, we can see how Aretha gained strength from him — at one point, he lovingly wipes the sweat from her face — and, at the same time, how she felt the need to win r-e-s-p-e-c-t from a world of men who felt as entitled as he looks. Apart from Aretha, the most memorable characters in the movie remain those whose names we don't know: the praise dancers who get up out of the audience, jubilant and possessed, to shake like volcanic vessels, and the occasional sparkly-silver-vested member of the Southern California Community Choir, who will literally pop up, with a spontaneity that's at once touching and comic, when the spirit moves them.
Franklin's collaborator in the concerts was the Reverend James Cleveland, the gospel legend who did as much as anyone to popularize the form beyond the black church (he won four Grammys). He's burly, deeply playful, and affectionate, and he has great stories. So does Franklin's father, who tells one about how he was picking up clothes at the cleaners, and the woman who worked there asked him if Aretha, whom she had seen on TV the night before, was ever going to go back to the church. The minister replied, "She never left the church."
Watching "Amazing Grace," we see how profoundly true that is. Not just because Franklin sings praise to Jesus with the full flower of her virtuosity, but because there's such a remarkable continuity between the religious fervor she expresses here and the "secular" fervor of her pop and R&B songs. Most of the numbers in "Amazing Grace" are hymns or traditionals, like the lilting "What a Friend We Have in Jesus" or the meditative "Precious Memories," and a few are reconfigured versions of great pop numbers of the spirit, like Carole King's "You've Got a Friend" or Marvin Gaye's "Wholy Holy." But the sound is never pious or autumnal. It's majestic and soaring and athrob with rhythm.
If the blues is the formal and spiritual foundation of rock 'n' roll, it's the joy of gospel that gave rock its roll. That's what you hear in "Amazing Grace." The movie reveals how the fundamental distinction between "rock 'n' roll" and "rhythm and blues" was not only racist at its core, but a way for the consumer culture to slice the God out of music that was invented as a way to talk to God. In "Amazing Grace," Aretha Franklin transcends the blues by saying a little prayer — or singing one — for all of us.
Popular on Variety
---
---
Venue Information - The Sugar Club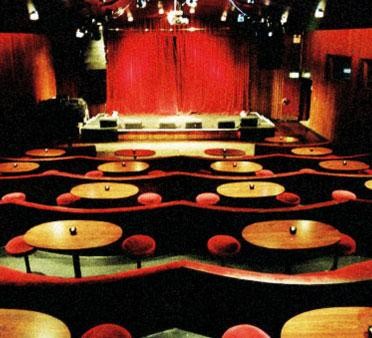 "It's a venue to die for. Wood panelled walls, plush banquette seating and a pristine sound system render the rest of Dublin's night-life cruddy in comparison."The Irish Times
After opening in 1963 The Irish Film Theatre closed its doors in 1985. It would be another 14 years before the space would be used again and so it was in August 1999 that The Sugar Club was born.
---