Claritas
---
---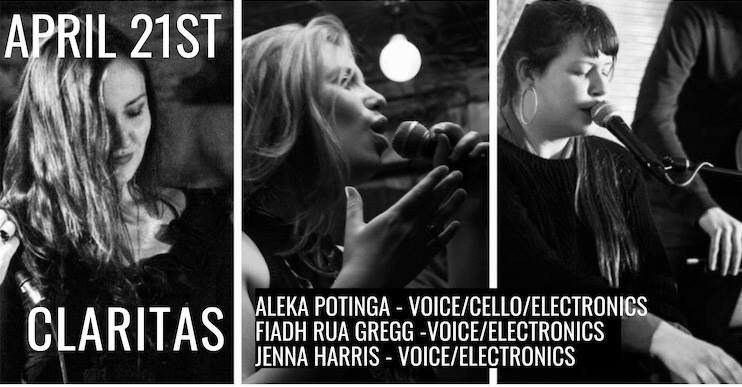 ---
Three improvising vocalists form the group Claritas. Largely based on voice generated sound, this debut performance will use voice, electronics and cello to create soundscapes and melodic textures to express the poetry of the great Seamus Heaney.
Jenna Harris is a vocalist, composer and lecturer from Dublin. Jenna composes electroacoustic music under her own name and performs regularly with her band Berri, "a group that makes clear the difference between a jazz singer and a singer of jazz songs" The Irish Times.
Jenna Harris - SoundCloud
https://m.soundcloud.com/jenna-harris
Berri - SoundCloud
https://m.soundcloud.com/jenna-berri
Berri @ Clonskeagh Castle
https://youtu.be/oXAmekLj5yg
Aleka is a Romanian vocalist based in Dublin who has made a name for herself as one of the top jazz singers in Ireland, garnering attention of Irish jazz household names, most recently working with renowned guitarist Tommy Halferty. As well as playing in Ireland, she has been a featured guest with the Romanian Radio Big Band, singing arrangements of the American songbook and her own compositions. Aleka released her debut EP in November 2016, garnering a 4-star review from The Irish Times.
Aleka - Spotify
https://open.spotify.com/artist/7nm42UuEwpixvnjnU3EZud
Iish born Vocalist, teacher and composer, Fiadh Rua Gregg is a bright up-and-comer within the Dublin music scene. Having played throughout Ireland in numerous ensembles and bands, Gregg is currently writing and performing her own music which she classes as 'ethereal soul'. She is also one fifth of the band Shy Mascot.
Shy Mascot - Pardon Me


---
---
Venue Information - The Workman's Club
Run by people passionate about music, our venue welcomes performers of all flavours. Alongside the headline gigs, The Workman's Club is home to some of the capital's finest club, comedy, acoustic and new band showcase nights.
The striking old-school decor makes it a popular choice for parties, launches, screenings, book readings and multimedia takeovers, as well as photo, video and movie shoots.
---