Jeff Ballard Fairgrounds
---
---
---
Note Productions present In association with the National Concert Hal Jeff Ballard Fairgrounds with Lionel Loeke, Kevin Hayes and Chris Cheek
1st February 2019 at 7pm
1st February 2019 at 9pm
The Studio @ The National Concert Hall, Dublin 2
Tickets: €25 from www.nch.ie
Jeff Ballard Fairgounds comes to Dublin with their new album, due to be released into the world on January 29th 2019.
Jeff Ballard makes music that feels like the 21st century – open, fluid and ever-developing - a sound informed by jazz but truly coming to life where musical worlds collide: acoustic and electric, swinging and ambient, analog and digital, accessible and experimental.
This ever-changing, dynamic group of musicians ride the rides. They take a turn riding all of them. These rides, which make up this amusement park, should be built in places perfect, well studied. It takes a certain strength to build, to manage, and to coordinate. These and other qualities Mr Ballard must have thought about, a cultured and refined musician, when he decided to call his latest creation Fairgrounds. Whomever would like to may participate, the only requirement is that they are emotionally committed. Ballard started from there, with friends, colleagues, who would assure him the right chemistry: Lionel Loueke on guitar (Herbie Hancock, Terrance Blanchard), Chris Cheek on sax (is one of the most sought after saxophonists in the Jazz world today, having played in the the groups of legends such as Paul Motian, Charlie Haden, Steve Swallow and Bill Frisell), and Kevin Hays (Joe Henderson, Benny Golson, John Scofield) on piano and keyboards. As a carousel, anyone can climb aboard this band if he so wishes. So the group's roster expands and contracts. An open workshop, creative, constantly evolving. Those who come in should not behave as simply a "guest" but as a full time essential member of the band, bringing all his or her desires, commitment, and knowledge thru the gate into the fairgrounds.
Musically diverse, sometimes very bold and unexpected, Jeff Ballard Fairgrounds does not have a fixed or pre-established repertoire, the music mostly comes as sound ideas brought in by Ballard and his companions, taking on different forms as the ideas germinate and expand in context. A group with an unusual timbre from their combined strength. A new reality which will act as an arena where one can bring ideas and flex the mind. The creativity and commitment of the leader is well documented also by his stylistic choices. The sharp blades of the avant-garde, the obsessions of free jazz, the intrigue of electronics, wide cultural diversity of rhythm, colors, textures of rock, the splendid virtuosity of the individual involved.
All of this is to describe Jeff Ballard Fairgrounds. Just listen to it and you will no longer have any doubt: when the bell sounds announcing the new round of tournament, stay there. Don't miss it.
Jeff Ballard (drums),
Kevin Hays (piano, vocal)
Lionel Loueke (guitar, vocal)
Chris Cheek (sax)
Note Productions present
In association with the National Concert Hall
Jeff Ballard Fairgrounds
with Lionel Loeke, Kevin Hayes and Chris Cheek
1st February 2019 at 7pm
1st February 2019 at 9pm
The Studio @ The National Concert Hall, Dublin 2
Tickets: €25 from www.nch.ie
---
---
Venue Information - The National Concert Hall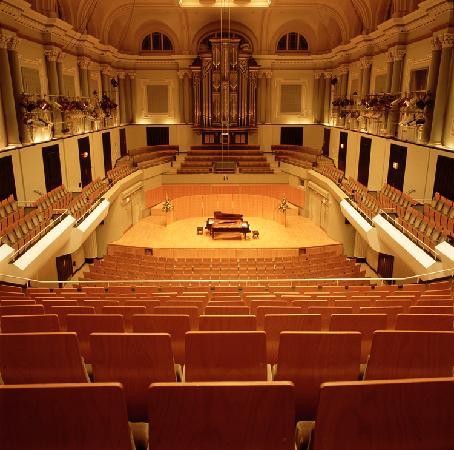 The National Concert Hall sits proudly on Earlsfort Terrace in Dublin's city centre and is home to the RTÉ National Symphony Orchestra, Chamber Choir Ireland, Irish Baroque Orchestra, Music Network and Music Generation. Next door to the picturesque Iveagh Gardens and in the heart of a commercial district known as the National Concert Hall Quarter, it hosts over 1000 events per annum. Its mission, to foster and celebrate the appreciation, knowledge, enjoyment and pure love of music as an integral part of Irish life.
---