George Colligan Trio Album Launch
Ireland, Dublin Ireland, Dublin
28 Thomas St -
Arthur's
---
---
---
After a highly successful trio tour in 2019, George Colligan, Darren Beckett and David Redmond will collaborate again in April 2020 on a tour of the UK and Ireland to celebrate the release of their live album 'The George Colligan Trio Live in Arklow', which was recorded during the same tour. The recording is to be released on leading UK jazz label Ubuntu April 2nd.
On this tour, they will be playing a selection of arranged standards and original compositions by Colligan.
Beckett and Colligan have an extensive playing and recording history in New York, having recorded for the Steeplechase record label as a trio and also with artists such as Lee Konitz and Rich Perry.
George Colligan is not only one of the great jazz pianists of his generation, but he has earned an international reputation as a multi-instrumentalist (drums, trumpet, organ, keyboards), composer, accompanist, teacher and bandleader. Winner of the 2015 DownBeat Magazine Critics Poll (Keyboard), he has had a long association with living jazz legend Jack DeJohnette. With over 130 albums to date as an accompanist, Colligan has worked with a long list of jazz greats, including Buster Williams, Cassandra Wilson, Don Byron, Ravi Coltrane, and many others. His latest album, 'Nation Divided' (Whirlwind Records) is his 30th as a bandleader. Colligan, a New York resident for 15 years, now resides in Portland, Oregon where he is an Associate Professor at Portland State University.
Darren Beckett (drums) won a prestigious Bass Ireland Award as a teenager, leaving the emerald isle to study jazz in New York, where he resided for 21 years. Across his career, he has played drums everywhere from Carnegie Hall in New York to the Royal Albert Hall in London. He's performed on over 50 albums, recording with notable names like Brandon Flowers, Daniel Lanois, Madeleine Peyroux Lee Konitz and Kenny Wheeler. Over the years, Darren has worked with Lauryn Hill of The Fugees, James Hunter, jazz pianist Aaron Parks, played festivals all over the world from Austin City Limits to Montreux to NH7 in India. His current main gigs today are with Brandon Flowers (The Killers) and American jazz singer Madeleine Peyroux, with whom he toured with for over ten years. Darren co-wrote the lead single 'Can't Deny My Love' on Brandon Flowers' number one charting second solo album 'The Desired Effect'. He currently teaches drums at BIMM in Brighton, and has been touring the US and Europe with Indie darlings Amen Dunes this year, also spending part of the year recording in LA, Austin and New York with various artists and film composers. Darren's band Ambulance LTD recently reformed to play some shows in New York. Darren was recently featured in Modern Drummer Magazine in an article entitled 'On The Beat'. Since moving to the UK in 2016 he's been a regular on the London jazz scene playing Ronnie Scott's and the 606 club, playing with Jason Rebello, Gilad Atzmon and Alan Barnes.
Irish Bassist David Redmond is best known for his collaborations with renowned Irish and International groups. He regularly performs with artists such as Bob Dorough, Bill Carrothers, George Colligan, Darren Beckett, Anders Bergcrantz, Gonzalo Del Val, Stéphane Mercier, Keith Copeland, Seamus Blake, Georgie Fame, Jesse van Ruler, Bobby Wellins, Dave Liebman, Jason Rigby, Guy Barker, Bobby Wellins, Ian Shaw, Scott Hamilton and Norma Winstone. Redmond has appeared on over 35 albums of established Irish and International artists. He regularly performs abroad at festivals such as Euro Jazz festival in Mexico, Dubai Jazz Festival, Glasgow Jazz Festival, Azores Jazz Festival, Brecon Jazz Festival and Abu Dhabi Jazz Festival. He has also performed at the famous london jazz club Ronnie Scotts as part of the Ian Shaw septet (UK's leading male jazz vocalist). He has also performed all over Europe, U.S.A., Hungary, Colombia, Cyprus, China and Scandinavia.
---
---
Venue Information - Arthur's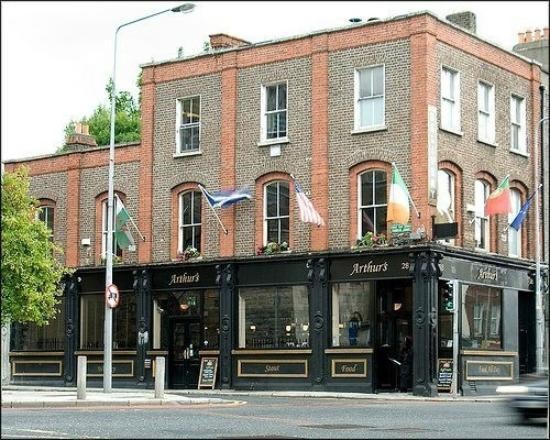 Arthur's is the nearest pub on the route to The Guinness Storehouse, one of the city's foremost tourist attractions. It is popular both with locals and tourists. Naturally it has the freshest pint of Guinness in all of Ireland.
---